Let's start the NFL season previews this year by looking at the one team that likely had the worst offseason in recent memory, if not all memory — the Santa Clara 49ers.
It all started last year, when silver spoon-fed baby-man owner Jed York decided Jim Harbaugh was a big meanie face who he wished would go home. After a tense season of failed expectations that still saw the 49ers reach 8-8, Harbaugh was let go. That is how it started. In the search for a new head coach, they passed over the defensive mastermind Vic Fangio for defensive line coach Jim Tomsula, who looks exactly like Carl from Aqua Teen Hunger Force.
Tomsula's first post-hiring interview was a complete disaster, as he looked completely lost. It did nothing to ease fans' concerns.
Then, things got even worse.
— Longtime anchor and fan favorite Frank Gore left for the Colts.
— Patrick Willis, former All-Pro linebacker, retired at 30 for health concerns and possibly religious reasons.
— Chris Borland, the heir apparent to Willis after a strong rookie season, retired over concerns about head trauma, an unprecedented move.
— Mike Iupati left for Arizona.
— Anthony Davis, anchor at right tackle, retired, at least temporarily, to heal.
— Justin Smith hangs up his cleats for good.
— Colin Kaepernick mocked Houston flood victims by accident with his dumb #7tormscoming hashtag.
— And then literally everything involving Aldon Smith, possibly the world's biggest idiot.
— They also re-signed Blaine Gabbert, and he's generating buzz.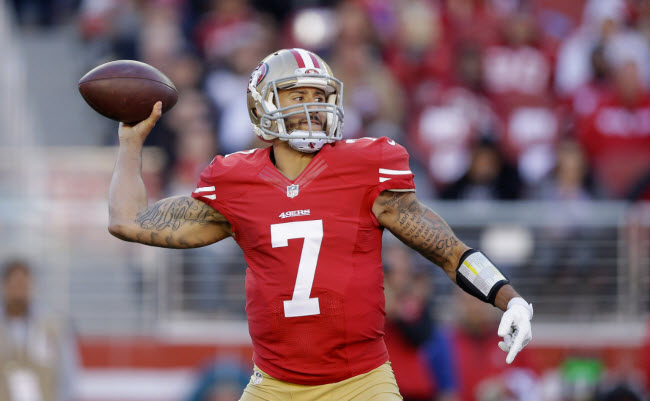 On top of this, they also lost some depth, such as Dan Skuta, Perrish Cox, and Chris Culliver. And they traded punter Andy Lee, the bright spot of special teams.
Expectations went from sky-high to extremely low among most of the fanbase. Many of the recent bandwagoners jumped off. Seattle fans looked around, wondering where their rival went. While the 49ers still have a halfway decent roster, nobody expects much anymore, and each 49ers fan I meet has a weird sense of sad resignation; this sense of doom and gloom generated by the feeling that they are descending back into the pre-Harbaugh wasteland of pants-dropping coaches. But don't take my word for it, here are the words from an actual 49ers fan to give a true insider perspective into what we can expect:
49er Fan Jeff Krisko Fan Perspective:
Firing a head coach usually comes after failing to live up to expectations for a prolonged period, and rumors of said firing don't crop up in the preseason after a team makes the championship game. Unfortunately for the 49ers, rumors of Jim Harbaugh's demise started before their Week 1 opener even kicked off, and eventually culminated in Harbaugh's termination immediately following Week 17 last year.

Canning at worst the second best coach the 49ers have had since the legendary Bill Walsh set off a chain of losses that included the franchise's all-time leading rusher, two five-year starter offensive linemen, two potential Hall of Fame defenders, half a secondary, a top-flight pass rusher, a rookie phenom defender and half their receiving corps. Keeping track of their offseason losses was a daily effort for those following the team, as they now only have six starters from their 2013 Super Bowl appearance.

Jim Tomsula takes over for the departed Harbaugh, and despite his Adult Swim side character appearance, he appears bent on changing the 49ers culture to be more relaxed and touchy-feely. Every player on the Niners knew Tomsula as the lovable defensive line coach, but it remains to be seen if he has the capacity to run the whole organization. Doubters have plenty to point to for the 49ers, headed into their 2015 campaign.

You don't have much to point to as a plus for the 2015 49ers over their 2014 version; the squad has taken a step back in nearly every capacity. One tenet of GM Trent Baalke's draft strategy was amassing picks to build depth on depth, and many of these players will be thrust into action this season, and for a lot of them it may be too soon. Realistically, this 49ers squad has an 8-8 season as their absolute ceiling, and somewhere between four and six wins is the most likely outcome. Kicking off the season as the late game on ESPN's Monday Night Football versus the Vikings means that the whole nation will have a front-row seat to the garbage fire this offseason created.

Who's got it better than us? Everybody (except maybe the Jets, nobody has punched anybody… yet).
I expect 6-10. Kaep will have a couple of good games, but still doesn't know how to move past his first read. The defense will still have Bowman, and they'll hold a couple times. But this isn't the feared monster of past seasons, and they will have a difficult time staying out of the top 10 in the 2016 draft. On the plus side, expectations are already quite low, so even if they have a lot of flaws, they might not appear to be as totally lost as they currently feel.