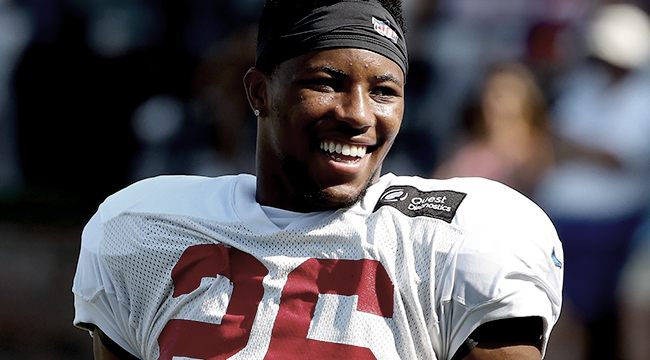 LOS ANGELES – It's impossible not to notice the giant "QUADS" chain around Saquon Barkley's neck. It's almost as impossible to ignore the giant smile Barkley breaks into at any given moment. The chain was a bet paid in full by Baker Mayfield after Saquon won Rookie of the Year by posting more than 1,300 rushing yards, catching 91 passes, and scoring 11 touchdowns. The smile is just part of who Barkley is, and has followed him from New York, to Pennsylvania, to Penn State, and back to New York, as he's become a new hope for the Giants and their rebuild.
Barkley exudes joy, and his philosophy on football seems to boil down to "can you believe I get to do this for a living?" It's no wonder he is so beloved by Nittany Lions fans, and is quickly becoming a favorite in New York and among Giants faithful, even if he grew up a Jets fan as a kid. There's a burst of energy when Barkley has the ball — on a kickoff, coming out of the backfield, on a screen or wheel route — that feels like inspiration hitting in real time; an audible exhale as the play unfolds with a chance, every time, that this one might turn into magic.
Few players in the league possess that, and the ones who do go beyond recognizable star quality into something more, something mythic.
Barkley knows full well he's earned what he's gotten, but he's lucky those quads (and the rest of him) get to be put to good use on the football field. He saw it play out over the course of week in July, which found him winning an ESPY, debuting an emotional "My Wish" video, and recording a national "Champions Of Chunky" commercial spot for Campbell's at the home field for MLS side Los Angeles Football Club. The bright lights suit him, and allow that wide smile to get even bigger.
UPROXX spoke with Barkley about what Penn State means to him, wanting to be on the cover of Madden, and potentially challenging Rajon Rondo to see who really is the best at "Connect Four" someday.

Martin Rickman: The last seven days for you must've been crazy between the ESPYs, and the Make a Wish video coming out, to this. What's your mindset been through all that — start with ESPY, what kind of an honor is that for you?
Saquon Barkley: It's amazing to win Breakthrough Athlete of the Year up against great talent with Trae [Young] and Naomi [Osaka] and [Christian] Yelich, but to be able to take an ESPY home, it's something that you dream about as a kid and to accomplish that in your first year, it's truly amazing. And then the Make a Wish experience that happened during mini camp, for that to come out, I think they did a really good job with that video. The biggest thing is — take away the video — I was just somebody's wish. I think that's when you got to put things in perspective, like wow, football is an amazing sport, but it brings you so much more from it.
This week has been truly been amazing, truly a blessing, but I take it with a grain of salt, continue to move on, continue to work my butt off, and try to get better.
In your speech, it's very clear how important not just your teammates, but your family and your extended Penn State family, are to you. How do they keep you grounded? What does your immediate family mean to you, and then also that Penn State group that is so fervent and so passionate for you?
My family means everything to me, my immediate family. That's like when people ask me, the advice I give people, keep your circle tight and my circle is my immediate family. I only take care of my immediate family. You hear so many stories of athletes going broke because of this and because of that, and I don't want to be that, I don't want to be that reason. So, I make sure the people that was there for me for my whole life are going to be straight.
That extended family at Penn State, it's funny because [James] Franklin sent me a text, his wife texted me. It was like two, three years ago when she was at the ESPYs, and someone went up there and won an award, and she was like, "the speech and everything was amazing, it reminds me of you – and I can't wait til you be in a position like this one day." And he was like, "this is crazy isn't it?" And I was like, "I know." So, Penn State, they're amazing. I wouldn't be who I am without those guys either. Coach Franklin, to the guys who aren't there anymore, and to the guys who are there. They did a really good job of just making me understand what it means to be a Penn State athlete and to wear that blue and white and to represent the university.
Watching that video a couple months ago when they had Sophie Turner – Sansa Stark – come through and the Jonas Brothers came through, it was a madhouse. It's such a small community, but there are so many people there that you, personally, have an impact on a day to day basis. I'm sure you can't throw a rock in New York City without hitting a Penn State alumni.
Exactly, it's crazy. The alumni base is so big, that's why I went to Penn State. At a young age, when you are 16 or 17 making that decision, for me it wasn't only about football. I knew Penn State was going to give me the football and I'd be able to play in front of 110,000 people and all that would be great, but what if it didn't work out? I was just telling my mom my Plan B, and I felt like Penn State would have been the best place in the world if football hadn't worked out for me.
It worked out okay.
It ended up working out okay, but even still I felt confident. Even though I have no plan of retiring any time soon, but if I give up the sport that I love and wanted to pursue a career in movie producing or become an analyst or anything I wanted to do, I think I've made a lot of great connections and networking; one, from just being a Penn State athlete, and also being a New York athlete too, that I will be able to find a job with ease.

You were a Jets fan before, right?
Yeah, my dad's got the Jets tattoo on him.
And then [Christian Hackenberg] got drafted there too. How do you go from being a Jets person, having that connection, but then knowing that you've got the Giants as a community, and that wild fan base?
It's crazy because I used to drive to New York and every single time we would pass the Jets stadium. At the time we used to only call it the Jets stadium, passing MetLife and I used to say I want to play in that stadium one day. I was thinking of it being for the New York Jets, but it ended up being for the Giants, and I wouldn't want it any other way.
The Giants are a great, great program and have such rich tradition and rich history. You can see it once you step in the building, you would step in the building, look to your left and there are Super Bowl trophies sitting there, just shining at you, right in your face. Basically saying … can you be part of it? This is what you want to be a part of? This is, if you hold yourself accountable and do the right thing, this is what comes with it. The fact that I'm able to be a part of that, I will love to be one of the reasons why we bring another Super Bowl trophy to New York.
You mentioned if you weren't doing football, you could get an analyst job, you have movie producing, you have other things you could do, but you could probably go pro in Connect Four, too.
I think so, actually. And honestly, I'm not just like, I don't know, I'm not just blowing smoke. I'm a pretty good Connect Four player, there is only one person who I think might, that I personally know, who could beat me on a consistent basis, but we can go back and forth.
Who is that?
[Former Penn State and current Duquesne running back] Mark Allen. He's pretty good. I learned about that back in college, but we are really good friends now, and now he's going to bootcamp in football.
Rajon Rondo is pretty good.
I heard.
We got to get you two playing each other, some video or something.
Mm-hmm.
Put a little money on the line, for charity.
For charity, yeah.

It's been really interesting watching the transformation of the position from year to year, you always hear the talk about running back, but you're not just a true running back. You're asked to do so much on the field. Is there something else that we could call what you do — where you're catching out of the back field more often — or does that not really bother you?
No, it don't really bother me, I think the running back position can be called the running back position. In my opinion, at the end of the day, you look at the teams who win the Super Bowls, the teams who go deep in the playoffs, you got to be able to run the ball. Football is going to change, it's always going to, but one thing that is going to be the same is that the teams that go the furthest and the teams that win Super Bowls are teams that know how to play defense and know how to run the ball. Its been that way since 1960-what? Since the merger?
And that's the way it's going to be until the end of time. For me, I don't really get too caught up in changing the position name because then you say something like that, and they are going to be like "oh, he's just saying that because when his time comes he's going to want more money, and this and that," but no. I don't care about that right now, I'm not focusing about that right now. I don't care about the position, how high valued it is. I know what it is, I know how important I am to my team, I know you ask anybody on my team how important I am not just as a player, but the way I handle myself and the way I come to work every single day. I'm not saying I'm the most important piece because it takes multiple pieces to be a great team.
Yup.
I know how my team views me, and how the players that I play with views me, and what they believe in me, so at the end of the day, say what it is, say what it isn't, but me and my folks will keep coming every single day and get better.
Your workout regimen is obviously well documented, and then as this durability aspect of it for you, is that something that you really pride yourself on? I saw from the Madden ratings that you had that reaction video and they didn't really give you the carry rate.
Yeah. Madden. Madden, Madden, Madden, Madden. I'm not going to say anything about it. I don't really care about the ratings. These Madden ratings, I don't know how they are viewed or how they do it, but hey, if that's what they feel, then that's what they feel. At the end of the day, I'm in the game.
I missed out on all that in college football and I think they might even bring it back now, like two years, or a year after I moved on from college. At the end of the day I'm in Madden, so I don't think about it too much. I'm in Madden, so I can't complain, I am just happy and fortunate to be in the game, like I said, if they don't think I did enough, I'll continue to do better and one day I plan to be on the cover of Madden.
What's this shoot mean to you particularly? Not everybody gets to do a L.A., Hollywood-quality shoot or commercial.
It means everything, for me, growing up, and looking at Donovan McNabb and his mom, and Victor Cruz and his mom and the New York Giants. To have my own little piece of that and bring my mom alongside of it, the stuff that you grow up looking at as a kid. The stuff that I know that sits and resonates well with me. I know that I have the same impact on today's youth, and for me to be able to do that and partner with Campbell's, and have my mom alongside means everything.