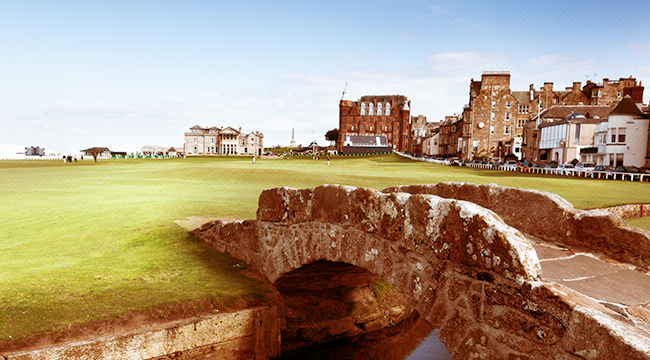 CARNOUSTIE – The roar can be heard from two tee boxes over. It's unmistakable, unlike anything else in sports. From a distance it rumbles, builds, crests, and dissipates, rolling like fog over sweeping hills. Not that long ago, the roar was commonplace. It was so potent that the silence became far more noticeable. But now, endangered and elusive, the roar is striking. It's impossible to ignore.
Tiger Woods wasn't just in contention on the final day of the 2018 British Open; he found himself atop the leaderboard after a masterful stretch of holes that included a clock-turning birdie on No. 6 and an ejection from 54-hole co-leader Jordan Spieth, who followed up a bogey on No. 5 with a double bogey one hole later. It was the sort of whimsy that drives viewers to their TVs (The Open tied its best overnight ratings in 18 years) and leaves people reckless on Twitter.
Any glimpse of the old Tiger stokes something far beyond nostalgia in people; not quite a "the way we were," Greatest Generation sort of rhetoric, but the sports equivalent of discussing Phil Hartman-era SNL episodes. It's almost like shaking hands with a ghost.
To have the game's best — Spieth, Rory McIlroy, even a late charge by Justin Rose — in lock step with Woods at the game's most noble championship was the sort of gemstone usually kept under glass, closely guarded by lasers and cameras. It wasn't meant to last; Woods faltered after the turn and his playing partner for the day, Francesco Molinari, captured the Claret Jug.
But by God it happened, you all saw it didn't you, it was right there, I swear. If you squint you can almost make it out from a distance. If we're lucky we'll see it again, at least we have to hope we will. It's not exactly poking its head out of Loch Ness, but just as fabled — and even if we don't, we'll remember. We'll always remember.
It's unclear exactly what golf needs to survive in 2018, but days like that Sunday in Carnoustie certainly don't hurt.
***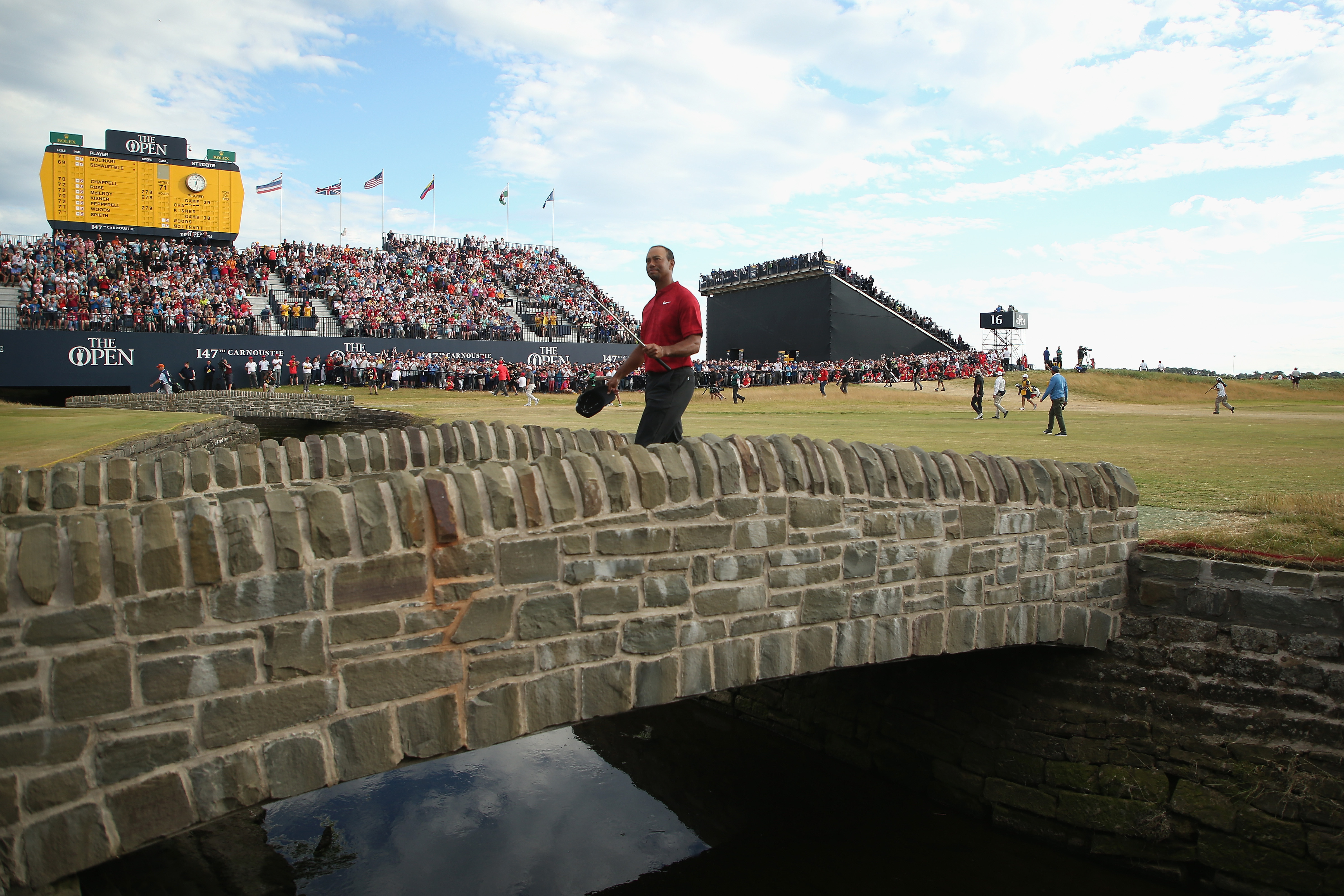 I'm facing a bunker so tall it casts a shadow that dwarfs me. I can see my ball, but when I step to it, I can't see the flag anymore. All I see is sand. All I know is sand. Peering into the hazard is peering into my own soul; there's emptiness where light should be, no way out, only tiny grains forming, converging, threatening to choke and bury me until there's nothing.
"This is a perfect photo opportunity," Ian Brown, my caddy at Dundonald Links, jokes. "Something to show everyone back home."
Brown has lived near a golf course his entire life. With a 0.5 handicap, he dabbled in turning pro, entering tournaments here and there, but could never quite make it stick. There's something different about his home course, like knowing the roll of the pool table in your parents' basement if your parents' pool table was 7,100 yards long. It may work at home, but it's not always easy to replicate from place to place.
He caddies and works as a contractor to give himself the flexible hours to be with his son, with whom he shares custody along with his former partner. It isn't what his parents envisioned for him when they sent him to university, but to Brown, you can't always be what your parents want.
Life gives you your lie, and you play it.
The relationship between caddy and player is all about communication (spoken and unspoken) and trust. It's one I never had growing up, when I played golf frequently, despite being caddy trained myself. I didn't make the final cuts at the country club I spent weeks learning and practicing; I was told I was too small to carry two bags.
My round at Dundonald is the first time I've ever had a caddy walking alongside me. It's my third day ever in Scotland. It's my first time ever playing links golf. Golf anywhere is always an exercise in patience and staying within yourself. You decide which risks are worth taking and get punished for being overeager or making a mistake.
Links golf is that to its extreme.
"The most important thing in links golf is patience," 1999 British Open winner Paul Lawrie says while signing bottles of his own signature edition whiskey after a Q&A session during the weekend's final round on Sunday. "I mean you're gonna get bounces that you're not gonna like. You're gonna get bounces that are gonna go, you know, a lovely shot in the middle of the fairway and it bounces straight right in the rough. So acceptance of that is the first key, and then controlling your ball flight. You have to keep the ball down. Not when it's flat ground because, obviously, you want it up in the air to make it stop, but if it's windy, you need to keep the ball down. Fall back in the stance, weight forward, less speed, less spin, and make it come out low. But accepting bounce is a huge part of links golf. If you can't do that, your head's gonna be all over the place."
The course is never to blame. The course is a reflection of self. It's an attempt to find meaning before having that meaning wiped clean and being asked to find it again. It's Sisyphean in nature. And in a matter of holes, or even from shot to shot, you can go from being your best to your worst in a snap.
When I was younger I didn't need any more reminders of what I was at my worst. I just assumed that's what I already was at all times. So I stopped golfing outside the occasional round every couple years.
***


Dundonald isn't anything special to look at. There are no sweeping views, no breathtaking water features, no rock formations or carefully manicured edges. Many holes run alongside a train route. Much of the area is wildlife protected and the course acts as a field study program for school children. The land itself was previously in use by the military during World War II before being converted to golf in 2003. What it lacks in first impressions it makes up for in mysticism. The wind blows with a little more purpose. The ball rolls with a little more decisiveness. The mind works with a little more clarity.
"You get there and you see a kind of disheveled clubhouse and you don't know what to make of it," Loch Lomond Distillery CMO John Grieveson says. "But then you walk out and it's one of the nicest links courses you'll ever play. It's very fitting for Scotland. It's all about the course."
Grieveson is all smiles throughout the week, even if those smiles belie a bit of fatigue, as this is his brand's first true showcase to the world at large. An agreement to become the official Spirit of The Open came through a few months prior, and they had a mad dash to get everything prepared in time for the championship.
Much like Dundonald, which hosted the Scottish Open in 2017, Loch Lomond had a storied, odd history before coming into focus over the past few years. There's been a distillery on that spot since 1814, the close cousin to what it resembles now was in operation in 1964 (although the Loch Lomond label was applied four or so years ago), they employ their own cooperage on site, and they took aim at a worldwide market by aligning with Stoli Group in late 2017.
The Open is in essence a chance to prove, as Grieveson says, that "golf and scotch are the two main exports in Scotland." And The Open itself, he remarks, is "the most wonderful piece of sport theater on the planet, across all sports."
Scotland's approach to golf is a bit different than the United States. While still not a workingman's game as it was in the past, there's far less of the accessibility issues that plague the game elsewhere. The courses in the States themselves are often guarded, gated, locked behind rules, memberships, exorbitant fees, and exclusivity.
What once was an air of privilege to aspire to has led to a sort of resentment. If you have the time to play, you need the money. If you have the money, you still need the time. And even if you have both, there's still the issue that at its core, well, golf is still pretty dang challenging. "A good walk spoiled," and all that.
The USGA has combatted that with a challenge to play nine holes through an ad campaign that ran heavily during the U.S. Open. Other courses have offered 12-hole options. Top Golf is thriving because there's neither a glaring time or financial commitment and it offers social benefits beyond stroke play.
Maybe golf should model itself after the export from Scotland. By taking cues from course availability and from links play itself, it won't solve any of the major issues plaguing the game, but it could help a few people who loved it find their roar and remember.
"If you want to play [in Scotland] you can play," Lawrie says. "I think Carnoustie's always been really good at that. Now, if you want a tee time here, you can get it. The old courses, you know it can be quite difficult to get on there, but if you got a bit of patience you can still get on. And that's the way it should be. It should be available to everyone, shouldn't it? It's a game we all play, whatever your level, so you should have access to the best courses."
***


I finally get out of the bunker, although not how I initially planned after a couple offensively bad attempts including one that leaves my wrist twitching. I turn 90 degrees, chip it out to the side, and move on. The shortest distance between two points might be a straight line, but not all paths follow that line.
The next hole I have my best shot of the day as I land it about 12 feet away from the pin. Naturally, my birdie putt is on line … and rims out.
"It can be a bit discouraging can't it?" Brown asks.
"Good life lesson there," I offer back with a shrug.
I save par, my first par on this course and probably in years. There's not a peep to be heard from two tee boxes over, but I give my finest attempt at a Tiger fist pump anyway. It feels good, although ultimately fleeting, gone as quickly as it came. Almost like shaking hands with a ghost.
Uproxx was hosted by Loch Lomond Distillery to take in The Open. You can read our policy on press trips here.