There's an important thing Taylor Twellman wants to stress about soccer in the United States. When he decries the arrogance that Americans have regarding the sport, it has nothing to do with the women's team, which won their fourth World Cup earlier this year. To Twellman, having an arrogance about your program is warranted when a team possesses the ability to back it up on the pitch.
"If there was an arrogance but it was rooted in success, you kind of take it for what it is, right?" Twellman asks. "But if there's an arrogance and you're not successful at all, or your success is really mediocre, then you sit there and you scratch your head and say 'Wait, is this really the road you still want to continue going down?'"
The road to which Twellman alludes involves the one being traveled by the United States Men's National Team. Twellman, a former forward who played for the national team, serves as an analyst for ESPN and covers the beautiful game all over the world. One of the more memorable nights of his broadcasting career did not come on a pitch somewhere as two juggernauts in world football squared off. Instead, it occurred while he was seated at a desk in Bristol, Conn. and was tasked with giving an immediate reaction to the national team's lowest point.
Back on Oct. 10, 2017, the United States had to win or draw against Trinidad and Tobago to make the 2018 World Cup. If they lost, they needed one of Mexico or Costa Rica to not lose to Honduras or Panama, respectively. The disaster scenario happened: the U.S. lost, while Panama controversially won thanks to a goal that should not have counted and Honduras took care of business. As a result, the Americans missed their first World Cup since 1986.
Twellman was stateside for all of this, watching the action from ESPN headquarters and preparing to go on the air and react to what everyone expected.
"Even if they tie, you sit there and you move on, you talk about preparing for a World Cup and that's it, and you drive home," Twellman told Uproxx Sports by phone, "while I was there for 28 straight hours and doing a thousand hits and talking about the darkest day in U.S Soccer history."
The television hit soccer fans remember came in the immediate aftermath of the loss. Twellman joined SportsCenter anchor Max Bretos for a frank and candid discussion about some of the systemic issues that existed and finally got their moment in the sun as Murphy's Law played out on that October evening — the moment that you have probably seen, even if you are not a footy fan, came around the 4:16 mark, when an exasperated Twellman proclaims "what are we doing?"
That occurred two years ago on Thursday. Fast forward to today, and one challenge that Twellman made to U.S. Soccer — the need to collectively "wake up" following the failure to qualify in 2017 — hasn't quite come to fruition.
"The little changes, yeah, I mean, I'm sure you could go all around our country and see little changes," Twellman said. "Universally, collectively, whatever way you want to phrase it as, I have more people reaching out to me that nothing's changed. If anything, it's gotten more exclusive. It's gotten smaller, people are less open to change, less open to conversation, which, that's a difficult one."
Here's the sort of thing that Twellman means. The national team saw an immediate coaching change when Bruce Arena, who was at the helm for the loss in Trinidad, resigned. Fourteen months later, he was replaced by Gregg Berhalter, who leads the team today. There have also been changes at the very top — longtime U.S. Soccer CEO Dan Flynn recently stepped down with a search ongoing for his replacement. Longtime USSF president Sunil Gulati decided not to seek re-election in 2018 and was replaced by his vice president, Carlos Cordeiro, while the national team established a general manager position. It went to former national team standout Earnie Stewart, who now serves as U.S. Soccer's sporting director.
But to use an analogy, the house burned down when the team missed the World Cup. In rebuilding it, the Federation opted to start with the roof instead of putting together a solid foundation. Twellman referenced the nine-figure surplus the USSF was sitting on in the aftermath of the loss in 2017 and wondered why it wasn't put to use on something like a gigantic coaching initiative that looked to make it easier to break into the sport; currently, the Federation has a series of courses for those interested in obtaining a coaching license, and going through the pathway from bottom to top can cost thousands of dollars.
"U.S. Soccer may debunk that and say, 'Oh no, this is what we've done,'" Twellman said. "I'm sitting at my computer right now and I go, I haven't seen anything. You and I wouldn't be having this conversation, in all seriousness, if there was a five to six bullet point change reform led by the U.S. Soccer Federation."
(Uproxx has reached out to U.S. Soccer for comment but have not heard back. This post will be updated in the event our request for comment is returned.)
Of course, it is very easy for the national team to achieve some modicum of success in spite of whatever is going on with its Federation. Since taking over as the team's manager, Berhalter has won eight of his 14 matches at the helm with four losses and a pair of draws. It's a respectable record in a brief tenure, although it hasn't been all rosy. Things looked a bit shaky in the lead up to and during this summer's Gold Cup, while the squad fell twice to its biggest rival and the top squad in the region, Mexico, in a two-month span: a 1-0 Gold Cup final loss in July and a 3-0 drubbing in a September friendly.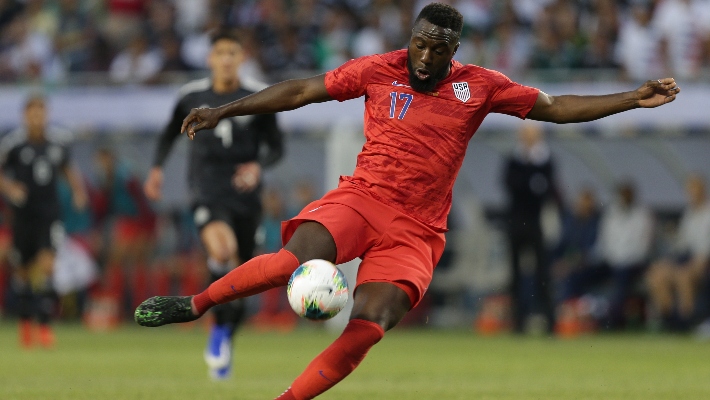 The usual conversations that consume American soccer fans occurred in response — about player selection, Berhalter's preferred system that emphasizes playing out of the back, and whether the team as a whole is headed in the right direction. As Twellman notes, it's hard to find too many folks who feel confident about much over the last few years. It doesn't help that the team is still trying to figure out its identity, something it was unable to do for more than a year following Arena's departure. Instead of hiring a manager as soon as possible, the Federation installed an interim coach before eventually getting to the point that it was ready to appoint someone full-time.
Between this, injury woes that have prevented some of the team's best players from getting incorporated into the side, and a collection of other issues, there are times when it's obvious the national team is experiencing major growing pains.
"It's just a team that is stuck in the mud of trying to figure out who they're going to be, what kind of team they're going to be, and they're doing it with a coach that's trying to figure out who he's going to be on the international level," Twellman said. "These are the times that are just not fun."
The good news for the side is that competitive matches are back. The Americans will play two matches in the inaugural CONCACAF Nations League over the next week, hosting Cuba in Washington, D.C. on Friday night before traveling to Toronto to play a pesky Canada side that boasts up-and-coming teenage wunderkinds like Bayern Munich's Alphonso Davies and Gent's Jonathan David on Oct. 15, which Twellman will call on ESPN2. Twellman, like many who closely follow the squad, has wanted to see more opportunities for some of the promising youngsters in the American setup dating back to the Gold Cup. He's "confused" by the team "calling in guys that I thought were done, or that have proven aren't going to get it done on the international level," but still believes this is a golden opportunity for the squad to make a statement in the region.
"They need to dominate," Twellman said. "I mean, you failed to qualify for the World Cup in 2018. This is now your region. Are you going to dominate or not? Are you going to dictate the tempo of the game? Are you going to get after teams?"
It's a new tournament that should help serve as a tune-up for 2022 World Cup qualifying, which starts next August. That makes this a gigantic year for U.S. Soccer from top to bottom, and if they play their cards right, they can start to win back some of the trust that has been missing since that fateful night in Trinidad, potentially reigniting a passionate fan base in the process. Look no further than the women's side, which have generated more revenue than their male counterparts over the last few years and packed nearly 50,000 fans into Lincoln Financial Field for a friendly in August, a record for the program.
While it's a tall task, it's hardly an impossible one. For Twellman, whether it's the men's team or the Federation as a whole, a major way to achieve this is not to run from their failures in 2017, but acknowledge them and use them as an opportunity to grow.
"There's a lack of energy into the program that's been very apparent to so many of us on the outside that either played for the program or watch the program, but I think even more so, to the fans," Twellman said. "I think there's a long road back to winning back some fans and I think they need to take it, just own it, and embrace it and get after it."