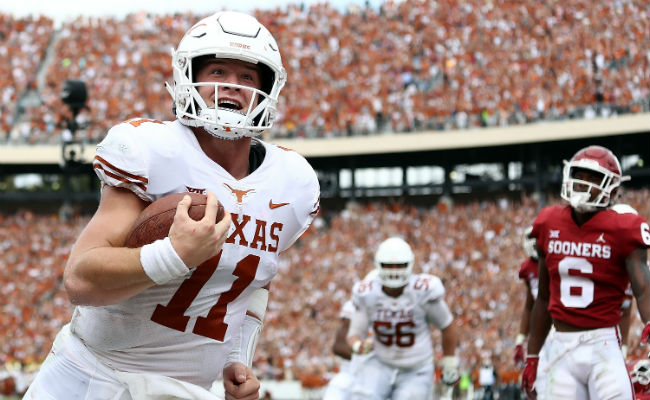 There are few things in sports like a rivalry game in college football that lives up to the gravity of the two programs involved. We got exactly that on Saturday afternoon, as the 19th-ranked Texas Longhorns and the seventh-ranked Oklahoma Sooners met up for the 113th Red River Showdown. By the time the dust settled, the Longhorns ushered in a whole new round of Texas is back jokes, as Tom Herman's squad came out on top in a thriller, 48-45.
The story of the game, at least for the first three quarters, was that the Longhorns looked like they were going to stomp their heated rivals. Texas took a 45-24 lead into the game's final frame, as the defense found a way to swarm Oklahoma quarterback and Heisman contender Kyler Murray. On the other side of the ball, sophomore signal caller Sam Ehlinger kept making plays against a Sooner defense that had plenty of skeptics coming into this week.

But the thing with the Sooners is that their offense is designed to create big plays and score in a hurry, meaning they're never actually fully out of a game until the clock hits zero. Lo and behold, Oklahoma staged an absolutely furious comeback, as Murray masterfully orchestrated three touchdown drives that took a total of 10 plays to tie things up. While he picked up one score through the air and running back Trey Sermon tied the game on the ground, the most breathtaking play was this 67-yard scamper down the sideline by Murray.
It was outstanding to watch, because there's nothing quite like when Oklahoma's offense starts raining fire on opponents. Texas responded by looking just terrible — their first three drives in the fourth quarter featured two three-and-outs and one six-play drive that ended in a punt.

Still, Ehlinger's best asset might be that he's completely fearless, and with the game on the line, he marched down the field on a nine-play drive and put the Longhorns in a position to kick a winning field goal. Enter freshman kicker Cameron Dicker, whose 40-yard attempt was damn near perfect.
Oklahoma got the ball back with nine seconds on the clock, but they were unable to capture any lightning in a bottle. Now, the Longhorns sit at 5-1 with a 3-0 mark that has them tied atop the Big 12 with undefeated and ninth-ranked West Virginia. The two teams meet up in a month in Austin, and while plenty can happen until then, the eyes of Texas have their sights set on the program's first conference title since 2009.