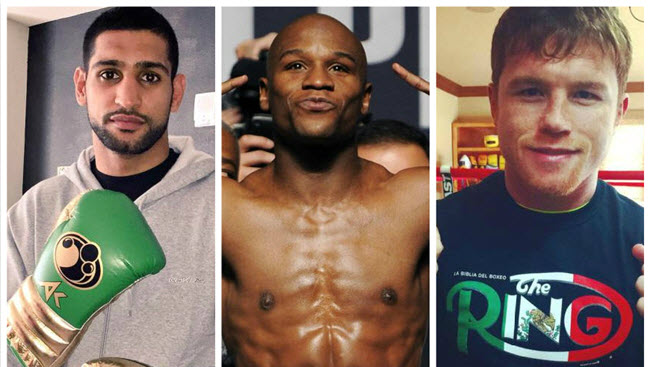 After defeating Manny Pacquiao in "the fight of the century," Floyd Mayweather announced that he will relinquish all his belts and take a final fight in September. The man rightfully known as "Money" is hanging up his gloves, win, lose or draw at the conclusion of his 49th professional fight. With four months to prepare and hype it up, here's a list of possible opponents for Floyd to finish his career against.
(It should be noted that arguably the most dangerous puncher on the planet, Gennady Golovkin, has not be included in the list to avoid jinxing the one fight I really want to see.)
Manny "Pac-Man" Pacquiao
Duh, like a rematch of The Fight of the Century isn't in the works, regardless of everyone not named Manny Pacquiao and Skip Bayless easily scoring the fight for Floyd. An added benefit is the potential injury angle with Pacquiao saying he had a hurt shoulder and was refused an anti-inflammatory shot the day of the fight.
Adrien "The Problem" Broner
Broner is basically Floyd's top henchman, and considers Mayweather his big brother. It might seem odd, then, for the two to fight, but I see this option as Floyd giving the boxing world the biggest middle-finger in the world as he spars with a good friend while collecting another multi-million dollar paycheck.
Saul "Canelo" Alvarez
The young bull has already faced and lost to Mayweather, but that was two years ago. Rumors are flying that once Mayweather retires, Alvarez, with his exciting style and high knockout rate, would become the new top draw in boxing. What better way to establish that by the old guard ending his career against the new hotness?
Keith "One Time" Thurman
There are only two boxers not named Floyd Mayweather that currently hold an alphabet soup welterweight title. Both are undefeated, and while I'm sure Kell Brook is a good boxer, he's only had two fights outside of his native England. Thurman boasts a more impressive knockout rate than Brook and has also fought in the MGM Grand, which is where Floyd's last 11 bouts have taken place.
Amir "King" Khan
There have been rumors of Khan facing Mayweather for some time now, and Khan has stated a desire to face Floyd on several occasions. The biggest issue here is Ramadan, which Khan will observe during the entire month of September.

Demetrius "Boo Boo" Andrade
Andrade is another young, undefeated champion that could benefit from a boost in notoriety by fighting Mayweather. Also, at 6'1, Demetrius would be the tallest man Mayweather's faced.
Danny "Swift" Garcia
Yet another undefeated boxer, but there's something special about Danny. He brings a little bit more to the table than just a flawless record. Yes, I'm talking about the fact that Garcia has six toes on one foot.
Andre "Son of God" Ward
This is one of the more unlikely opponents, since Ward is a super middleweight, which is 14 pounds heavier than the highest weight class Floyd has ever fought at. However, there is bad blood and beef between the two fighters, and perhaps even more between Floyd and Ward's manager, Houston rap mogul, James Prince.
"The Notorious" Conor McGregor
Okay, this is really far-fetched, I admit. Not because Dana White would never allow Conor to face Floyd in a boxing match, but because McGregor won't be healed in time from the tremendous beating Jose Aldo delivers in July.
Paul Williams in a Mech Suit
Paul Williams was a young, top ranked boxer, with a 41-2 record, just on the cusp of stardom, when a motorcycle accident tragically left him paralyzed from the waist down. However, if Paul made his triumphant return to boxing in some kind of powered armor to take on Floyd Mayweather, I don't see how that fight would do anything short of 50 million PPV buys.