Tim Wakefield had one of the most fascinating pitching careers in the modern Major Leagues. He was a phenom with the Pittsburgh Pirates as a rookie in 1992, leading the team to the postseason and becoming a star. But he lost himself in 1993, and after a players' strike and another disappointing season with the Pirates he was off the team.
But Wakefield rebuilt his career as a knuckleballer, catching on with the Boston Red Sox for 17 seasons in which he pitched the most innings in Red Sox history. He won 200 games, two World Series, and pitched as baseball experienced a steroid era and a statistical revolution. Wake gave up the game-losing home run to Aaron Boone in Game 7 of the 2003 ALCS, only to pitch crucial innings the next season as the Red Sox won their first World Series in 86 years.
Today, Wakefield is the honorary chairman of the Red Sox Foundation. He talked to Uproxx about his career on the mound, the impact winning has on a franchise, and what the future holds for America's Pastime while working with Subway to rebuild a Little League baseball field in New England.
It seems like you've been everywhere lately. You've done a lot of interviews, and you were in Boston for the Red Sox's celebration of the 2007 World Series title. How is retirement treating you?
The Red Sox keep me very busy for sure. I'm just a big fan of giving back to the community. They supported me for a long time.
Let's talk quickly about that 2007 team. You've talked about how different that team was compared to the 2004 title team. Was it just the players that made it a different experience for you?
Yeah, there was a handful of guys leftover from the '04 team that won it in '07 as well but it was a totally different team.
We had a lot of young players, we had a good mix of veterans and young players. (Jon) Lester, (Dustin) Pedroia, (Jacoby) Ellsbury, (Jonathan) Papelbon, to name a few. And we had some veteran players like Tek (Jason Varitek) and myself and Mike Timlin, (Curt) Schilling, Mikey Lowell had come over (from Florida) and Beckett had had some postseason experience. So we had a really great group of guys, and we kind of led from start to finish. Except for the 3-1 deficit against Cleveland in the ALCS, we felt like we were the best team every time out.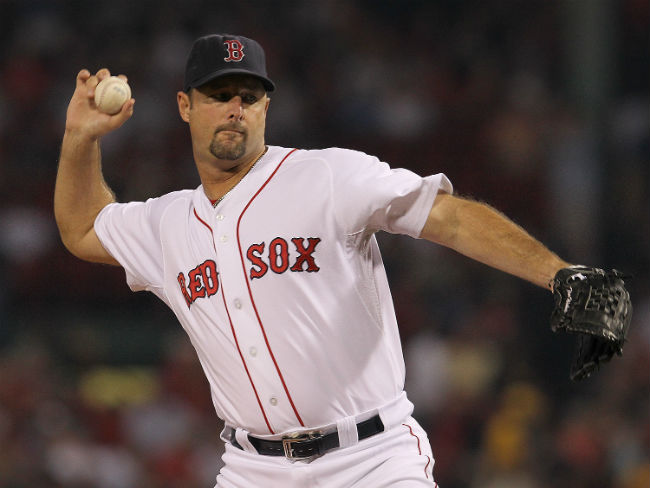 You've had a really interesting career in that you sort of had to start back over after two seasons in Pittsburgh as a conventional pitcher. You've changed as a player, but do you ever think about how your role as you got older changed on a team?
Yeah, I tried to lead by example. I tried to do the right thing. I wasn't a very boisterous guy. I just tried to make sure I was on time for stretch. I stayed out there for the whole time and just kind of respected the game as much as I could so the younger players could witness that.
You career spanned a really interesting time as far as statistics in baseball. I grew up and had to sort of reevaluate the stats we learn and figure out what numbers matter. Did you have to do the same as you kept playing?
I think the way stats are used to help the player now — toward the end of my career it was used more as an evaluation tool. And as a helpful tool, say all the Sabermetrics stuff. And I think now organizations are kind of learning that they need to use that as a bargaining tool for the club.

I have to ask about the knuckleball. I watched the "Knuckleball" documentary and it was so interesting to follow you and R.A. Dickey that season. The scenes where you were in the same room with other knuckleball pitchers were really entertaining. What was that like for you?
That was probably, of the whole filming process, that was probably my favorite part. Being able to sit and talk knuckleball with four generations of knuckleballers. Phil Niekro was obviously one generation, then Charlie Hough was another, then myself then R.A. Dickey, who is the newest generation. And then going out and playing golf with them the next day was pretty incredible as well.
I actually covered R.A. when he was making his comeback to the Majors with the Mets. He's a super interesting guy. Very cerebral about the game and pitching. Do you keep in touch with him and talk shop?
I see him once in a while. He's in the National League now, but when he was in Toronto, every time he came to town I'd make sure to make a point and come say hello to him. Now he's in the NL, so I haven't seen him very much.
Is there anything happening in baseball this season that's surprised you? Any team that's stood out?
Not really. Houston's really running away with the American League West. They're on pace to win over 95 games. But obviously what I'm really excited about is that we're starting to hear about the rivalry heating up with the Yankees and the Red Sox again. Because it kind of died when we all kinda left, and now there's a new core of players on both clubs that are going to be playing against each other for a long time.
How much do you think the rivalry was impacted just by the Sox finally winning? The mindset when you haven't won is so tough to overcome. Did it feel different for the guys in the clubhouse once you had gotten through 2004?
It took the pressure off generations after we won in '04. I mean, trust me, '99 and '95 when I was there, I felt the pressure of trying to win a championship for the Red Sox.

Yeah, it's not that winning ever gets easier, but it certainly seems like there's no weight of history to make things worse. For so long it was one side winning in the rivalry, is it better now that both teams are just young and fun to watch play against one another?
Absolutely. They're young guys changing the face of baseball now. I'm glad Major League baseball is kind of promoting these guys to be the face of baseball. It kind of started with Bryce Harper four or five years ago and now in New York with Aaron Judge and (Gary) Sanchez.
Especially in Boston with (Mookie) Betts and (Xander) Bogaerts and Andrew Benintendi and now Raphael Devers. So, it's pretty cool to see a lot of young players finding success in the majors right now.
One of my favorite things I've read about baseball this season was called There Is No Future Of Baseball. Have you come across that?
No I didn't but just from the title I can understand the gist of what the article was. And I felt the same way because the length of games was getting longer. We start late. We're losing our youth. You know, with lacrosse booming in the United States. It's a faster game and the way technology is everybody wants it quick. Wants it now. But I'm glad to see Major League Baseball is making changes.

What's interesting about the piece is that Jon Bois argues baseball has been perfected over the years. Nine innings. Nine players on each team. Football is evolving and the rules will change to stop injuries, but baseball is what it has been all along. Is there still room for innovation and change in baseball's future?
I think there's a lot of room for improvement no matter what sport you are, but especially in baseball. Lots of sports are changing rules, and baseball's really the last one to do that. But this has been slowly progressing for Major League Baseball for the last three or four years now. I know they're very conscious of the youths watching and participating in a lot of stuff, but hopefully we can change that direction and make it the most popular sport in America. It is America's Pastime, after all.
So how do you help get kids more interested in playing baseball? The League has worked to establish Urban Youth Academies in Major League cities, but should more be done to help kids in other areas out?
Yeah. Today we're actually doing a groundbreaking for Mission Hill Little League. Subway's been kind enough to make a donation and we're going to upgrade the field, put a new scoreboard up, put new fences up for safety reasons, and put a new surface on so these kids can play Little League baseball for years to come.