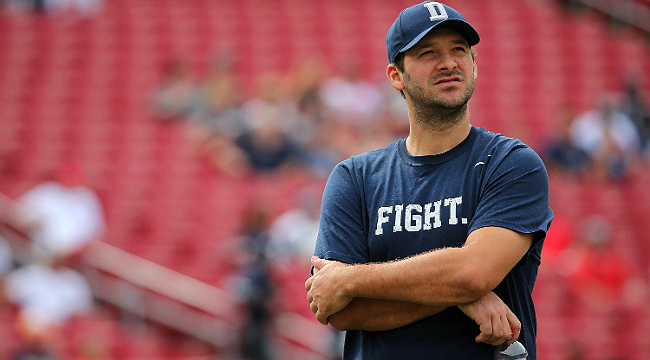 Tony Romo just cannot stay healthy. The Cowboys quarterback played in only four games for Dallas last season, and now he will likely miss at least the first half of this season after suffering a broken bone in his back during a preseason game against Seattle on Thursday night.
Head coach Jason Garrett made the announcement on Saturday that Romo's MRI revealed a fracture, and the Cowboys now expect him to miss between 6-10 weeks.
Romo initially expressed relief to reporters after the game that he felt OK after the big hit from Cliff Avril in Thursday night's game, but tests revealed he had much more damage than he initially thought. Thankfully for Dallas, they removed Romo from the game after the hit as a precaution even though he said he felt alright.
With Romo now out of the lineup, the Cowboys will turn to rookie Dak Prescott out of Mississippi State as their new starting quarterback. Prescott, a fourth-round pick in April's draft, has been extremely impressive thus far in the preseason going 39-50 with five touchdowns and no interceptions. However, there's a major difference between preseason games and the regular season ones, and Prescott will have big shoes to fill until Romo is ready to come back.