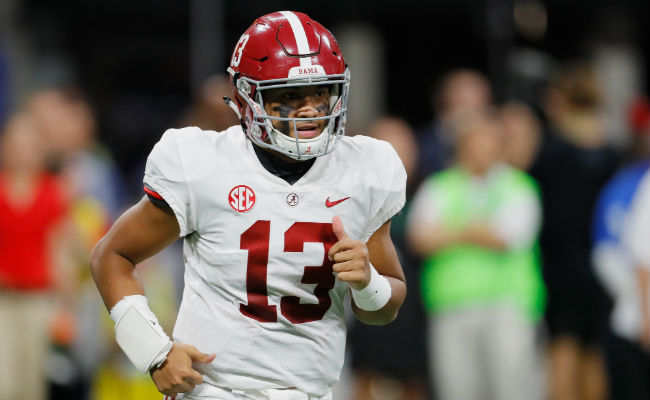 During the 2018 College Football Playoff championship game, Alabama went into the locker room for the half against Georgia needing a spark. To do this, Nick Saban pulled veteran starting quarterback Jalen Hurts and put in dynamic freshman Tua Tagovailoa. It worked, Tagovailoa won the game on a touchdown in overtime, and during this season, he put forth a whale of a season en route to a potential Heisman Trophy.
So of course, when the two teams squared off in the SEC Championship game on Saturday afternoon, the opposite situation more or less happened. Tagovailoa struggled against the Bulldogs, as he obviously wasn't at 100 percent due to an early ankle injury.
Then, in the fourth quarter with the Crimson Tide down by seven, Tagovailoa dropped back and went down in a heap. One of his offensive linemen stepped on his right ankle, causing it to bend awkwardly.

In response, Alabama turned to Hurts, the 2017 SEC Offensive Player of the Year and a steady hand under center. Even though he largely played in garbage time this season, he was asked to take the field as Tagovailoa got examined in the tent.
And because sports are the ultimate drama, on his first drive of the game, Hurts came in, converted a trio of third downs, including one on a third-and-goal that resulted in a touchdown pass to Jerry Jeudy.

We'll know soon if Hurts can lead the Tide to a conference championship and a Playoff berth, and hopefully Tagovailoa isn't seriously injured. But man, it'd be one heck of a story if tables were turned and Hurts relieved Tagovailoa en route to the Crimson Tide coming back against Georgia.