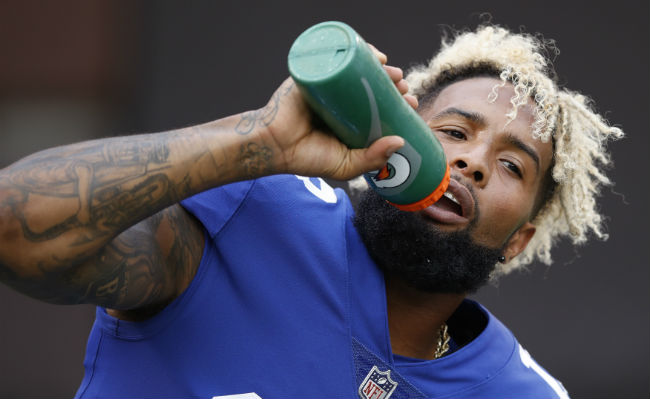 Fantasy football is a huge part of watching football for millions of people. Much like gambling and the dangerous allure of watching a sport that's slowly killing its participants, for many it's the only reason they tune into games in the first place.
The problem is that when a fantasy football manager needs a big performance on Monday Night Football and doesn't get it, their anger is magnified to the point that they'll actually find that player on social media and tell them how they disappointed you. That's much harder to do in traditional gambling because — unless a team forgets to kick an extra point — it's very hard to go find a specific football player and complain to them about how they failed to cover.
It's a selfish act in two parts, the first of which is assuming that anyone gives a sh*t about your fantasy football team in the first place. The second is that your fantasy football team is more important than the real, live human being that's playing in a professional football game.
Detroit Lions wideout Golden State complained on Twitter after the Lions beat the Giants, 24-10. People were disappointed in his fantasy output, but the wide receiver said he's much more concerned with getting the W.
Tate retweeted a fantasy player named Jameson complaining about his scoring output with a pretty simple message: it doesn't matter at all.
"This is the real world, & the @Lions won," Tate wrote. "That's all that matters. Have a great night."
He's not the only NFL player who has lashed out at fantasy owners on Twitter in recent days. On Sunday, LeGarrette Blount had zero carries for the Philadelphia Eagles. He took to Twitter not to complain about his lack of touches, but to tell off anyone who was concerned about their fantasy team because of his goose egg.
"I really could care less about all y'all fantasy teams, get outta my mentions with that shit," Blount tweeted with the peace sign.
And Odell Beckham Jr. also spoke out against the @ mentions on Saturday night. Beckham's ankle injury burned many (myself included) in Week 1 when he did not play, and with a Monday night game that meant nervous owners tweeting at him about his status all week. If he took another zero, that could be a brutal 0-2 for many owners who took him in the first round. Beckham, understandably, didn't care at all.
https://twitter.com/OBJ_3/status/90911036581180620
"No offense. I could care less about ur fantasy teams," Beckham tweeted on Saturday. "This is my Real Life. Focusing on gettin healthy and gettin better. 1 day at a time."
Beckham did play but had a a disappointing four catches for 36 yards on Monday night in the loss. I'm sure he heard about in his mentions and still doesn't care. No one does.