Press conferences in the UFC are usually tired, repetitive affairs in which athletes claim that they're in the best shape of their lives and that they're ready for fight night. Conor McGregor is an exception to this proven rule. He promotes fights with his mouth as well as anyone, but when you add in Nate Diaz, someone who you can always depend on for multiple mic drop moments, a formula for what could be one of the craziest press conferences in UFC history is created.
And these men delivered. Oh boy, did these men deliver. The live YouTube broadcast alone saw well over 200 thousand live viewers, which is huge for a UFC press conference (unprecedented, even for Ronda Rousey).
The conference started off hot with about 150 F-bombs going off before things cooled down. Both men clearly respect each other, with Conor supposedly being a long-time Diaz brothers fan and emulator of their brash style. Both men seemed shaken by the trash talk that was spewed at them. Both getting extremely aggressive with one another unlike any fight before.
This is now meta-promoting to the likes of which we never see. There is usually a good guy versus a bad guy, a yin and a yang. An Anderson to a Chael or a Jose Aldo to a Conor. This was unlike anything we've ever seen, and it produced a ridiculous amount of quotable moments, such as Nate saying repeatedly that Conor was on steroids (to which Conor got extremely agitated).
"Everyone's on steroids. Everyone in the UFC."
To which Conor rightly replied:
Then the poor featherweight belt suddenly realized no one really cares about it:
No one gives a f*ck:
Conor is always one to talk about how much money he makes, and his angle at the press conference was that he wanted to share some of that with Nate. So they discussed what they were going to do with all the money they make off the fight:
But with the UFC being called out on their McGregor favoritism, Nate's brother Nick made a point when he shouted, "nice shirt, Conor" from the crowd. It's the type of real talk that was expected out of this glorious promotional moment.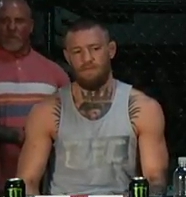 Conor then made a prediction for a fourth round knockout:
Then the staredown was anticlimactic, but that's okay. We don't need a fight before the fight.
It's clear that McGregor/Diaz is going to be far bigger than McGregor/Dos Anjos. This press conference alone sealed it. Two fan favorites that know how to promote and will guarantee a fantastic fight on March 5 is a huge win for the UFC and the fans.
But, Dos Anjos does have a point: