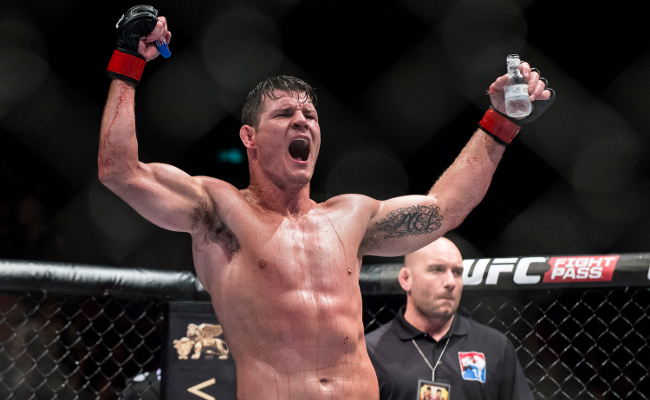 Hey fight fans. We've got an early morning start time with UFC Fight Night 72. It kicks off at 10 AM ET on Fight Pass, before the prelims move to Fox Sports 1 at 11 AM ET and the main card begins on FS1 at 1 PM ET, so let's not waste any time and get right into the predictions.
Important Standings of Note:
Jessica: 444-297-4 (60%)
Burnsy: 452-276-5 (62%)
Vince: 213-139-2 (60%)
Ryan: 10-5-1 (66%)
Danny: 161-77-1 (67%)
Spilled: 81-60-2 (57%)
Sydnie: 16-12 (57%)
Chris: 44-15-2 (74%)
NY Ric: 36-26-1 (57%)
Ghost: 6-7 (46%)
Seth: 32-15 (68%)
Biss: 41-39-1 (51%)
Jared: 80-45-1 (64%)
Melanie: 29-11 (73%)
Heavyweight – Daniel Omielanczuk vs Chris De La Rocha
Jessica: Omielanczuk has looked pretty bad in his UFC fights. CDLR beat up DJ Linderman, which is cool. I'll say De La Rocha wins by second round TKO.
Burnsy: What is this Saturday morning fight nonsense? I have yardwork, dammit. I don't know a thing about Chris "F*ck You I Won't Do What You Tell Me" De La Rocha, other than he's won three fights in his career. I do know that Danny has lost two really boring fights in a row, so I'm going to give his UFC experience the benefit of the doubt and predict he holds off a pink slip with a really boring win over some guy I've never heard of.
Bantamweight – Marcus "The Bama Beast" Brimage vs Jimmie "El Terror" Rivera
Jessica: Rivera has some decent scalps on his resume, like a young Whoop Ass Gates, Jared Papazian and Carson Beebe. I'll give him the nod here and say that Rivera takes a decision.
Burnsy: Oh Marcus, you glorious dork. The Beast has lost three of his last four, including two by TKO, so I'm sensing a theme of redemption fights here to kick this event off. I'll give Marcus the benefit of the doubt, too, even though my gut is shouting, "YOU KNOW THIS IS A BAD PICK, DUDE!"
Featherweight – Rob "The Hammer" Whiteford vs Paul "Redser" Redmond
Jessica: Color Fight! It's no shame to lose to Bektic, while a win over Pineda isn't that great. I guess I'll go with Redmond via third round submission.
Burnsy: I'll take the hometown hero, Whiteford, to win this one.
Lightweight – Mickael "Ragnar" Lebout vs Teemu "Pacu" Packalen
Jessica: Two European grapple dudes, I guess, neat. Teemu has been feasting on random dudes on the Finnish regional circuit, while Mike the Fight is a former PLMMA champ, which I'm sure is totally a real thing. I'll say Lebout wins by decision. Hey, Teemu, better Packa-lunch, because it's going to be a long night for you, buddy!
Burnsy: I don't know much Lebout either of these guys, but Pacu looks like he's the UFC's Steve Zissou, so I'll take him because he's 7-0 in his young career and has finished every fight thus far.
Light heavyweight – Ilir "The Sledgehammer" Latifi vs Hans Stringer
Jessica: Latifi is the strongest dude around. He's going to punch Stringer in the face and smoosh it into paste. Latifi wins by first round KO.
Burnsy: Last time out, Latifi had his ass handed to him by Jan Blachowicz, while Stringer was also served his toosh on a platter by Fabio Maldonado. I'll give the rebound nod to Latifi because he's more likely to knock a guy's head off.
Flyweight – Paddy "The Hooligan" Holohan vs Vaughan Lee
Jessica: Lee has been beaten by some good fighters and beat some bad ones. Holohan is pretty decent, so I'll take him to win. Holohan takes this via third round submission.
Burnsy: Aw, I'll always pick Paddy to rough up the Englishman. Who says the WWE has a monopoly on time-honored patriotic feuds?
Lightweight – Stevie "Braveheart" Ray vs Leonardo "Macarrao" Mafra
Jessica: Mafra has not impressed me at all in his UFC stint. Ray super has, though. Stevie Ray takes this with a second round TKO.
Burnsy: Forget the fact that he's Braveheart fighting in Scotland. Ray's win over Marcin Bandel in Poland back in April was pure dominance. He should have tapped him at the end of the first round, but Bandel kept grabbing the fence and the clock saved him. So Ray followed up by just tenderizing his chin for 20 seconds in Round 2 before it was called. It was a great performance and I expect a repeat.
Welterweight – Leon "Rocky" Edwards vs Pawel "Plastinho" Pawlak
Jessica: Leon Edwards, aka Yves' baby boy, is pretty snazzy. He's going to punch Pawlak's face a bunch and win a first round KO.
Burnsy: Leon's 1-1 since joining the UFC, but I still think he won that split decision at Fight Night 56. No time for revisionist history, though. Leon wins this one with a second consecutive finish.
Strawweight – Joanne "Jojo" Calderwood vs Cortney "Cast Iron" Casey-Sanchez
Jessica: Oh gosh. I really love Jojo, but you can't deny that "Cast Iron" is a super solid nickname. Despite that, I have to feel that she's kind of being offered up to get Calderwood back on the winning track. I'll take Jojo to win by third round TKO.
Burnsy: I like Jojo to bounce back here from her April loss and welcome Casey-Sanchez to the UFC properly.
Lightweight – "Irish" Joe Duffy vs Ivan "Batman" Jorge
Jessica: Batman is dumb, Jorge isn't that good, and Joe Duffy is the last man to beat Conor McGregor, so he's technically a minor god. Duffy wins by second round TKO.
Burnsy: Duffy's UFC debut in March is one of my favorite fights of the year so far, because he had this fantastic moment where he got fed up with Jake Lindsey kicking his lead leg, so he checked his next kick and then kicked Lindsey upside his head before delivering a KO punch to the ribs. It was rad. Go watch it on Fight Pass and then watch Duffy beat Batman.
Lightweight – Ross "The Real Deal" Pearson vs Evan Dunham
Jessica: Dunham's recent record isn't that great, but he's faced a tough crop of dudes. I'm going to back him here and say that he does some grapples to Pearson and takes a decision.
Burnsy: I'm not particularly excited about the potential in this fight, because both of these guys are pretty, "Meh." Pearson's coming off a nice KO win over Sam Stout, so I'll take him.
Middleweight – Michael "The Count" Bisping vs Thales Leites
Jessica: Mike Bisping really only loses to guys that are on the cusp of earning a title shot. Leites has looked decent in his return, but not enough to make this a secret contender fight. Bisping should be able to point fight on the feet, prevent take downs, and win a solid enough decision.
Burnsy: Leites. "But Burnsy, Leites was just run over by a riding mower." Leites. "But Burnsy, Leites was eaten by a bear." Leites. "But Burnsy, Leites movied to Pluto and had his hands surgically removed so he can never fight again." Leites. I won't ever consider picking Bisping.
Performance of the Night
Jessica: Latifi, Edwards
Burnsy: Ray, Duffy
Fight of the Night
Jessica: Calderwood vs Casey-Sanchez
Burnsy: Latifi vs Stringer, should be a bloody one.