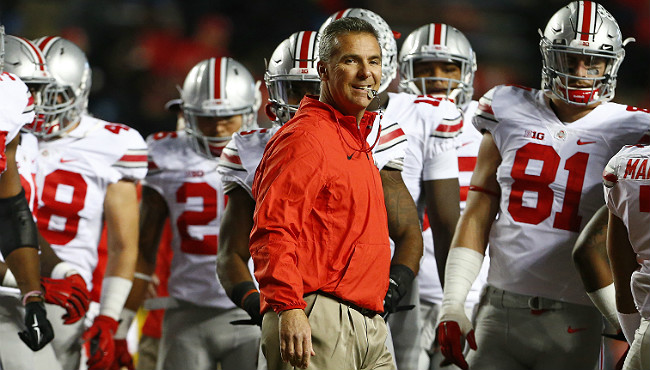 Urban Meyer has had a lot of ups and downs in the past few years. Who could forget the indelible picture of him bummed out, perched on a golf cart, and eating pizza after his Ohio State team's loss in the 2013 Big 10 Championship game to Michigan State? Or the memorable moment this past summer (only a few months after his team won the National Championship) when he had some cheeky fun with a player who stole his parking spot? Now, the coach has helped to deliver an unforgettable moment to a young Buckeyes fan, who has been battling a blood disorder since he was an infant.
According to USA Today, Meyer pulled out the stops:
Kevin Jones…was invited with his family tour the Woody Hayes Athletic Center, and Jones got to meet J.T. Barrett and Joey Bosa, sit in the locker room and even try on a few Ohio State championship rings.
The surprises and fun didn't stop there though. Meyer and the team at Ohio State went above and beyond to make Kevin's day at the facilities amazing on all levels:
Kevin then hit the practice field with head coach Urban Meyer, who surprised the family with tickets to the Fiesta Bowl to watch the Buckeyes play Notre Dame.
That's right, he'll be seeing the team again when they face off against the Fighting Irish in Arizona in a few weeks. No matter the outcome of that game, Kevin will have this experience to look back on for the rest of his life.
(via USA Today)