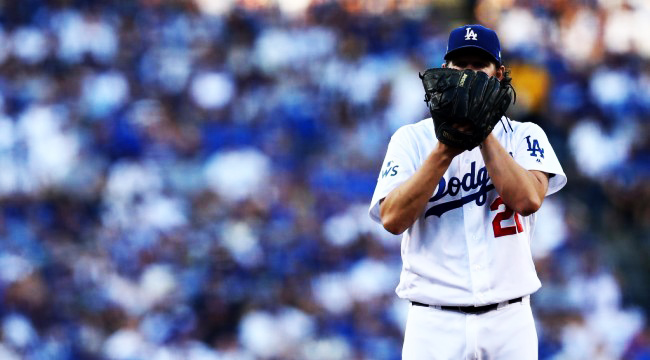 Consider this: Derek Jeter hit .308, had an on-base percentage of .374, slugged .465, and socked 20 home runs throughout 158 postseason games, yet his regular-season career average (per 162 games) was. 310/.377/.440 and 15 dingers.
There were individual moments that played a huge role in forging Jeter's postseason legend – the flip play, the Mr. November homer, the leadoff shot at Shea – but the fact remains that the player of his generation most synonymous with playoff glory is someone whose October resume was statistically on par with what he did over all those summers preceding the golden autumns.
And you know what? That's fair. The playoffs are harder than the regular season. There's more pressure and the quality of opposition can only be the best teams in the league. Putting up numbers in line with what a player has done in the regular season over a significant sample size is a remarkable achievement. Reggie Jackson, the man known as Mr. October, had 17 homers and an .885 OPS in his 77-game playoff career, and a regular-season average (per 77 games) of 15 homers and an .846 OPS.
Yet, somehow, Clayton Kershaw has a reputation as a playoff choke artist. Well, not somehow, because we know exactly how. In six Octobers before this year, Kershaw held opposing hitters to a .229/.286/.364 line. (For comparison, the career line of waiver wire legend Adam Rosales is .227/.292/.365.) But Kershaw has had some massive stinkers in the playoffs: Game 1 of the 2009 NLCS against the Phillies, Game 6 of the 2013 NLCS against the Cardinals, Game 1 of the 2014 NLDS against the Cardinals again, and Game 4 of the 2016 NLDS against the Nationals.
Kershaw's critics have been happy to overlook the fact that in the last two of those starts, Kershaw was left in games too long because two managers — first Don Mattingly and then Dave Roberts — preferred their chances with a tiring ace to what might be offered by a middling middle relief corps.
The failures, regardless of logical explanations, all are submitted as cases of Kershaw not getting the job done, but the "can't hack it in October" crowd also routinely overlooks performances like coming out of the bullpen last year on one day's rest after that shelling by the Nationals to close out last year's NLDS after closer Kenley Jansen ran out of gas, or the seven innings of two-hit ball in Game 2 of last year's NLCS, or the 12 strikeouts in seven innings in Game 1 of the 2013 NLDS in Atlanta, or the seven-inning throttling of the Mets in Game 4 of the 2015 NLDS to keep the Dodgers alive in that series.
It's true that Kershaw (even after a sublime effort in Game 1 of this World Series) has a 4.21 career playoff ERA, a flabbergasting figure next to his 2.36 regular-season mark. But he also has 10.6 strikeouts per nine innings in the playoffs, slightly better than his rate of 9.9 whiffs across 10 summers in the majors. His regular-season WHIP is 1.002, but even his playoff mark of 1.085 would have ranked fifth in the National League this season behind Max Scherzer, Kershaw himself, Stephen Strasburg, and Zack Greinke.
To get his playoff ERA in line with his career number, Kershaw would have to pitch his next 107 innings without allowing an earned run. Though it would be silly to put anything past Kershaw, he's not doing that. But it doesn't mean he always has to be known as an October flopper. There's one quick way to get past that label, something Kershaw is pursuing right now: He needs to win the World Series.
Alex Rodriguez took a lot of heat over the course of his career for a lot of reasons, the least fair of which was his playoff performance. Rodriguez's .822 career postseason OPS was well off his personal standard of .930 in the regular season, but that playoff OPS would still be five points better than regular-season Jeter, and as good or better than 25 postwar Hall of Famers – not just defense-first players but sluggers like Andre Dawson and Tony Perez.
Like Kershaw, Rodriguez had some memorable playoff misfires. He went 2-for-17 over the final four games of the 2004 ALCS, went hitless in four of five games against the Angels in the next year's ALDS, then started the 2006 ALDS against the Tigers in a 1-for-10 funk before Joe Torre moved him to eighth in the batting order – a totally normal reaction by a Hall of Fame manager to three lousy games from a star player.
But then came 2009, with Rodriguez running roughshod over the Twins (5-for-11 with two dingers), then the Angels (9-for-21 with three taters). In the World Series, he promptly went 0-for-8 with six strikeouts in the first two games – against Cliff Lee, Pedro Martinez, and Ryan Madson, mind you – and was again facing questions about whether he was cut out for the sport's grandest stage.
With the Yankees down, 3-0, in Game 3 in Philadelphia, Rodriguez hit a two-run shot – verified by the first use of instant replay in World Series history – that sparked the Yankees to an 8-5 win. Rodriguez went 4-for-10 with two walks and a hit-by-pitch in the final three games of the series, including the tiebreaking double off Brad Lidge in the ninth inning of Game 4. He also drew a walk from Martinez before Hideki Matsui's two-run homer put the Yankees ahead to stay in the clinching Game 6. Big things, little things, Rodriguez was doing it all.
Rodriguez not only finally received that championship ring but played a vital role in its procurement. So even though he hit .152 with no homers in 92 postseason plate appearances after that dominant 2009 run, the days of yammering about Rodriguez-as-playoff-loser ended with finality in 2009 and now he gets to wave his World Series ring in America's face on the Fox studio show.
Kershaw probably wouldn't follow quite that same career path, but the same invaluable reward would unequivocally be his: Quashing the "October choker" narrative once and for all.
Jesse Spector is a freelance writer based in New York City and a former national baseball writer for Sporting News.