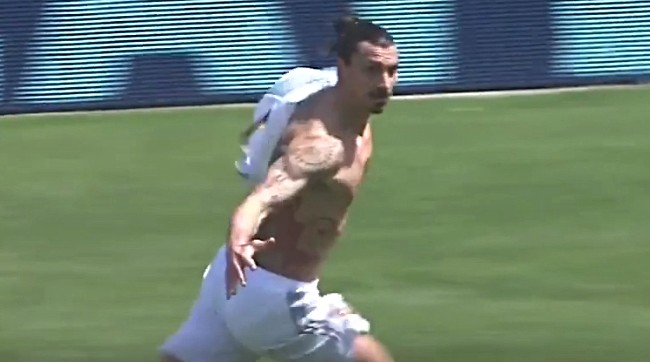 Major League Soccer has a new rivalry, and its first game could not have been more entertaining. "El Trafico" pits league mainstay Los Angeles Galaxy against MLS newcomers Los Angeles Football Club, with the first match between the two sides occurring on Saturday afternoon. By the time the dust settled, the Galaxy picked up a 4-3 win, mostly because they had Zlatan Ibrahimovic and LAFC did not.
Ibrahimovic is one of the most entertaining footballers ever. He's a dynamic scorer and a tremendous personality, and sometimes, the latter has overshadowed the former and led to some nasty breakups. But despite joining the club on Thursday, Ibrahimovic took the pitch with his side down 3-1 in the 71st minute and absolutely lost his mind.
Right after Ibrahimovic came on, Galaxy midfielder Chris Pontius put one away. A few minutes later, Zlatan did this. I am still laughing at it.

This goal is absolutely insane, as evidenced by the fact that Fox's John Strong screamed "come on" twice after it hit the back of the net. The combination of technique, power, anticipation, and brazenness necessary to try something like this exists only in a handful of soccer players worldwide, and Ibrahimovic is one of them.
The strike made the match 3-3, and by that point, the crowd at StubHub Center had become absolutely unglued. The Galaxy were playing loose, and it felt like a fourth goal — likely due to Ibrahimovic — was inevitable.
And guess what? While the match was in injury time, Galaxy fullback Ashley Cole fired in a cross that was met by the head of his new teammate. Ibrahimovic is a clinical finisher with his head, and LAFC's Tyler Miller just couldn't get there.

It was as perfect of a debut as you can imagine, and as any soccer fan will tell you, this was the most Zlatan way that this could have gone down. He's also an outstanding quote, which was on display during a post-match interview.
The Zlatan Ibrahimovic experience in MLS is going to be an absolute joy, if only because he is a talent and a personality that can possibly transcend the league. Both of those things were on display during his debut.