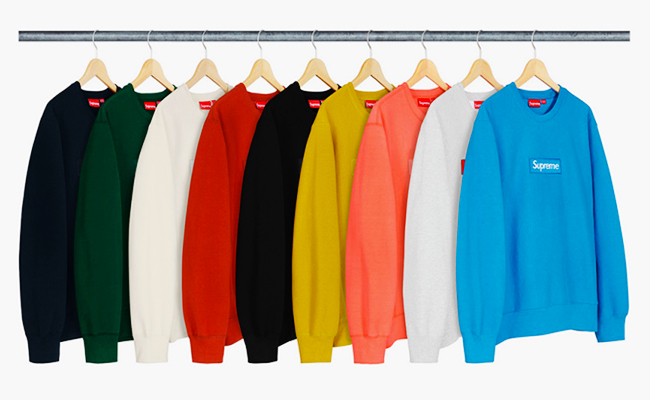 Ahh, Supreme — quite possibly the only fashion label on earth that can make news with the mere rumor of a drop.
That's the scenario today, as the ultra-hyped Supreme FW18 crewneck sweaters might be dropping this Thursday, December 6th, according to multiple Supreme-drop focused Twitter accounts. While that statement alone might warrant a few scoffs, if anyone knows about secret Supreme drops it's probably them.
The crew neck sweaters have had Supreme-heads salivating since August — when the streetwear fashion label released it's Fall/Winter 2018 lookbook. The crewneck sweaters are simple, featuring only the Barbara Krueger-indebted Supreme box label and coming in nine ultra-vibrant distinct colors.
The colors are the main draw here, the sweaters come in navy blue, forest green, white, red, black, mustard yellow, peach, light grey, and sky blue. Frankly, they all look good but everyone is bound to have their favorites. We're going to have to go with either the sky blue, mustard yellow, or peach.
The Supreme Box Logo Crew Neck sweaters will retail for $158 and possibly come out Thursday, grab one at the Supreme store or online. Even if they don't come out Thursday, keep an eye out as they are sure to drop sometime this month and will undoubtedly fly off the shelves.