You've probably heard that as of this past weekend, the iPhone X is now in the hands of a few consumers, with several more en route between now and the holidays. Like many Apple enthusiasts, I set my alarm to go off in the early morning hours of October 27th, only to find that the Apple Store was offline, overloaded with traffic. Luckily, my dogs happened to get me up a few hours later for their morning meal, so I logged in and, to my surprise, was able to order an iPhone X before the sun came up. The order confirmation indicated it would be delivered by mid-December, so I was surprised when UPS brought it to my door less than two weeks later.
Unlike previous iPhone launches that layered in new features while keeping the nuts and bolts of the iPhone intact, the iPhone X is a potential game-changer. While keeping the general look and much of the interface intact, it's also throwing out the playbook and putting new technology at the literal fingertips of its users. Having had my iPhone X for less than 24 hours, here are my first impressions of the phone that could very well usher in a new generation of mobile technology.
No Home Button
Easily the biggest change with the iPhone X is that the home button is gone, meaning the face is now edge-to-edge screen. While it seemed like it'd be difficult to get used to, it's a surprisingly easy adjustment. When you need to close an app, you swipe upward from the bottom of the screen. It's the same gesture that had been used prior to access the iPhone's control panel, which is now accessed by swiping down from the screen's upper-right corner. Within a few minutes of playing around, the home button was like a distant, archaic memory to me.
What does take a bit of getting used to is the quick change between apps. Where you used to just double-tap the home button, you now swipe up from the bottom of the screen, then hold about halfway up the screen. After a second, you'll feel a vibration, and the other apps you've used recently will pop up on the left. Instead of a quick swipe up to close them out, you press and hold one, then a small red minus sign pops up on the corner. Tap that, and the app will close. Sure, it works fine, but it's nowhere near as satisfying as banishing the app with an upward swipe when you screw something up on Super Mario Run.
Still, the screen-only iPhone X (minus a few buttons on the side) is a definite leap forward. 10 years ago, having a phone with a digital keypad was considered revolutionary. Now, as it takes a bold step in eliminating its primary button, the X is pushing users forward into an interface where everything will be controlled within its pixels.

Face ID
Having removed the home button that could read your fingerprint, Apple's made use of the front-facing camera by putting facial recognition technology in the pocket of its users. Much like previous iPhones would have you roll your thumbprint around on the home button during setup, the Face ID option works in a similar way. Facing the phone, you simply turn your head a few directions so it can get an accurate idea of what you look like from various angles.
While there were rumors that Apple cut some corners during production to meet demand, the feature works as well as intended — at least so far. After waking up your phone (either via the side sleep/wake button or just by moving it), hold it up to your face. Swipe up from the bottom, and your phone's good to go. It's another leap forward that might seem drastic at first, but it's one that makes sense. We've become increasingly reliant on our phones not just to communicate across any and all platforms, as well as everything from paying for groceries and boarding airplanes. With this ubiquitous reliance, facial recognition does lend itself to one of the best options for digital security out there. As an added bonus, you can also annoy your fellow iPhone users with an endless barrage of custom-made emojis.
For those of you who still think this all seems a little too Big Brother-y, not to worry. You can opt out of the Face ID option entirely and use your standard passcode to unlock the iPhone X.
Wireless Charging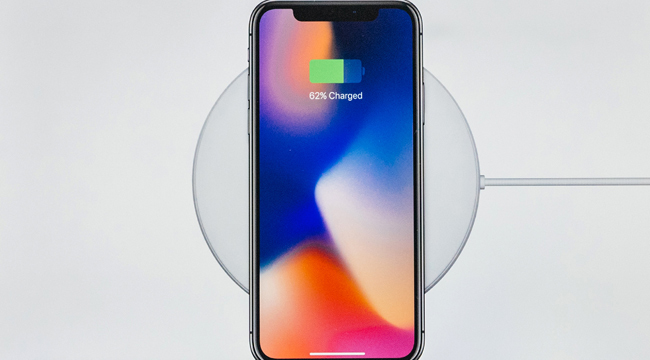 This seemed like one of those things that would be a nice extraneous feature, and that's about it. However, with the limited time I've had it (meaning I haven't really had to charge it yet), setting your phone on a charging pad seems like something I'll get used to almost immediately. So much so that I'm already seeing myself griping over having to plug a lightning cable when I'm stuck somewhere without my wireless charger.
It's an added convenience, but as we move more and more into a wireless world, features like these will undoubtedly become more commonplace with mobile devices in the future. We won't know that they've become standard until phones come with a pre-packaged wireless charger. Until then, you're stuck shopping on your own if you want to start leaving lightning cables in your rearview mirror.
Augmented Reality
It's increasingly clear that augmented reality is going the next untamed frontier for mobile technology, and Apple CEO Tim Cook is getting behind this in a big way. AR was touted as a major feature when iOS 11 was launched last month, and it's just now pushing its way out of the novelty stage. While apps like Holo are keeping it strictly in the entertainment realm, companies like IKEA and Wayfair are starting to apply practical uses by letting you preview what new furniture or decor might look like in your home before you pull the trigger. Others like JigSpace and Quartz aim to give 3D renderings of graphics to accompany relevant news stories, all of which are just scratching the surface of what this burgeoning technology can do.

The Future Of Mobile?
Considering how smartphones have become not just ubiquitous, but an essential part of most of our lives, Apple's really raised the bar this time around. Rather than just throw on a better camera and a brighter screen, the iPhone X gives us a real glimpse of the smartphone's future. You can unlock it with a glance, charge it by setting it down, and access its multitude of functions without a physical button. In that regard, it also knows what you look like, and can become familiar with the inside of your home. Sure, it's little imposing, but it indicates just how integrated this technology has become. The future is now.