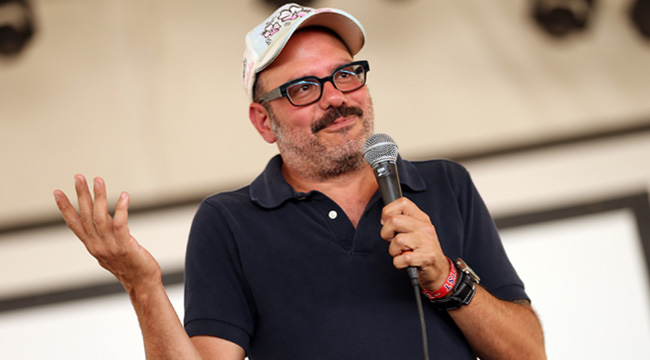 With just days until its first new season in years, everyone is talking about Arrested Development, but not how the cast and the show would hope. In an interview with much of the cast for The New York Times, Jeffrey Tambor's firing from Amazon's Transparent amidst allegations of sexual assault came up, which then led to an outburst Tambor had on the set of Arrested Development, addressed at his on-screen wife Jessica Walter.
The entire interview should be read, as its a master class in explaining away an issue. It led to Walter's co-stars Jason Bateman and Tony Hale apologizing, and now David Cross, who has been off Twitter for most of the outrage, is promising to apologize and be better as well.

"I will unequivocally apologize to Jessica," Cross told Gothamist. I'm sorry that we behaved the way we behaved. Whatever the criticisms are, I will own up. I don't even know what they are, as I said, I saw the initial thing but I jumped off [of Twitter] at the behest of various people."
Most people are focusing on this moment, in which Walter tears up, hoping to move past this issue:
Cross also brought up a moment, that in retrospect, sounds like something that was referenced in the Times piece. Everyone has been angry on-set, including Walter. Tambor just took it to another, unacceptable level. This can also be looked at as a sort-of deflection, or maybe this entire cast is having a lot of trouble explaining things.
I agreed with Alia that there was no excuse. There's never an excuse ever for yelling at somebody and humiliating them in front of other people. And there was no excuse when Jessica did it. To Jessica's credit, she eventually apologized to the actress, and felt bad about it. Jeffrey did as well, but it was a bigger deal, there were more people in the room and it was an extremely uncomfortable moment…

But to Jessica's credit, she felt bad, she apologized. Portia [di Rossi] wasn't around, so there was a stand-in for her for months and months and months, and there was this incident, but it didn't have the same kind of feeling that Jeffrey's did. Jeffrey's took a lot of the focus. And again, I don't condone that behavior when anybody does it. And that's with crewmembers as well. There's just no excuse.
Unfortunately, it seems as if the entire cast, which called themselves a family multiple times during their interview, didn't seem to discuss Tambor's misconduct towards Walter as a group before they did in front of the world.
(Via Gothamist)