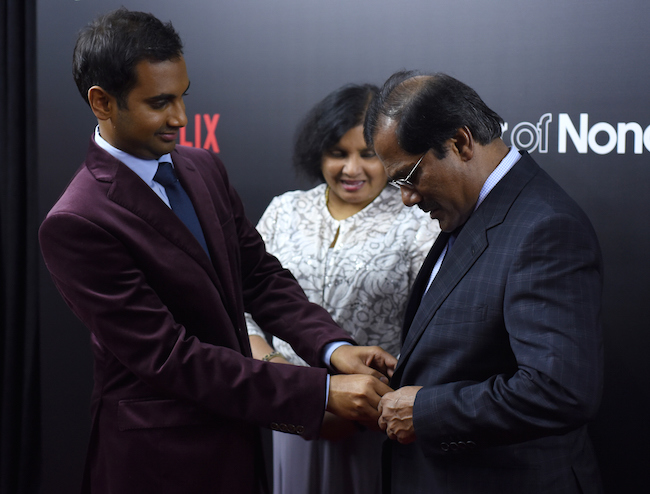 There are so many great things about Aziz Ansari's Netflix show, Master Of None. One of them is Ansari's father playing the actor's father onscreen and becoming the breakout star of the series. That's why Ansari's social-media tribute to his dad is so touching.
After Shoukath Ansari went on The Late Show With Stephen Colbert to recall his befuddlement at his son wanting to become a standup comedian, as well as to tell him to settle down, Ansari penned a tribute that he posted on Instagram and Facebook. The tribute begins like this:
My dad took off most of his vacation time for the year to act in Master of None. So I'm really relieved this all worked out. Tonight after we did Colbert together he said: "This is all fun and I liked acting in the show, but I really just did it so I could spend more time with you." I almost instantly collapsed into tears at the thought of how much this person cares about me and took care of me and gave me everything to give me the amazing life I have.
Are you crying yet? If not, Ansari goes on to write about how working with his parents on this show helped bridge that divide that many first generation Americans experience between themselves and their immigrant parents, a theme that Master Of None deals with. As Ansari writes, "I've been overwhelmed by the response to the Parents episode of our show. What's strange is doing that episode and working with my parents has increased the quality of my relationship to my parents IN MY REAL LIFE."
Ansari then implores everyone else to not take their parents for granted: "Not to beat a dead horse here and sorry if this is cheesy or too sentimental but if your parents are good to you too, just go do something nice for them. I bet they care and love you more than you realize."
Perhaps this message is why this post has more than 75,000 likes on Instagram and almost 150,000 likes on Facebook.