Last Updated: January 22nd
Good news guys, cartoons aren't just for kids anymore.
Over the last few years, Netflix has jumped on board the animated series trend, churning out comedies, kids shows, and anime at a rate that makes us seriously question the need for anything live-action these days. Along with some critically acclaimed dramedies like BoJack Horseman and Big Mouth, the streaming platform is also home to some lesser-known fare. Japanese cartoons about death metal-loving pandas, a bear voiced by SNL star Bobby Moynihan who's trying to make it in San Francisco, a medieval fantasy from Simpson's creator Matt Groening — they all exist and they all can be found on Netflix.
Get ready to add some more titles to your queue because these are the best animated series on Netflix right now.
Related: The Best Animated Movies On Netflix Right Now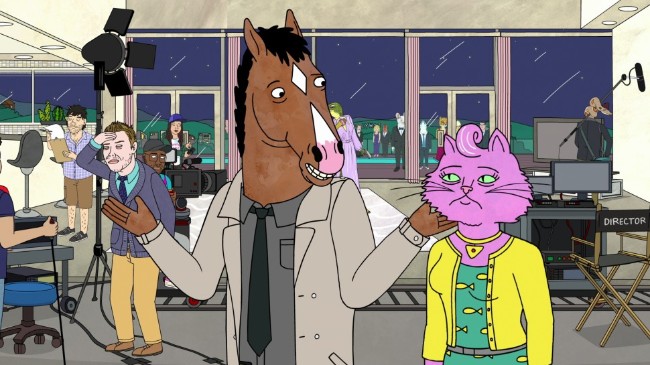 BoJack Horseman
6 seasons, 77 episodes | IMDb: 8.5/10
Netflix's best series just so happens to be an animated comedy about a depressed celebrity horse struggling with fame and addiction. Set in a world where anthropomorphic animals and humans live side-by-side, BoJack Horseman is about a horse named Bojack (Will Arnett), the washed-up star of the 1990s sitcom Horsin' Around. After a decade boozing on his couch and sleeping around, Bojack tries to resurrect his celebrity relevance with decidedly mixed results. His agent and on-again, off-again girlfriend is a Persian cat (Amy Sedaris); his rival (Paul F. Tompkins) is a golden labrador; he's in love with a human woman who works as a ghostwriter (Alison Brie); and he has a layabout roommate (Aaron Paul) with whom Bojack has a co-dependent relationship. On the face of it, it's a zany satire of Hollywood and celebrity culture. What's unexpected, however, is that Bojack Horseman may be television's most honest and thorough examination of depression. The writing is sharp, the jokes are layered, and the situations are hilarious, but there's a melancholy undercurrent to the series. Despite being a horse, Bojack is also one of the most human characters on television.
Big Mouth
3 seasons, 32 episodes | IMDb: 8.1/10
We're not sure how Nick Kroll's animated coming-of-age comedy manages to be so disgustingly filthy and heartwarmingly-sweet at the same time, but we do know it should be required viewing for anyone who's gone through, going through, or will go through puberty. (Read: EVERYONE.) The show centers on a pair of pair of bros named Nick (Kroll) and Andrew (John Mulaney), who go through some of life's most traumatizing and hilarious happenings — think bat mitzvah meltdowns and inconvenient boners. Those embarrassing issues are usually caused by Maurice, Andrew's own Hormone Monster (also voiced by Kroll) who takes pleasure (literally) in abusing the poor kids. As painfully accurate as the show is, if you're lucky enough to be removed from that angst-ridden era of life, you'll probably appreciate the humor in all of it.
Disenchantment
2 seasons, 20 episodes | IMDb: 7.3/10
Simpsons creator Matt Groening's latest work of genius is this relatively new animated comedy ordered by Netflix. It follows a rebellious princess (voiced by Broad City star Abbi Jacobson), who decides to eschew her royal duties in favor of adventure (with a good-natured elf and her own personal demon in tow). The series looks like it hopes to be a medieval fantasy riff off Futurama, which should entice a wide variety of cartoon addicts, and with Groening at the helm, expect the show to conjure enough comedy and magic to earn more than just one season.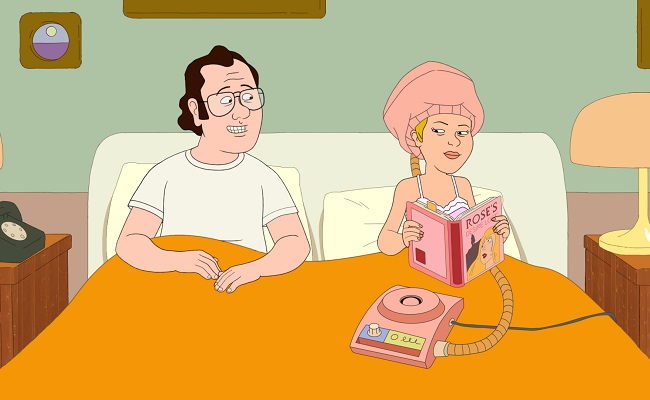 F is for Family
4 seasons, 36 episodes | IMDb: 8/10
Set in 1973, this Netflix animated series from Bill Burr is based on his childhood experiences in Massachusetts, and while it is not a particularly original family sitcom, it's deceptively smart, hilariously profane, and pays great attention to the details of the 1970s. F is for Family will appeal to anyone who shares Bill Burr's worldview — dark, unapologetically politically incorrect, and honest. Despite its vulgarity and crude animation, the series also boasts a few poignant turns that border on heartbreaking. For people of Burr's age, F is for Family really captures what it was like to grow up in the early 1970s.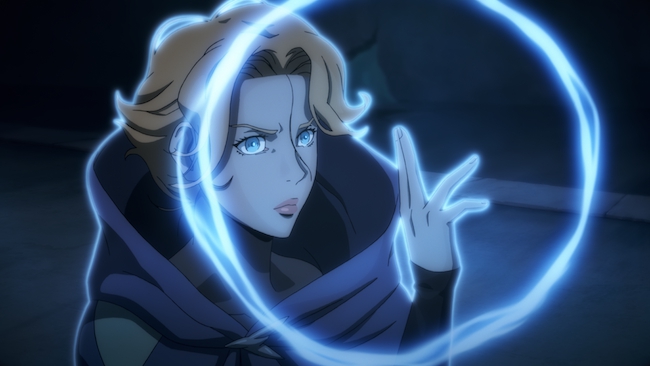 Castlevania
3 seasons, 23 episodes | IMDb: 8/10
Even those unfamiliar with anime are likely to have heard of Castlevania, as the franchise is one of the jewels in Konami's crown. The anime series is produced by Netflix and boasts a voice cast including Graham McTavish as Count Dracula, who vows revenge against Wallachia after the death of his wife, and Richard Armitage as Trevor Belmont, the last of a clan of monster hunters, who leads the fight against him. There's blood aplenty, and a nice balance between monster and man as per most gothic horror stories — as well as a somewhat romantic aspect, as Dracula is portrayed as a sympathetic villain. The series is also just gorgeously animated, and with two short seasons available, it's well worth your time.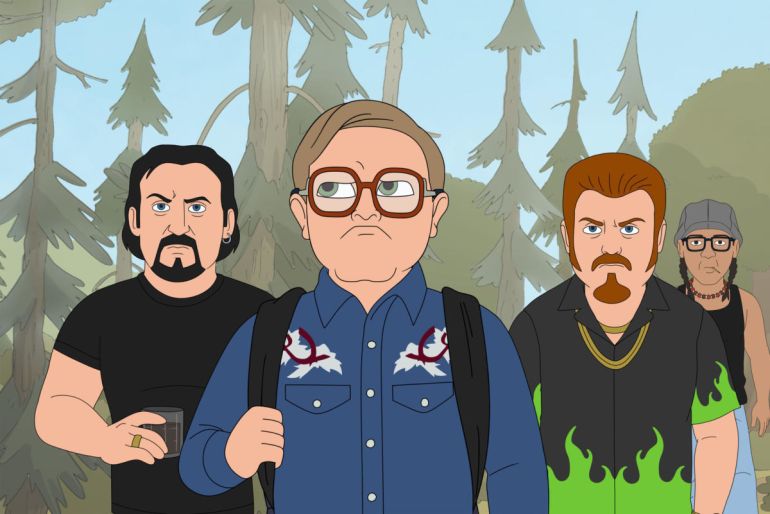 Trailer Park Boys: The Animated Series
1 season, 10 episodes | IMDb: 7.6/10
This animated series picks up where its live-action counterpart left off. Following the season 12 finale, our favorite gang of troublemakers find themselves in jail and tripping on shrooms — hence their animated state. They decide to embrace their new reality which includes ringworms, stalking Wayne Gretzky, and mountain lion rescue missions. Do you need to watch the original series to enjoy this thing? Of course not, but you should because it's so damn funny.
Aggretsuko
2 seasons, 20 episodes | IMDb: 8.1/10
If an anthropomorphic horse navigating Hollywood just seems too far-fetched, even by cartoon comedy standards, maybe this show about an anthropomorphic red panda working in the accounting department of a Japanese trading firm feels a bit more down to earth. Retsuko is 25, single, and completely fed up with her place of work. Her boss is a pig (literally), her coworkers are manipulative and selfish, and her love-life is nonexistent. Her only escape: The karaoke bar she goes to every night to vent her frustrations with life by dubbing death metal tracks. If cute Japanese anime, hard rock, and shows about self-discovery are your thing, check this one out.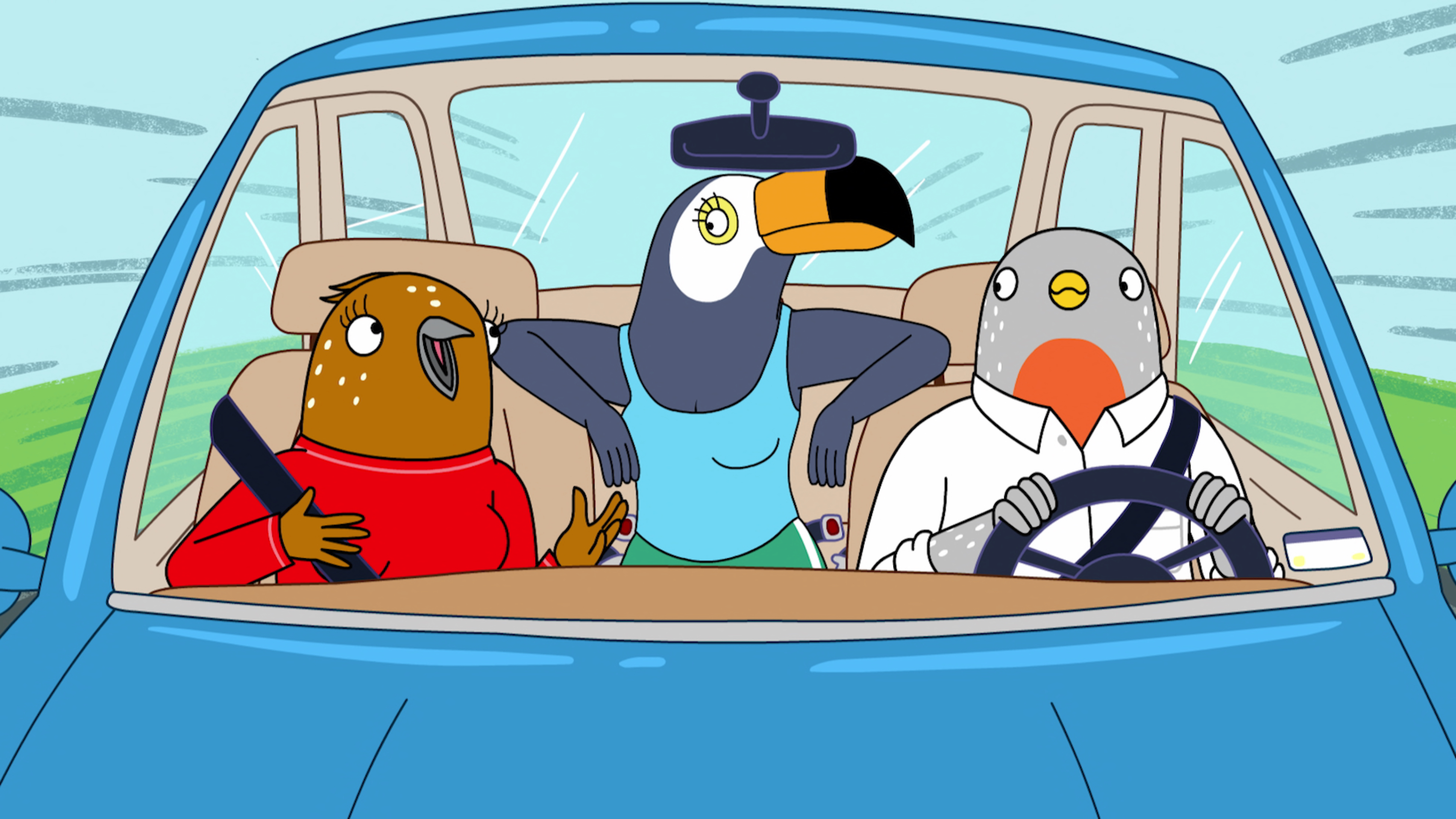 Tuca & Bertie
1 season, 10 episodes | IMDb: 7.5/10
Ali Wong and Tiffany Haddish voice the stars of this animated comedy from BoJack Horseman artist Lisa Hanawalt. Wong plays Bertie, a 30-something songbird thrush with debilitating anxiety, a knack for baking, and a truly toxic work environment. Haddish plays her best friend Tuca, a loud-mouthed toucan who loves to party and hates the thought of settling down. The friends try to hold on to their single days, even as Bertie takes the next step in her long-term relationship and Tuca struggles to find her place in the world. It's a more colorful, comforting world than BoJack, but it's got the same great humor and surprisingly-thoughtful musings.
We Bare Bears
2 seasons, 80 episodes | IMDb: 8/10
This Cartoon Network sitcom has been buried underneath more critically-acclaimed animated comedies for a while now, which is a real shame since the show boasts the voice talents of comedians Demetri Martin and SNL alum Bobby Moynihan. The series follows the antics of three bear brothers, Grizzly, Panda, and Ice Bear, who try their best to assimilate with the sophisticated crowd of the San Francisco Bay Area. Unfortunately for them, their animal instincts often cause hilarious mishaps and derail their plans of being "one of the humans."
One Punch Man
1 season, 12 episodes | IMDb: 8.9/10
There's a reason this Japanese superhero web-comic went viral a few years ago. Following the exploits of Saitama, a government-employed hero hailing from an Earth-like supercontinent planet who can defeat his enemies with just one punch, the series is darkly comedic. Saitama is a man apathetic about life, bored with his own supernatural abilities, who faces down crab-hybrid villains and giant monsters with the kind of irreverence that is guaranteed to spawn a mass following.