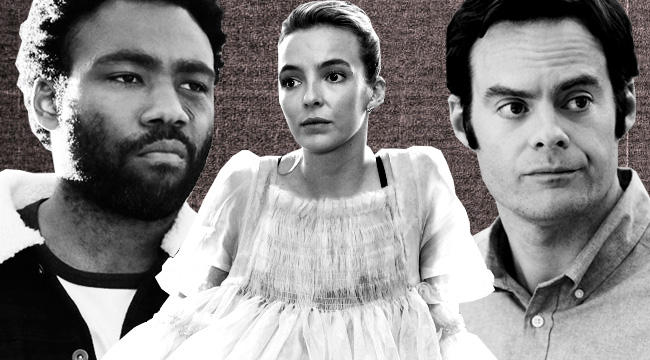 We're at the halfway point of 2018, which feels like a good time to check in on some of the best that television has had to offer so far this year. The list is stacked, with everything from dramas about assassins and seamen and lawyers to comedies about the afterlife and small towns and, well, more assassins. It's been a big year for assassins. There's been so much good television that we couldn't even keep our list to ten. Making a year-end list will be painful. But, until then…
Atlanta (FX)
If Atlanta hasn't been the best show of 2018 so far (and it is definitely on the short part of this longer list), it's almost definitely given us the best episode. "Teddy Perkins" was terrifying and funny and thoughtful and deep on a few levels, from the Michael Jackson parallels to the "Wait, is the Donald Glover under that makeup?" realization people came to over the next 12-36 hours. And the show surrounded that haunted funhouse of an episode with Paper Boi's adventures with his barber and Van's trip to Drake's house and, really, just so many things.
The trick with Atlanta, though, and I do mean "trick" because I don't know how the show pulled it off, is that a season littered with what seemed like standalone episodes ended up coming together as a whole, thanks in large part to a great, affecting finale. No one show on television switches tenor and tone like Atlanta does, and the fact that it never feels like a gimmick says a lot about the thought and care that goes into each story. It's a good show. I think that's what I'm trying to say. — Brian Grubb
Killing Eve (BBC America)
There is no show I've recommended to more people in 2018 than Killing Eve. There is also no other show that I've remained as tight-lipped about as Killing Eve, preferring instead to put on the pilot and watch my peers as they watch it. Simplistically, it's about two women — a psychopathic serial killer and the MI5 agent who pursues her — becoming obsessed with each other but, of course, it's about so much more. Considering it's created by Phoebe Waller-Bridge (based on a series of novels), it's no wonder that it's so much fun, despite its heavy premise. The third episode, which Alan Sepinwall wrote about here, resulted in me jumping out the couch to watch it standing up; I couldn't sleep for a while after, which is a sincere compliment. Both Sandra Oh and Jodie Comer are fantastic as they continuously circle each other, launching about a billion fanfics in the process, resulting in a dizzying, addictive ride. — Pilot Viruet
Barry (HBO)
"We started talking about the idea of Bill's experience at SNL, where he was clearly ridiculously skilled at that job but it was really hard for him. He was really stressed out all the time. We thought it was interesting that dilemma of, how long do I stay in a job that I derive no enjoyment from just because I'm really good at it?" That's Alec Berg talking about the genesis of Barry, the HBO series he co-created with Bill Hader. Hopefully, Hader is happier on the assassin-turned-actor comedy, which quickly found its voice to become not only one of the best new shows of the year, but also one of the best shows, overall. Barry is expectedly funny, with Hader as the straight-faced hitman, Sarah Goldberg as an aspiring actress, and the great Henry Winkler as a jaded acting coach, but what's unexpected is how dark it got (especially that perfectly executed (sorry) scene from late in the season). Also, give NoHo Hank an Emmy, thank you. — Josh Kurp
The Americans (FX)
The Americans came to an end this year and there is now a hole in my heart where it once existed. The show was bleak at times, as you could tell by looking at Philip's face at literally any point of the season, but still so, so good. It's hard to end a series like that — or any show, really — because you have to find a way to satisfy viewers while also being true to the characters and the story you've developed over the run of the show. There was a balancing act involved, and a tricky one at that, and everything culminated in a finale that tied a few things together and left a few things open, both hopefully and painfully.
Poor Stan. That guy never could catch a break. — Brian Grubb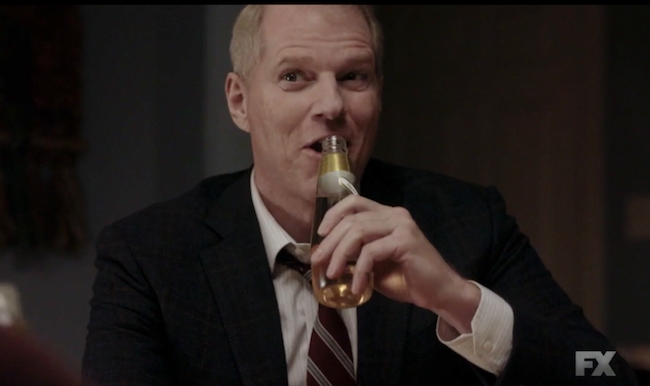 The Good Place (NBC)
Most of The Good Place's second season aired in 2017, including the series-best episode "Janet and Michael," so you might be asking yourself, "Why the heck is it on a 2018 list?" To which I would respond (after putting on my favorite song, a mashup of "She Hates Me" and "Grandma Got Run Over By a Reindeer"), "Well, you dink, The Good Place in 2018 gave us the finale, 'Somewhere Else,' which has another intoxicating series-altering twist (which will allow us to see the molotov cocktail-inspired misadventures of Jason in Jacksonville), and a warm moment of connection between Eleanor and Tahani, and 'Taylor Splift,' and Eleanor 'meeting' Chidi for the 'first' time, and most importantly, Ted Danson playing a bartender on an NBC sitcom." That's what we owe each other: to agree, The Good Place? More like The Great Show, in any year. — Josh Kurp

One Day At A Time (Netflix)
We're at a point where television reboots have become their own booming genre but Netflix's One Day At A Time is the biggest standout. Gloria Calderon Kellett and Mike Royce's re-imagining of Norman Lear's sitcom of the same name has been skillfully updated, effectively proving itself to be one of the best series when it comes to depicting and challenging our political climate. Season one was already great, but season two upped the ante and became nearly flawless as it touched on immigration, depression and medication, gender nonconforming teens, and embracing your own identity. It's also incredibly funny and ultimately heartwarming — right down to its gut-punch of a season finale. Come for Rita Moreno's uncanny ability to make punchlines out of any given word but stay for Justina Machado's multi-layered, pitch-perfect (and hopefully Emmy worthy!) performance. — Pilot Viruet
Billions (Showtime)
Billions is the fastest show on television and maybe the most bingeable, which is awkward because it airs week-to-show on a premium cable network. But now we're quibbling, and that just won't do because Billions is not a show to quibble with. It's best to just enjoy the ride. The show's third season saw alliances created and destroyed, and John Malkovich show up as a Russian oligarch who does the Teddy KGB accent from Rounders, and Bob Benson from Mad Men as a fictional Elon Musk, and so much more.
The key to the season came around the midpoint, though, when the show abandoned its central conflict and gave its two main characters, hedge fund billionaire Bobby Axelrod (Damian Lewis) and U.S. Attorney Chuck Rhoades (Paul Giamatti), new enemies and new missions that didn't involve trying to ruin each other. It kept the show surprising and fresh and gave its characters new ways to be awful, which is really all Billions is here for. — Brian Grubb
Dear White People (Netflix)
In the second season of an already-good show, it seems Dear White People challenged itself to build on its freshman season by expanding the world, allowing more characters to enter the spotlight, and throwing multiple challenges at our protagonists. This resulted in a laugh-out-loud but deeply touching season that dug deep into the post-traumatic stress of racial trauma and the ripple effects racism has throughout an entire community. Yet, at the same time, it found lovely moments in smaller stories ranging from general relationship drama to absurd acid trips to hilarious show-within-a-show parodies (some with guest star Lena Waithe). By the time you race through the season in one sitting, you'll immediately want to do is start it again. — Pilot Viruet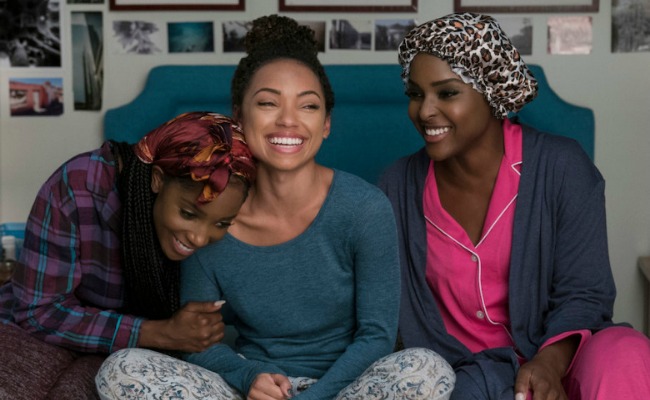 Counterpart (Starz)
What's better than JK Simmons? Two JK Simmonses, obviously. That's the genius of Counterpart, a new drama about spies working on opposite sides of a tear in the universe, which features the same people on both sides, just with different personalities. It's a good show and it's interesting and suspenseful and all of the other things you'd expect from a prestige drama, but the selling point here is Simmons. He plays two characters, one a meek bureaucrat-type and the other a hard-charging spy, kind of an alpha and beta version of the same person. It's fascinating to watch. His whole body language and posture change from scene to scene, making it obvious which character he's playing before he opens his mouth to tell you. The bigger question in all of this is, like, why did it take us so long to make a show with two JK Simmonses? Someone really dropped the ball on that one. — Brian Grubb
Vida (Starz)
Created by Tanya Saracho, Vida takes a simple family story — two sisters coming home to reconnect after the death of their mother — and turns it into something wholly fresh and unique by emphasizing queer- and Latinx-communities. Every episode feels remarkable, whether it's depicting a "radical" queer sex scene or frequently letting the characters speak in Spanglish, and there's a lived-in quality apparent from its first moments. With biting humor and memorable performances (especially from Mishel Prada and Ser Anzoategui), Vida honestly tackles everything from internalized homophobia to "gentefication" in Boyle Heights. Plus, there's only six half-hour episodes that can be knocked out in a single afternoon — a true pleasure in a bloated television landscape. — Pilot Viruet

The Good Fight (CBS All Access)
When The Good Wife ended and The Good Fight was announced as its spinoff, the question where it would all go without the Florrick family and their never-ending problems. Turns out the answer was: Don't worry about it. After season one saw Diane (Christine Baranski) and new character Maia (Rose Leslie) join an all-black firm led by Delroy Lindo, season two settled into a groove. It still has all the case-of-the-week fun and wacky judges of its predecessor but it's added it some premium cable flourishes that its online-only existence allows. (I legitimately gasped the first time I heard Diane say the f-word.) Episodes this season touched on current political issues and chemical weapon scares and also, spoilers, Diane starts microdosing psychedelics?
It's a lot and it's not easy to track down because of its CBS All Access subscription-based home, but it's turning into one of the smarter and more fun dramas on television. Delroy Lindo rules. — Brian Grubb
The Terror (AMC)
There's a reason horror movies don't have 10 hour run times: it's hard to sustain tension for that long. But The Terror does exactly that through its oft-terrifying 10-episode first season, which is extra impressive considering we know how the shows ends from the very first scene (spoiler alert: not well!). Like the HMS Erebus and HMS Terror themselves, which get stuck in the unforgiving Arctic ice, the show moves slowly, letting the suspense build naturally. In-between the shocking acts of violence, we get to know and care about (a must-have for the horror genre) the crew, including Captain Francis Crozier (played by Mad Men's Jared Harris), my dude Dr. Harry Goodsir (Paul Ready), and Thomas Blanky (Ian Hart). Okay, I take it back: the most impressive thing about The Terror is that it's one of the best shows of the year, even with (based on real-life people, but still) characters named Goodsir and Blanky. — Josh Kurp
Schitt's Creek (Pop)
I hate using "underrated" to describe television but it always comes to mind when thinking about Schitt's Creek, which recently finished its fourth season. What started as a fish-out-of-water comedy about a spoiled, rich family falling from grace evolved into a lovely portrait of a small town, and showed that you can have characters grow, evolve, and become self-aware without losing the basic quirks and characteristics that originally defined them. Frequent co-stars Catherine O'Hara and Eugene Levy are at their best, effortlessly playing off each other and helping to make Schitt's Creek the most consistently-funny show that you're not watching. It's also surprisingly warm, mostly due to some queer romantic-comedy elements, such as Patrick (Noah Reid) serenading the openly pansexual David (Dan Levy) in one of the sweetest TV moments of the year. It's the perfect light-hearted summer binge — and fortunately, it's on Netflix. — Pilot Viruet
9-1-1 (Fox)
An incomplete list of things that happened on Ryan Murphy's new first responder drama, 9-1-1:
A baby got stuck in a toilet pipe
A firefighter saved a woman by chopping her snake's head and then got fired for having sex with her on her roof
A bounce house floated away with children inside it
An abusive husband drove his wife to suicide after she tried to shoot him and missed, and then the bullet she shot killed him years later when it dislodged from a dead tree he was trying to blow up
Connie Britton performed an emergency tracheotomy on a 25-year-old firefighter after he started choking during their Valentine's date
A firefighter got a piece of rebar lodged in his forehead and then was fine in the next episode
And so on. The show is insane. But not every show has to be Breaking Bad, you know? Sometimes you just want to kick back and relax and see Angela Bassett shoot a guy who is trying to eat her face, which is, to be very clear, also a thing that happened on 9-1-1. — Brian Grubb