Welcome to another edition of The Walking Lulz, our episodic round up of all the best Walking Dead memes created by you, the loyal The Walking Dead viewers! We're all slogging through the swamp that is the soft middle of this 8B season, and while we enjoyed that little tussle between Rick and Negan, we all knew it wasn't going to result in anyone actually dying. That kind of stuff gets saved for the premieres and finales these days, which is a bit of a drag.
That led to Negan surviving all sorts of ridiculous situations, something you all recognized even with your fan goggles on. Between that and the mysterious new community that popped up we've got a pretty great batch of The Walking Dead memes for you to enjoy, so let's not waste any more time shall we?
https://www.instagram.com/p/BgkPBnQHqQv/?tagged=twdmemes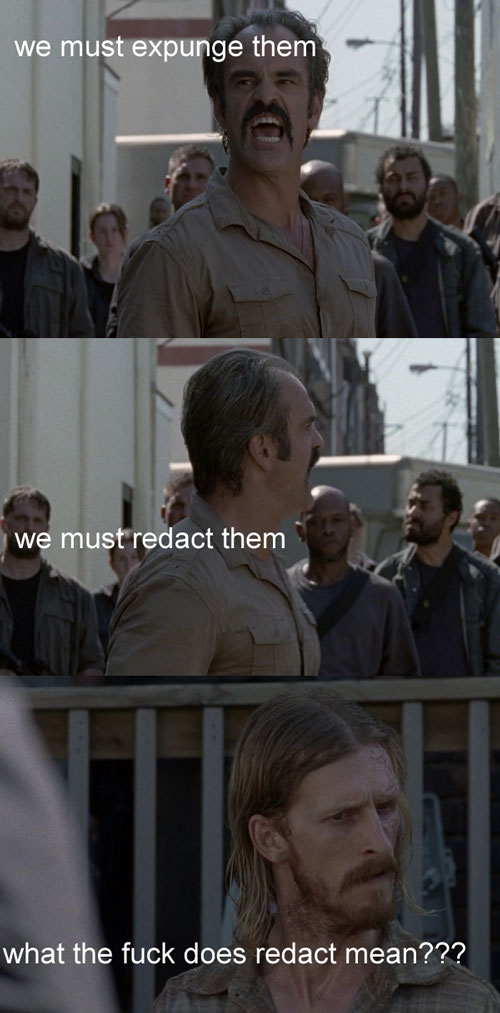 That's it for another installment of The Walking Lulz. As always a big thank you goes out to all the memers our there meming it up with the memes. This week's shoutouts go to Nothing Is Better Than TWD, not just for this week's contributions but for their weekly excellence. You can find the sources for all our memes below each image for even more zombie lulz. And don't forget to check out our archive of The Walking Dead memes,which goes back a couple of seasons.
Barring another side-quest to not kill Negan, we imagine next week will finally involve the Saviors hitting Hilltop with their Walker goo weapons. So prepare yourself for the carnage! There's only three more episodes until the season finale, and with that finale the end of All Out War. We can't wait to see who's left standing.