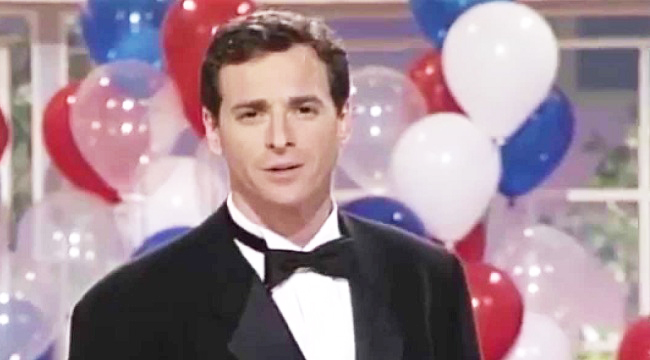 As much as everyone wants to believe that Danny Turner is real, the man who played the Full House father for years, stand-up comedian Bob Saget, has led a storied (and filthy) career that's quite the opposite. From the content of his comedy routines to his highly quotable cameo in Half Baked, Saget's sense of humor was never quite the same as Tanner's. Nor, for that matter, was it ever allowed on America's Funniest Home Videos, the clip show that Saget hosted before ABC rebranded it as AFV and enlisted Tom Bergeron.
According to Variety, however, it seems ABC is bringing Saget back to host yet another clip show, albeit one that caters to his brand of comedy. Titled Videos After Dark, the new program "will be decidedly more adult-oriented than the family-friendly tone of America's Funniest Home Videos":
Videos After Dark will feature Saget offering his comedic take on clips harvested by Di Bona's AFV team over the years that were too risqué for airing at 7 p.m. on Sunday. Saget hosted the first eight seasons of ABC's enduring unscripted franchise, concurrent with his run on the ABC family comedy Full House. The half-hour Videos After Dark will air in a 10 p.m. slot when it premieres next year.
"The generation that grew up with the hilarious Bob Saget as the host of AFV is old enough to stay up past 10 p.m. to see him on Videos After Dark," ABC VP of alternative, late-night and specials Rob Mills said in a statement. Apparently, Saget and executive producer Vin Di Bona had been "[kicking] around the idea of fielding an edgier take on the AFV vault for some time." Now it looks like it's actually going to happen, so if you believe in a god, now's the time to start praying.
(Via Variety)