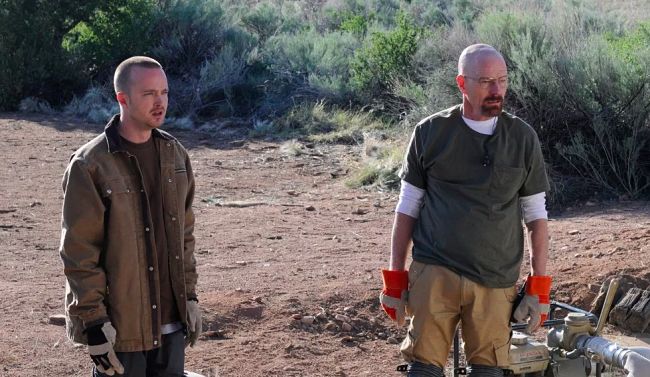 Walter White was involved with many of the most iconic Breaking Bad scenes. "This is not meth." "Say my name." "I watched Jane die." But Bryan Cranston didn't call any of those his favorite Breaking Bad scene. It's a surprising answer from an episode unlike any other throughout the show's five-season run.
It's the "Dead Freight" train heist, baby.
"All these things had to go right — and everything went right! It was fantastic!" Cranston told Entertainment Weekly. "I remember the characters celebrating euphorically in pulling off the train heist of the century."
But, he continued, "a moment later, an innocent life is snuffed out when that kid on the motorcycle just shows up. He's just there. And as Jesse and Walt are trying to figure out, 'Oh sh*t, what do we do?' Jesse Plemons' character just raises a gun and shoots him. And it was like, 'Oh my God!' It was such a beautifully constructed narrative: Okay, you want to experience the highs with Walter White? You want to be on that train ride with Jesse Pinkman? Here's that rejoicing for you, the audience. And now here's the repercussions from the business that they're in. Here's what happens when you forget that there's morality connected and consequences to every action. It was just so amazing."
That is an appropriately bleak answer. We root for Walt and Jesse… until we remember, oh yeah, they're not exactly great people. Meanwhile, Aaron Paul went with Jesse's awkward dinner with Walt and Skyler, Giancarlo Esposito picked the box cutter scene, and no one chose the pizza toss. What a shame.
(Via Entertainment Weekly)