The Daily Show took home the Emmy for Outstanding Variety Talk Series on Sunday, marking the Jon Stewart-led program's 11th Emmy win in the tightly contested category. Considering the show's monumental impact on late-night television, it wasn't all that surprising, especially because Stewart retired from hosting duties in August. Then again, if either The Colbert Report or The Late Show with David Letterman had won, no one would have been surprised, either. Both programs in their current form recently came to an end, with Colbert leaving his Comedy Central show to take over for Letterman, who retired in May.
In other words, The Tonight Show Starring Jimmy Fallon, Jimmy Kimmel Live and Last Week Tonight didn't stand a chance. The category was stacked too high against them. Three beloved hosts were leaving their acclaimed programs, and Emmy voters were beside themselves to try and honor them as equally possibly. How could the other nominees even begin to cope with this trifecta of nostalgia? The answer is, obviously, they couldn't.
Maybe this means that late night talk shows will be able to reinvent themselves in 2016. This is not to say that the three outgoing programs were outdated, but they did represent almost 50 years of television programming combined. That's a lot of coverage for just three shows, so why not shine the spotlight on others? Besides, with the recent splitting of the main variety award into three distinct categories — talk series, sketch series, and special — later broadcast and additional cable programs may finally get some recognition.
Unfortunately, the Television Academy has always preferred one or two shows to the rest, and if recent nomination and selection trends are any indication, this isn't going to change anytime soon.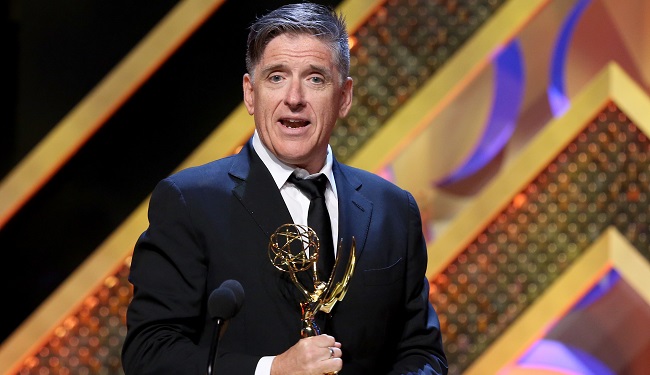 See that image above? It was taken by photographer Jesse Grant, and it is 100 percent real. Former Late Late Show host Craig Ferguson did, in fact, win an Emmy. However, it was the Daytime Emmy Award for Outstanding Game Show Host, which he nabbed back in April for his work on Celebrity Name Game. The comedian received a single Primetime Emmy nomination for Outstanding Individual Performance in a Variety or Music Program back in 2006, and it was the only Emmy nomination his Late Late Show would ever get.
The acclaimed program, which eschewed Letterman's traditional structure, was what the Observer called a "giant hallucination" that "deconstructed late night traditions with as little structure as a nightly show could manage." Or as Los Angeles Times TV critic Robert Lloyd beautifully put it: "In his Late Late Show, at once serious and childlike, it mattered that something real was taking place — a commitment to the moment, whether a connection between host and guest or just a willingness to play, to play along."
Ferguson had a considerable following, but neither he nor his Late Late Show were ever nominated for another Primetime Emmy Award. Maybe the time slot was to blame, though both Conan O'Brien and Jimmy Fallon's versions of Late Night on NBC earned multiple nominations, so that's not the problem. Or maybe it was so non-formulaic that it was just too weird for audiences to grasp. After all, his was a show without a band and with a robotic announcer named Geoff Peterson.
Then again, the Emmys aren't about being fair — just ask Mad Men's Jon Hamm. Awarding one of several nominated candidates as the year's best is a daunting one, but it's also based on numbers. Who are the eligible voters, how many of them are actually voting, and what shows they watch. Or, as was the case for Ferguson's Late Late Show, what shows have they never seen? The past decade's nominations suggest most Television Academy members go to bed early. Also, they all seem to watch Comedy Central a lot.
That's because The Daily Show and The Colbert Report are the only two nominees that have actually won the trophy in the past decade. Fellow nominees Late Night with Conan O'Brien, Late Show with David Letterman and Real Time with Bill Maher were merely window dressings. Yes, Letterman's Late Show won a lot of Emmys in its time, but its status as the most-awarded late night talk show quickly dissipated after 2002, the last time it garnered the variety category's highest prize. Plus, the streak was only broken by another — The Daily Show's highly successful "Indecision 2000" and "Indecision 2004" election specials.
It doesn't take much for Emmy voters to get comfortable with their choices, but when they do, the current evidence suggests that only two things can encourage them to change their voting practices, retirement and a program's end.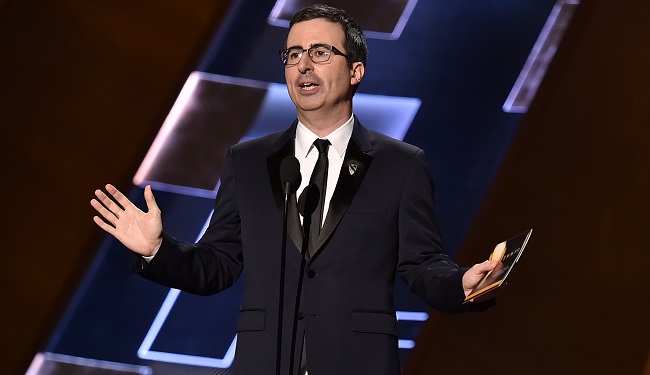 Occasionally, a fluke event manages to sneak into the Primetime Emmys' regular batch of late-night nods, as when O'Brien's short-lived Tonight Show racked up four nominations in 2010. The program didn't even last eight months, but the media storm surrounding its cancellation at the hands of NBC (and to some extent, former Tonight Show host Jay Leno) kept it in the spotlight. The five Outstanding Variety, Music or Comedy Series nominations O'Brien's Late Night program received, along with several wins for writing, didn't hurt, either.
Perhaps this is what the current season of late night talk show programming is… a fluke. Because of the sudden vacuum, maybe shows like Jimmy Kimmel Live, which was finally nominated for its first Outstanding Variety Series Emmy in 2012 (nearly a decade after the show premiered), will get a crack at the trophy. Newcomers like Last Week Tonight, whose deep dives have catapulted host John Oliver into viral Mecca on countless occasions, might do the same. Fallon's Tonight Show will likely become a regular nominee, but who else will the Television Academy invite?
The Late Late Show with James Corden is already making an impact, and any talk show that talks to all the guests at once (and allows bandleader Reggie Watts to be himself) deserves recognition. So, too, does The Nightly Show with Larry Wilmore, which injected the current late-night lineup with its first dose of not-another-white-person. It hasn't quite found its stride while taking over the old Colbert Report slot, but Wilmore's program can and will definitely grow with time. As, most likely, will the Trevor Noah-led version of The Daily Show, which premieres on September 28. Tasteless tweets aside, the young South African comedian hopes to follow Fallon and Corden's lead and turn the Stewart-less program into viral currency.
Who knows? Maybe Conan on TBS will finally get some recognition. Then again, O'Brien was the first American talk show host to visit Cuba in decades, but that wasn't enough to get him a nomination this year. So probably not. (Sorry, Mr. O'Brien. I heart you.) But if we include Real Time and Samantha Bee's new show, Full Frontal in the mix, there are at least five returning and four new programs. Except we're forgetting the massive, CBS-sized elephant in the room — The Late Show with Stephen Colbert.
As our own Jason Tabrys speculates, maybe the latest edition to broadcast television "doesn't want to be the king of late night." Unlike the rest of the hosts and shows named above, however, Colbert is becoming exactly that, and it has nothing to do with what's trending. Not even his time at Comedy Central has any bearing on how great his Late Show is becoming. Rather, it has more to do with what his persona-less Late Show is doing with phenomenal interviews and humorous news roundups.
In a way, nothing has changed, except who the Emmys will now prefer to win Outstanding Variety Talk Series. Neither this nor the runner-ups will be known until the 2016 Emmy nominations are announced and the winner is picked, but when this happens, it will most likely be Colbert, Stewart and the rest of the Late Show team standing on stage. After all, both men executive produce the program, so they'll each get a trophy.