The Daily Show took home the Emmy for Outstanding Variety Talk Series on Sunday, marking the Jon Stewart-led program's 11th Emmy win in the tightly contested category. Considering the show's monumental impact on late-night television, it wasn't all that surprising, especially because Stewart retired from hosting duties in August. Then again, if either The Colbert Report or The Late Show with David Letterman had won, no one would have been surprised, either. Both programs in their current form recently came to an end, with Colbert leaving his Comedy Central show to take over for Letterman, who retired in May.
In other words, The Tonight Show Starring Jimmy Fallon, Jimmy Kimmel Live and Last Week Tonight didn't stand a chance. The category was stacked too high against them. Three beloved hosts were leaving their acclaimed programs, and Emmy voters were beside themselves to try and honor them as equally possibly. How could the other nominees even begin to cope with this trifecta of nostalgia? The answer is, obviously, they couldn't.
Maybe this means that late night talk shows will be able to reinvent themselves in 2016. This is not to say that the three outgoing programs were outdated, but they did represent almost 50 years of television programming combined. That's a lot of coverage for just three shows, so why not shine the spotlight on others? Besides, with the recent splitting of the main variety award into three distinct categories — talk series, sketch series, and special — later broadcast and additional cable programs may finally get some recognition.
Unfortunately, the Television Academy has always preferred one or two shows to the rest, and if recent nomination and selection trends are any indication, this isn't going to change anytime soon.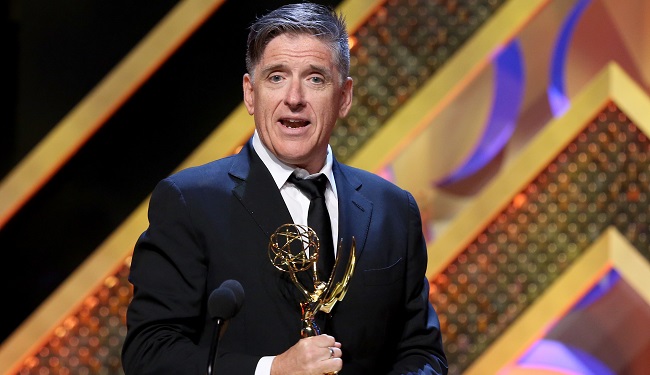 See that image above? It was taken by photographer Jesse Grant, and it is 100 percent real. Former Late Late Show host Craig Ferguson did, in fact, win an Emmy. However, it was the Daytime Emmy Award for Outstanding Game Show Host, which he nabbed back in April for his work on Celebrity Name Game. The comedian received a single Primetime Emmy nomination for Outstanding Individual Performance in a Variety or Music Program back in 2006, and it was the only Emmy nomination his Late Late Show would ever get.
The acclaimed program, which eschewed Letterman's traditional structure, was what the Observer called a "giant hallucination" that "deconstructed late night traditions with as little structure as a nightly show could manage." Or as Los Angeles Times TV critic Robert Lloyd beautifully put it: "In his Late Late Show, at once serious and childlike, it mattered that something real was taking place — a commitment to the moment, whether a connection between host and guest or just a willingness to play, to play along."