As we mentioned earlier today, last night's super uncomfortable Celebrity Apprentice — which was filmed prior to the allegations that have since been made public about Bill Cosby — was bizarrely not edited down. On the contrary, it seemed as if it was edited to maximize the awkwardness as much as possible, and one thing was made very clear. For whatever reason, Keshia Knight Pulliam was not comfortable with reaching out to her former TV dad to ask for a charitable donation to help her team win the challenge.
I haven't watched the entire episode, but Vulture has an extended clip of Pulliam being bullied by Trump and teammates for not getting in touch with Cosby, and she very clearly seems distressed — occasionally blotting at her eyes with a tissue. Of course, at the time of filming her teammates couldn't have possibly known the extent of his alleged wrongdoings and odd behavior, but January of 2015 is a different story.
That didn't stop Donald Trump from firing off this insensitive tweet following last night's broadcast, however.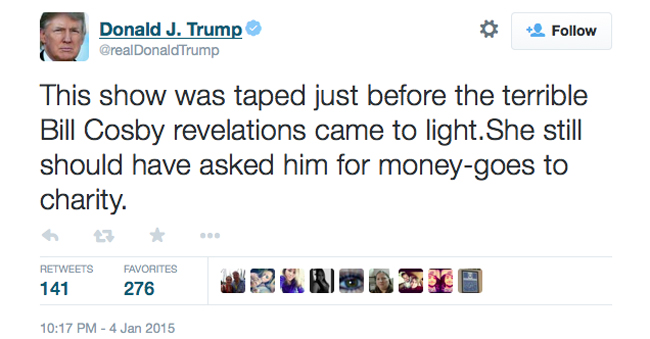 GOD, KESHIA KNIGHT PULLIAM, IT GOES TO CHARITY. YOU MUST JUST REALLY HATE CHARITY OR SOMETHING.