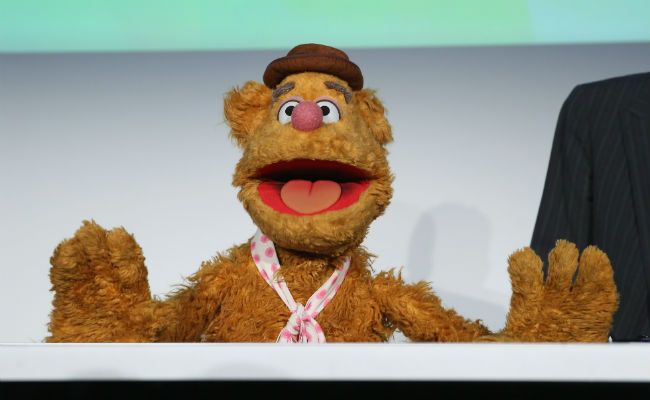 Just a couple of weeks ago, we received the crushing news that ABC would not be picking up its new comedy series The Muppets for a second season. Sadly, no one bothered to mention this to one of its biggest stars.
The docu-style series that followed our favorite puppets as they navigated their personal lives while trying to get Miss Piggy's late night talk show on the air was met with criticism from mom groups early on and never did much in the ratings department so it's no surprise that the network decided not to give it another go, but poor Fozzie Bear was apparently oblivious to all of this as a video from Vulture proves.
The pork-pie wearing best friend of Kermit the Frog joined his green companion and New York Magazine editor Chris Bonanos at this year's Vulture Festival where the two broke the news of the cancellation to the in-the-dark muppet. Things start out awkward as Bonanos queries Fozzie on what his summer plans are and both he and Kermit act confused when the bear mentions filming his show. It's only after Kermit not-so-subtly whispers the news into his friend's ear — in front of a crowd of festival goers — that Fozzie finally clues into the fact that he's now unemployed.
It's here when things just get sad. Apparently, Fozzie recently ordered a shipment of rubber chickens and he now has an entire flock to support without any steady income. (It can't be easy for a bear puppet to find work in the current job market.)
We'd like to now issue a big middle finger to the audience that laughs at an out-of-work bear realizing he can't support his family. You guys are the worst kind of human beings.