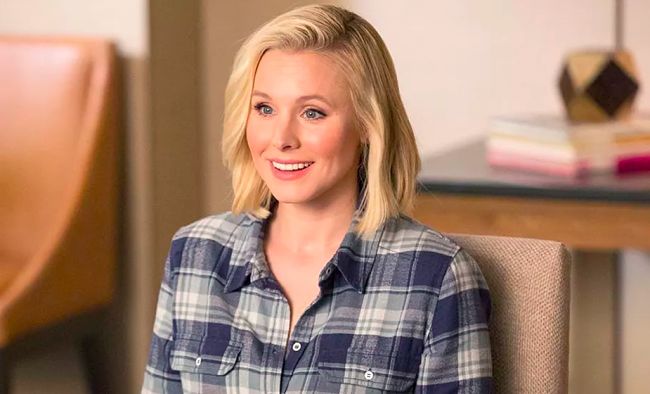 Parks and Recreation and The Good Place share many of the same actors. Kristen Bell has been on both, as have Adam Scott, Marc Evan Jackson, and Jason Mantzoukas. When it comes to The League star, though, that's not where the connections for between the shows end: he's the link between universes.
Or should I say, universe.
In The Good Place season two finale, Eleanor, in what appears to be a real-world simulation overseen by Michael and Janet, reads Celebrity Baby Plastic Surgery Disasters. It's difficult to look away from the cover — Mhavryck and her (his?) $3 million makeover look great — but pay attention to the back cover. There's advertisements for Jean-Ralphio's champagne (with its slogan, "Turn that frizown upsidizity") and Dennis Feinstein's presumably vile-smelling cologne.
Feinstein is played by Mantzoukas, who's also Maximum Derek on The Good Place. I have many questions. Would someone from Pawnee recognize Janet's former-lover and wind chime penis-haver? And what about Kristen Bell's characters, Eleanor and Ingrid de Forest. Are they long-lost twins? Look, Michael Schur has given us a ton of great television (I haven't even mentioned Brooklyn Nine-Nine and The Office) and one great blog (R.I.P. Fire Joe Morgan), but he's not allowed to go to the Good Place until he answers these questions.
Or at least lets Andy Dwyer and Jianyu meet.
(Via Twitter)