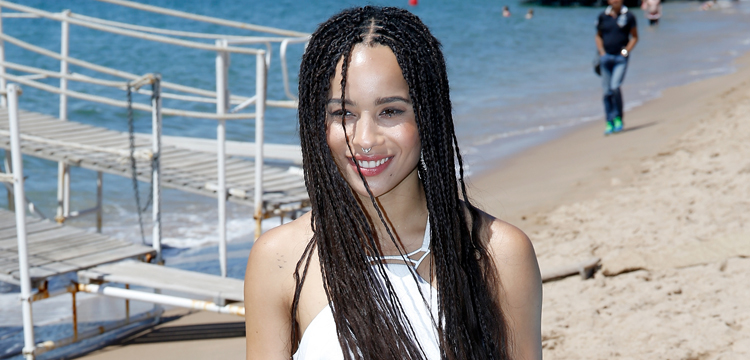 Half the remakes and reboots these days are TV shows based on movies or on movies that were based on books. But this one's surprising: As per Variety, there's going to be a TV version of High Fidelity, Nick Hornby's instant classic 1995 novel, which was made into a John Cusack movie five years later. But it won't be about a boy, despite the novel and film both being classics on the subject of emotionally stunted males. Instead it will be about a woman, to be played by Zoe Kravitz.
Variety reports that Disney's forthcoming streaming service has given the typical 10-episode order to the High Fidelity reboot, which will concoct a female version of the story of a newly single thirty-something dude who owns a record store. (Luckily, records are much, much cooler now than they were in 1995 or in 2000.)
Nick Hornby made his name with books like High Fidelity (and Fever Pitch, and About a Boy), about neurotic, melancholic, overly obsessive men who distract from the pressures of career and romance by delving into things like football and music.

Eventually, even Hornby realized he needed to get away from the lesser sex. He wrote the scripts for An Education and Brooklyn, both sensitive and insightful studies of young women. And prurient title aside, his 2009 novel Juliet, Naked — recently turned into a movie with Rose Byrne and Ethan Hawke — was an attempt to do just that, making the typically put-upon Hornby girlfriend into the protagonist, while the typical self-involved Hornby bro hero was sort of the villain.
This female High Fidelity takes Hornby all the way to the other side. The show's creators are women, too, namely Veronica West and Sarah Kucserka, who have both written for Ugly Betty, State of Affairs, and Bull.
Kravitz, meanwhile, will finally get the lead she's been working towards in films like Mad Max: Fury Road, Rough Night, and last spring's indie mystery Gemini. It's even a perfect fit for her: Her mom, Lisa Bonet, appeared as one of Cusack's flings in the High Fidelity movie.
(Via Variety)