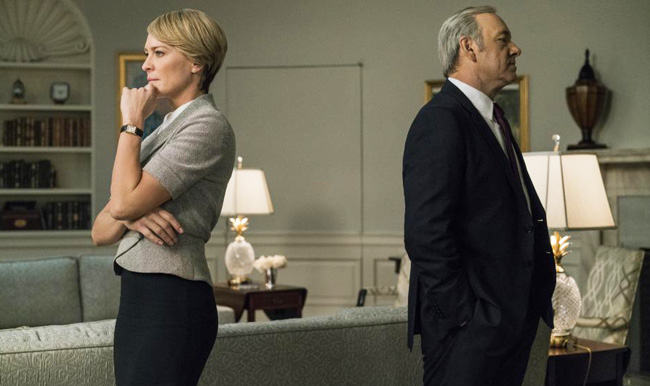 Spoilers below!
When Netflix made the decision to cut all ties with Kevin Spacey back in November after a slew of sexual misconduct allegations went public — triggered by actor Anthony Rapp accusing Spacey of preying on him when he was just 14 — it was unclear how and when House of Cards would resume. At the time, production had already begun on what would turn out to be the sixth and final season.
In December, it was announced that the sixth season would continue with Robin Wright, who plays Claire Underwood, in the lead; however not much else was known about the upcoming season until now. On Wednesday, Netflix announced that production has in fact resumed, adding Academy Award-nominated actors Diane Lane and Greg Kinnear to the cast. It's unclear exactly what roles Lane and Kinnear will be playing, other than the fact that they will be brother and sister.
Lane and Kinnear join Golden Globe winner and Emmy Award nominee Robin Wright, as well as Michael Kelly, Jayne Atkinson, Patricia Clarkson, Constance Zimmer, Derek Cecil, Campbell Scott and Boris McGiver in the upcoming sixth and final season.
Kelly's inclusion is interesting in that it was implied at the end of season five that his character of Doug Stamper would be going to jail along with Spacey's Frank Underwood in lieu of a presidential pardon from Claire. At the very least, it seems as if the cliffhanger gave the series a relatively seamless way to continue without its lead actor.
(Via New York Times)