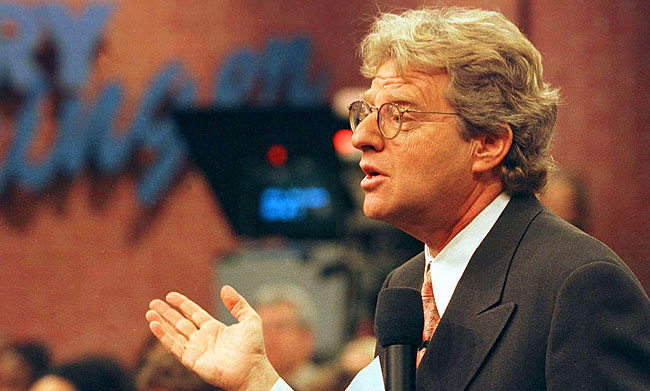 The land of daytime television could soon be a little less sleazy. According to Deadline, The Jerry Springer Show has ended production after 27 years, and its future is uncertain. Jerry Springer wasn't the last host on the block for the somewhat crazy daytime talk show that had its heyday in the '80s and '90s, but he might be the most high-profile holdout from that period. The show will move to CW, but not with the production of new episodes according to Deadline:
Under a multi-year deal, the CW could order new episodes in the future, in which case the show would go back into production. But for now production has ceased. Fellow talkers Maury and The Steve Wilkos Show were recently renewed.
Maury Povich will now take the crown if Springer is indeed finished making new episodes since both shows got their start in 1991. Maury has been renewed through 2020 and doesn't show any sign of stopping despite the host being 79 years old. Povich never reached the heights of Jerry Springer, though.
During the run of the show, Springer's raunchy daytime antics put him in direct competition with Oprah Winfrey during its height in the late '90s. The authenticity of the show has always been in question, but it never seemed to tarnish its place in pop culture. The show spawned Ringmaster, a fictional film starring Springer as what could be seen as a version of himself, an opera based on the show that ran throughout the UK, and even delivered a separate talk show starring former Springer bodyguard Steve Wilkos.
It might've been a show that made people question if television was a cesspool, but it is still an essential part of the television landscape. Before the "golden age" and "Peak TV," Jerry Springer was one of the many things you'd think about when it came to the idea of TV. That's not too shabby.
(Via Deadline / The Hollywood Reporter)