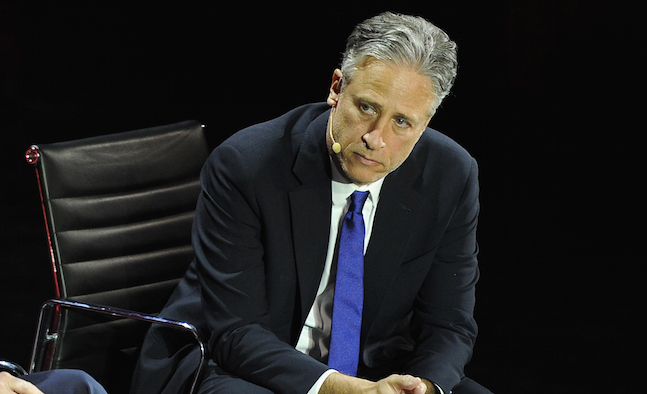 Remember when everybody applauded Jon Stewart's commentary on the Charleston shooting? Apparently, Stewart wasn't always that enlightened about racism, at least when he was being called out on perpetuating it. That's what former correspondent Wyatt Cenac alleges, recalling how Stewart told him to "f*ck off" when Cenac called him out on a racist joke he made.
As Cenac told Marc Maron on Maron's podcast, in 2011, Stewart did an impression of black Republican presidential candidate Herman Cain. After Fox News took issue with the voice the Daily Show host put on, Stewart wanted to respond with an "everything I do is racist" sketch, so Cenac told him that he also had an issue with the voice. This didn't go over well.
Here's what Cenac told Vulture:
[Stewart] got incredibly defensive. I remember he was like, What are you trying to say? There's a tone in your voice. I was like, "There's no tone. It bothered me. It sounded like Kingfish." And then he got upset. And he stood up and he was just like, "F*ck off. I'm done with you." And he just started screaming that to me. And he screamed it a few times. "F*ck off! I'm done with you." And he stormed out. And I didn't know if I had been fired.

The fight carried on at Stewart's office and was only stopped when one of the office dogs began pawing at them. (Aww.) Eventually, the show had to go on, and Cenac remembers going outside to a baseball field and having a breakdown. "I was shaking, and I just sat there by myself on the bleachers and fucking cried. And it's a sad thing. That's how I feel. That's how I feel in this job. I feel alone," he said.
While this shouldn't undo Stewart's positive legacy, it's a good reminder that not everybody might be racially enlightened 100 percent of the time. Hopefully, Cenac hasn't gone through something like that again, and, also, this type of thing happens less often as we move forward.
You can listen to more of Maron's interview with Cenac here.
(Via Vulture)