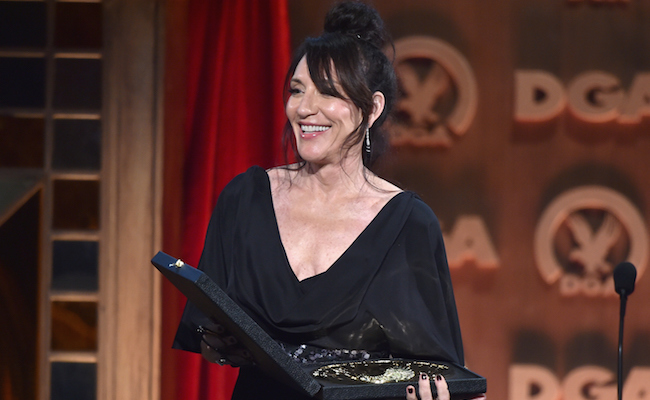 This is the season we're finally going to meet Jake Peralta's mom on Brooklyn Nine-Nine and the woman playing her has first ballot Hall of Fame TV mom credentials.
TV Line is reporting that Katey Sagal of Married With Children and Sons of Anarchy fame will be popping by in an early 2016 episode to serve as mom to Andy Samberg's silly and savvy man-child detective. It should make for an interesting debut considering the Peralta family unit split apart during our hero's grade school years. Jake's dad Roger (played by Bradley Whitford) left when he was only seven, leaving mom Karen to do the bulk of the parental heavy-lifting. At least, that's the version of things we've gotten at this point in the series. We imagine there will be a healthy unfurling of revelations once Jake spends a bit of time with both mom and dad. Will she tolerate Boyle? Someone warn Boyle!
In addition to simply being a quality casting choice, this new gig gives Sagal something to do now that The Bastard Executioner has died a meh-y death. The FX series has packed it in after a single season run. Just like Sons of Anarchy, the cable offering featured Sagal acting on a program created/run by husband Kurt Sutter, albeit one that wasn't as popular as the initial series.
(Via TV Line)