Throw out your 2018 calendar. If you still use a paper calendar. Not sure why you still would do that. It seems unwieldy and needlessly difficult, writing things down and manually flipping through the months. You should really think about switching to some sort of digital option, preferably cloud-based so you can access it from anywhere. It's 2019, after all.
Ah, right. That's what we were getting at. It's 2019! And guess what: there is so much stuff on the way for your eyes and ears and brains. Seriously, it's crazy. Hugely popular franchises are ending, some are spinning off, some are just continuing but with Halle Berry now. There's new stuff and follow-ups from massively successful debuts. It's all a bit overwhelming, actually. That's why we — the Uproxx staff — have scanned through the already announced television and film options that are coming between now and December to highlight some of the things we are most excited about. It's a long list and we didn't even get to everything. Rest your eyeballs now, people. They're about to get a workout.
Star Wars: Episode IX, December 20
Yes, it's still about a year away, but it's kind of weird we aren't all talking more about the final chapter of the main Star Wars Saga. (Not counting the offshoot movies. Speaking of, doesn't Solo feel like it came out two years ago?) Well, at least we think it might be the final chapter, and I'm sure it will be promoted that way, even though this is the third time in the last 36 years we've all thought we were seeing the final chapter. So, it probably won't be. Whatever! Though, I tend to think Star Wars fatigue is at least partially real and plays a role in all this. At least, with every one of these post-George Lucas films, the pre-movie hype feels a little less fun and a little more forced. (This year marks the 20th anniversary of The Phantom Menace and I promise most of the nostalgia will focus on the months leading up to the movie instead of the actual movie, because, in retrospect, the hype was the fun part. I miss the days of fun hype.)
Regardless, I can't wait for the eventual final showdown between Kylo Ren and Rey. (Okay, I don't really care about Rey's parents at all, except it would be nice if she finally had a last name. In The Last Jedi, I wish Kylo Ren had added that detail, "They were filthy junk traders … you know, the Cloudshooters. By the way, that's your name, Rey Cloudshooter. You're welcome.") – Mike Ryan
Game of Thrones, April 2019
Game of Thrones, a little-watched premium cable show about political infighting, returns for its final season this year. I'm sure HBO hopes it can finally attract an audience, as the network is investing plenty of money and resources into its Sisyphean attempt to re-create the buzz of its previous hits like John from Cincinnati or AMC's Low Winter Sun. Maybe it's just too nerdy for the general public, this focus on warring factions and mythical beasts. We've seen similar struggles from comic books movies lately, which just can't seem to find an audience among the general public. It's a shame, really. Perhaps the show just existed in the wrong time. I don't know. I guess fans should just be happy HBO stood behind it this long and saw it through until the end. — Brian Grubb
Avengers: Endgame, April 26

Now for perhaps the most obvious movie selection of this list because — let's face it — doesn't everyone want to know if Spider-Man comes back from Thanos' snap? Sure, people care about how depressed Captain America is, and it'd be glorious if underdog Ant-Man was the key to reversing all of that genocide, but for sure, the question of Peter Parker's fate cranks the normally rabid level of Marvel-focused anticipation up to eleven. The Russo Brothers know that they need to redeem that dusting … oh damn … I don't feel so great while waiting. Mr. Stark! — Kimberly Ricci
Stranger Things, July 4
I realize this is the MOST first world of problems, but it's tough writing about TV sometimes. There are so many shows, most of which are watched by, like, four people, that it's refreshing to cover something that everyone watches. Like, Game of Thrones and Stranger Things and… that's about it, actually. Both series took 2018 off (which is always tricky for a show with kids; you want to avoid the awkward puberty years as much as possible), and while Thrones will dominate the spring, Stranger Things gets the summer. It's one of the few Netflix titles that people will still discuss weeks after it's out; most others, even something as great as Unbreakable Kimmy Schmidt, get a one-week shelf life, if that. Stranger Things is addictive, nostalgic (season three takes place in 1985 — I hope Eleven likes Dire Straits!), and so much fun. In other words, it's the perfect summer series, and I can't wait to talk about at a pool party. Barb isn't invited. — Josh Kurp
True Detective, January 13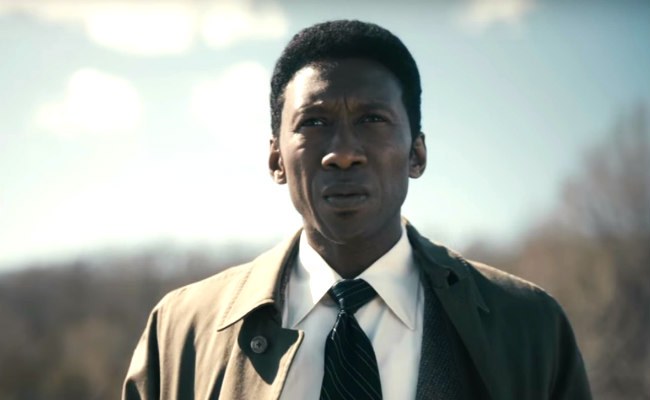 By now just about everyone alive on the planet knows that the first season of True Detective was one of the single greatest seasons of television to ever air. By now just about everyone alive on the planet also knows that season two of True Detective was … not one of the greatest seasons of television to ever air. In fact, it kind of sucked. So what will season three be like, seeing as how there was such a vast difference in quality between the first and second seasons? Well, we've seen the first few episodes and from what we've seen so far we can confidently say that it essentially falls somewhere in the middle. That said, this season's star, Mahershala Ali, is nothing short of sensational. As Brian Grubb noted in his review, "the guy is good in everything, even when the thing he's in isn't that good." But that's not saying season three of True Detective isn't good, because it is, just not near as good as the first season, which few TV shows are. And it's so, so much better than the second season. A show definitely worth watching to kick off the year in television, despite the presence of Stephen Dorff. — Brett Michael Dykes
Us, March 15
I firmly believe that, based on the force and expanse of Get Out's success, Jordan Peele could have gotten a green light to do anything as his followup. "You want to do a popsicle stick figure recreation of the "Slutty Pumpkin Returns" Halloween episode from How I Met Your Mother? Fantastic. Here's $50 million. Let us know when it's ready." Peele had carte blanche and he used it to create what looks like another intense, creepy, and thought-provoking film in the form of Us. Will it pop like Get Out? I have no idea, but anticipation is high and the premise — a family of four goes up against a seemingly bloodthirsty version of themselves — sounds ripe for exploration and fascinating. So chances are Peele's winning streak is going to continue. — Jason Tabrys

Cold Pursuit, February 8
When it comes to the most anticipated movies of 2019, in my mind there's Liam Neeson's killer snowplow driver movie and there's everything else. True, it did sound a little cooler when it was still called Hard Powder (which was also the name of the script I wrote for the porn parody of Powder), but the new title, Cold Pursuit isn't entirely terrible either. Did I mention that Neeson's character in this is named "Nels Coxman?" Before I heard of Cold Pursuit, "a dark and gritty remake of the Mr. Plow episode of The Simpsons" was something I never knew I wanted, but now I don't think I can live without it. — Vince Mancini
Umbrella Academy, February 15
At first glance, The Umbrella Academy looks to be a follow-up for Netflix's Stranger Things . It's got the basic ingredients – an 80s soundtrack, kids with strange superpowers, the threat of an apocalypse – but at the core of the comics, and the show, is a story of a dysfunctional family trying to make peace with the sh*tty hand they've been dealt. Don't misunderstand me, this thing is all kinds of weird. Mary J. Blige plays a time-traveling assassin, a Game of Thrones star has his head superimposed on a gorilla's body at some point, one character's powers only work when he's barefoot. You know, your average mind-bending Netflix romp. Still, it's the family dynamic, seeing how these abused kids grow up and interact with each other and the world, that sounds really interesting. — Jessica Toomer
A Beautiful Day In The Neighborhood, October 18
There probably wasn't a movie I saw in 2018 that made me shed more tears than the documentary on Fred Rogers, Won't You Be My Neighbor, did. (I was not alone.) And it stuck with me for weeks, as I found myself regularly digging around to read everything I could on Rogers — including Tom Junod's legendary Esquire profile of him — and watching old clips of Mister Rogers' Neighborhood online. So imagine my excitement when an image surfaced of Tom Hanks looking uncannily like Mister Rogers on the set of A Beautiful Day in the Neighborhood, a film about the real-life friendship shared by Tom Junod and Fred Rogers. However, that excitement was filled with a little sadness upon learning that I'd have to wait almost a year until the film is released in theaters. But wait I will, patient but very damn excited to see this film on a big screen come October. — Brett Michael Dykes
The Lion King, July 19
In the '90s, Disney refreshed itself with a series of new animated films that would become generational touchstones. Now, they're remaking many of those films (and others) via live action/CG in an effort to stoke nostalgia in '90s kids and excitement in this latest batch of youths. The Lion King is obviously the pinnacle of this effort for Disney and they're bringing in a powerhouse cast — Donald Glover, Seth Rogen, Chiwetel Ejiofor, and [THEY GOT] Beyonce [!!!!!!] — and readying a soundtrack that will mix classics from the original with fresh material from Bey, Tim Rice, and Elton John. It's called the Circle of Life, fam. And you better believe it's gonna move us all in 2019. — Jason Tabrys
Fosse/Verdon, Premiere TBA
I've done the math, and there are few things better than Sam Rockwell's absolute love of dance (for example: Sam Rockwell's absolute love of Leslie Bibb), so when it was announced that Rockwell would be playing famed filmmaker/choreographer Bob Fosse in an FX miniseries, it was as though the stars had aligned. (It definitely has to be some sort of apology for Rockwell not dancing when he won his Academy Award.) Then it was announced that Michelle Williams would be coming back to television as Gwen Verdon, Fosse's wife/collaborator, and with that, 2019 officially surpassed 2018 in every conceivable way. I'm ready to grab my tiny hat and watch the hell out of Fosse/Verdon. — LaToya Ferguson
Conan's New Format, January 22
Conan O'Brien could have gone on autopilot early in his TBS term, but instead, he was quick to embrace social media, YouTube, and changing audience expectations in late night, adding to his relevance while creating content fit for that audience and, at the same time, loyal to the spirit of his body of work. Now, he's taking a leap to a new format with his TBS show, cutting the runtime down and cutting certain elements that are of less interest to him and which are less impactful for his audience. It's a big move for someone with a spot on late-night Mount Rushmore all sewn up, and I think that's why it excites me so much: that sense that O'Brien wants to challenge himself and that, with a rejection of rigidity and a wide-open structure between digital and TV, there's nothing to lose and a lot of freedom to go wherever. — Jason Tabrys

Cobra Kai Season 2, Premiere TBA
There wasn't nearly enough discussion of the first season of YouTube Premium's nearly perfect sequel series to 1984's Cobra Kai, but Ralph Macchio and William Zakba returned 35 years later to reprise their roles. However, it came with a twist: Without fundamentally changing Johnny Lawrence's character, Cobra Kai turned him into the likable underdog without assassinating Daniel LaRussa's character. It's a double-underdog story, but with the return of Martin Kove's John Kreese — teased in the season one finale — Johnny Lawrence may fall prey to the inhumane tactics of his old sensei. Will history repeat itself, or will Johnny find a way to keep "mercy" in his instruction? — Dustin Rowles
Hobbs and Shaw, July 26
Part of me wonders if we're all being a little too casual about the fact that Jason Statham's character in the Fast & Furious universe, Deckard Shaw, killed Han. He totally did that. He admitted it and everything. And we saw it at the end of Fast & Furious 6, where we learned that he was driving the car that smashed into Han in Tokyo Drift. And that he did it on purpose. And then, after we and The Family found out, he also fired a damn bazooka at Dom and Brian as they soared through the Abu Dhabi sky in a sports car that costs more than a midsize yacht. It says a lot about this franchise that he did all that for two movies and then in the very next one became a good guy and we were all like "Yesssssss." Perhaps we should question this more.
Or, perhaps, we should just be quiet and take it at face value and whoop things like "ROCK AND STATHAM FAST AND FURIOUS SPINOFF MOTHEREFFERS" while blowing donuts in the movie theater parking lot every day for a week leading up to the film's release. Up to you, really. I know what I'm going with, though. Feel free to join me. Listen for the sound of screeching tires. — Brian Grubb
Shazam!, April 5
I respect the hell out of superhero movies that embrace a deeper kind of storytelling and allow us to reflect on our own world. Films with grit and weight with complex villains and heroes that have to earn our awe by exposing their own relatable fears and flaws. But also, I need not that. I need goofy hero hijinks and winks to the camera and "look how cool this sh*t is!" heart and soul. I need it in my bones because the wonder of superheroes and two hours in a more fantastic world (where good easily thwarts evil) is a salve on the wounds brought about by… [gestures wildly at all of the things]. Shazam! obviously looks like Big on steroids, there's muscle-bound guy fall down humor, and a sense of innocence and joy. One, please. — Jason Tabrys
Cats, December 20
Andrew Lloyd Webber's Cats is a deeply weird musical about singing and dancing felines that includes words and phrases like "Jellicle" and "The Heaviside Layer" and "Rum Tum Tugger" and "Skimbleshanks." It's, somehow, also one of the most successful and longest-running musicals in Broadway history, despite not being, y'know, very good. (Except for when Paul F. Tompkins is involved.) So, why am I so excited to watch Tom Hooper's feature-length adaptation? Because: Idris Elba as Macavity (!), Judi Dench as Old Deuteronomy (!!), and Taylor Swift as Bombalurina (!!!). A big-budget musical theater production involving cats? It's the part she was born to play! (I say this as an unabashed T-Swift fan.) Also, Star Wars: Episode IX comes out this day. The perfect double feature. — Josh Kurp

John Wick 3, May 17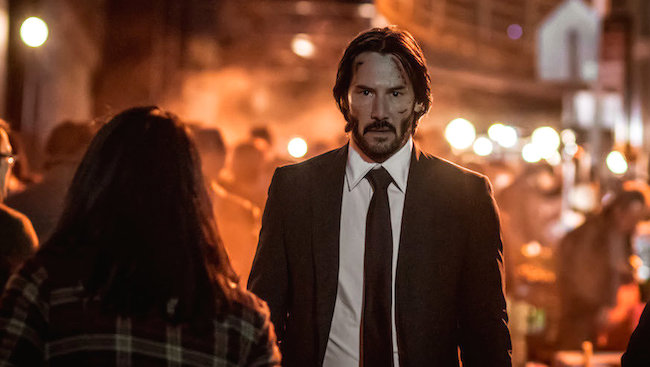 I worry. I worry this is all getting to be too big, too much. The first John Wick was breathtaking in its simplicity: Theon Greyjoy killed Keanu Reeves' dog and so Keanu Reeves killed the entire Russian mob. There was more to it than that, of course, and the real allure of it was the balletic style and stunning visuals in a movie about a sad hitman seeking vengeance against anyone in a red shirt. The sequel was good, too. It filled in more of the story and gave us a couple of fun scenes in the Continental and eventually left John burned and on the run with his dog.
Everything I've seen so far about the third film looks awesome on paper. Halle Berry is in it with a pair of big mean dogs. Jason Mantzoukas is in it as a character named Tick Tock Man. There was that paparazzi shot from the set where Keanu is on a horse and shooting at assassins on motorcycles. I'm very excited. I will see this movie on opening weekend and I will probably say "Hell yeah" out loud the first time Keanu pops up on screen. But I do worry. I worry this magical little run will one day bend and crack under the weight of expectations. I worry it will become too big and lose the little quirks that made it fun. But, then again, Dominic Toretto started out running a lunch counter by day while stealing DVD players at night and now he's America's only hope in an off-book secret mission to stop submarine-thieving anarchist cybervillains, so I'm going to give John Wick the benefit of the doubt here. — Brian Grubb
Joker, October 4

Yes, I'm going there. Even when Joaquin Phoenix was at his most rock-bottom point while channeling a poor man's Andy Kaufman, the man still managed to be a compelling figure. Once he recovered his mojo, he's been an unstoppable acting force, and if anyone possesses chops to come close to Heath Ledger's take on the Clown Prince of Crime, it's gotta be Phoenix in this origin story. I also can't express enough hope that Todd Phillips and Phoenix can rescue D.C.'s most popular supervillain from the depths of Jared Leto's "damaged" Hot Topic rendition, and I love that the first look at Phoenix threw some chilling John Wayne Gacy vibes. With Deadpool 2 breakout Zazie Beetz on board as well, this movie has all the ingredients to keep the DCEU in redemption mode (despite technically distancing itself from the EU, this origin story still matters to churn up overall fan goodwill). — Kimberly Ricci
Little Women, December 25

Admittedly, much of why I'm looking forward to this movie is to see whether The Academy can possibly snub director Greta Gerwig again after Lady Bird. That will happen, right? Regardless, Gerwig's the only creative soul working today who could spark intrigue as to how she'll handle adapting a depressing Louisa May Alcott book when no one was clamoring for another version at all. With this cast, Gerwig means business. Emma Watson, Saoirse Ronan, Meryl Streep, and Timothée Chalamet as Laurie Laurence? C'mon! I can't even begin to predict whether Beth's fate will be as sad in Eliza Scanlen's hands as it was when Claire Dane played the role, but I'm looking forward to wasting enough Kleenex to find out. – Kimberly Ricci
Twilight Zone, Premiere TBA
[Rod Serling voice] You are about to enter another streaming service, a streaming service not only of sight and sound but of MacGyver reruns. A journey into a wondrous land of imagination, where The Good Fight and Star Trek: Discovery have been airing in relative anonymity. Next stop, CBS All Access, where the new season of The Twilight Zone will hopefully get you to subscribe to Not-Netflix, Not-Hulu, Not-Amazon, etc. Honestly, it's pretty enticing: the reboot is being overseen by Get Out writer-director Jordan Peele, and the cast so far includes Kumail Nanjiani, John Cho, Allison Tolman, Jacob Tremblay, Steven Yeun, Greg Kinnear, and Adam Scott in a remake of the classic episode "Nightmare at 20,000 Feet" called… "Nightmare at 30,000 Feet." That's an extra 10,000 feet — you'd be stupid not watch The Twilight Zone! — Josh Kurp

Honey Boy, January
Shia Labeouf is making his screenwriting debut this year at Sundance, and the synopsis is really something: "A child TV star and his ex-rodeo clown father face their stormy past through time and cinema." If you'll remember, the last time Shia Labeouf made news as a screenwriter was back in 2013, when he got caught plagiarizing a comic strip for a short film he made starring Jim Gaffigan. Rather than a traditional apology, LaBeouf plagiarized other apologies and essentially said he was dedicating his life to performance art, giving us the Shia persona we know today. Strangely, it's one of the most successful celebrity damage control campaigns I can remember. Anyway, I'm intrigued by his rodeo clown movie, which was directed by Israeli documentarian Alma Har'El and also stars Lucas Hedges. I hope to eventually nudge my date in the ribs and loudly whisper "That's the honey boy." — Vince Mancini
Men in Black: International, June 14
I believe there was actually a shift in the Earth's axis when the MIB: International trailer dropped in all its Fergie-scored glory, same as when "London Bridge" dropped back in 2006. Even just with the casting announcement of Tessa Thompson and Chris Hemsworth as the leads in this film — teaming up again after Thor: Ragnarok of course, this time in very flattering suits — all I could hope was that the movie would be decent, but the trailer put a huge dumb smile on my face. Now I really don't want the movie to disappoint. Especially since, as much as I've seen some people try to go to the "Hollywood has no original ideas" well as an argument against this movie, Men in Black was always a movie and franchise that made sense to eventually extend far past the antics of Will Smith and Tommy Lee Jones as Agents J and K. So the only thing I need more from this movie is for Thompson and Hemsworth to do an end credits rap for it, just to keep the legacy alive. — LaToya Ferguson