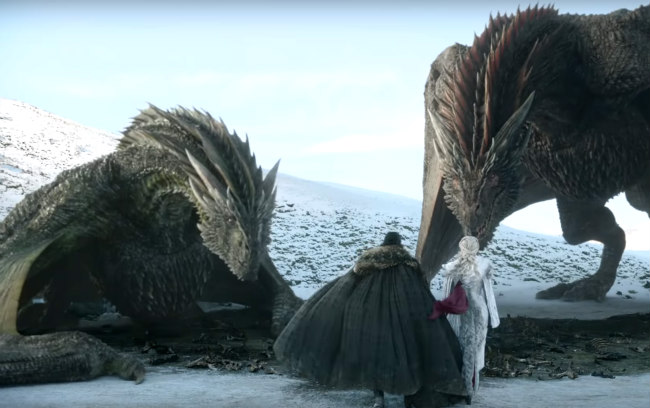 It may be spring outside, but all that HBO fans should be worried about is winter, because it's finally arrived.
The highly-anticipated final season of Game of Thrones premieres this month, which means we only have a few episodes left before the battle for the Iron Throne is decided. Of course first, our heroes are going to have to deal with that pesky Night King problem. His ice dragon may be gone, but he's still got an army of undead soldiers marching towards Winterfell, guys.
If you need some more light-hearted fare in between those Sunday night stress-fests, a handful of blockbusters are also making their way to the streaming platform. Crazy Rich Asians, the breakout rom-com of last year, is guaranteed for some laughs, and Spike Lee's BlacKkKlansman manages to make infiltrating the Ku Klux Klan look like a damn good time.
Here's a roundup of everything coming to (and leaving) HBO this March.
Game of Thrones (season 8 premiere)
Winter is officially here as the final season of HBO's epic fantasy drama arrives mid-month. With dozens of loose threads to tie up and only a handful of episodes to do it, expect this season of Game of Thrones to be bigger, better, and bloodier than ever. The players for the Iron Throne have slowly dwindled over the past few years but Jon Snow, Daenerys Targaryen, Sansa Stark, and Cersei Lannister are still in the mix, and it's a safe bet one of them will wear the crown by the end of this thing, if they can defeat the Night King and his army of undead soldiers. Come for the dragons, stay for the drama.

Crazy Rich Asians
John Chu's Asian-led rom-com became a breakout hit last year, so it's only right that HBO let us binge-watch it whenever we choose this month. Constance Wu plays Rachel, an economics professor at NYU who travels to Singapore with her long-term boyfriend Nick (Henry Golding) and discovers he's been less-than-honest with her about just how many zeroes reside in his bank account. Faced with a wealthy family who refuses to accept her American roots, Rachel goes to extreme lengths to impress Nick's mother and learns a valuable lesson about family and heritage in the process. Awkwafina and Michelle Yeoh are highlights here, but it's Wu who carries this flick and elevates it beyond just a two-hour laugh riot.
BlacKkKlansman
Spike Lee does some of the best work of his long, impressive career with this true story about the first Black detective in the Colorado Springs Police Department. John David Washington plays Ron Stallworth, an African-American cop struggling to balance his duties on the job with his personal life and his involvement in the Black Panther movement. Stallworth is able to pass as a white man over the phone and soon launches an undercover operation, infiltrating the Ku Klux Klan and befriending its leader, David Duke (a brilliant Topher Grace). When Stallworth is forced to meet members of the Klan face-to-face, his partner, Flip Zimmerman (Adam Driver) assumes his undercover identity, and both men lead an investigation that exposes the sinister core of the local KKK chapter.
Here are all the titles coming and going on HBO NOW in April:
Original Programming:
Native Son (4/6)
Sesame Street: Julia's Haircut (4/8)
VICE Special Report (4/19)
HBO First Look: John Wick Chapter 3: Parabellum (4/23)
HBO First Look: Tolkien (4/25)
Entre Nos: Spot On, 2018 (4/26)
2019 Rock & Roll Hall of Fame Induction Ceremony (4/27)
Series Premieres:
Golden Life, Season 3 Premiere (4/1)
Wyatt Cenac's Problem Areas, Season 2 Premiere (4/5)
Game of Thrones, Season 8 Premiere (4/14)
Gentleman Jack, Series Premiere (4/22)
On Tour with Asperger's Are Us, Six Part Docuseries Premiere (4/30)
Series Finale:
Esme and Roy, Season 1 (4/27)
Theatrical Premieres:
The Nun, 2018 (4/6)
Crazy Rich Asians, 2018 (4/13)
BlacKkKlansman, 2018 (4/20)
The Darkest Minds, 2018 (4/27)
Estrenos:
Habana Boxing Club, 2018 (4/1)
El piedra (AKA The Stone), 2018 (4/5)
El paramo (AKA The Squad), 2011 (4/12)
Animal, 2018 (4/12)
Acusada (The Accused), 2018 (4/19)
Starting April 1:
A Fantastic Fear of Everything, 2012
A Time to Kill, 1996
A Walk in the Clouds, 1995
Annie Hall, 1977
Bananas, 1971
Ben, 1972
Color of Night (Director's Cut Only), 1994
The Green Inferno, 2015
Griff The Invisible, 2011
Hannah and Her Sisters, 1986
Hoffa, 1992
I Am Sam, 2002
Jonah Hex, 2010
Just Wright, 2010
Kingdom of Heaven (Director's Cut), 2005
The Little Rascals, 1994
Manhattan, 1979
Mean Girls, 2004
October Sky, 1999
Pride, 2007
Repo Men (Extended Version), 2010
Slow Burn, 2007
Splice, 2010
Suffragette, 2015
Veronica Mars, 2014
Waking Ned Devine, 1998
Ending April 24:
Man on Fire, 2004
Ending April 27:
Wonder Woman, 2017
Ending April 30:
American Loser, 2011
Analyze That, 2002
Analyze This, 1999
Anchorman: The Legend of Ron Burgundy (Extended Version), 2004
Cheaper by the Dozen, 2003
Cop Car, 2015
Dances with Wolves (Extended Version), 1990
Diary of a Wimpy Kid: The Long Haul, 2017
Edge of Darkness, 2010
Father Figures, 2017
First Daughter, 2004
Four Christmases, 2008
The Greatest Showman (Sing-Along Version), 2017
House of the Dead 2, 2006
Invictus, 2009
The Lost Boys, 1987
Lowriders, 2017
The Midnight Meat Train (Unrated Version), 2008
The Mummy, 2017
The Nutty Professor, 1996
Nutty Professor II: The Klumps, 2000
Once Upon a Time in Mexico, 2003
Phantom Thread, 2017
Pitch Perfect 3, 2017
Romeo Must Die, 2000
The Thin Red Line, 1998
The Truth About Charlie, 2002
U.S. Marshals, 1998