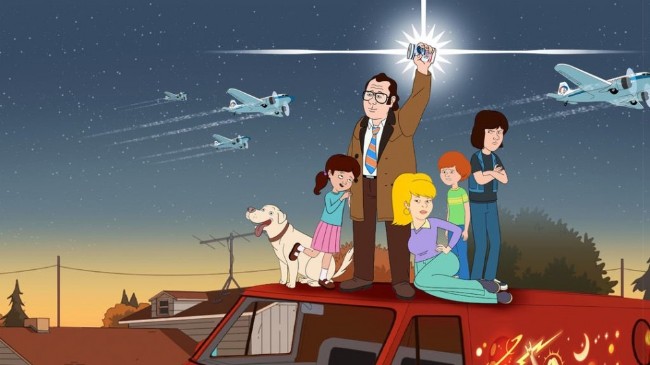 It's beginning to look a lot like … well, you know what it's looking like. The air is colder. All your favorite TV shows are on winter hiatus. The sun sets at three in the afternoon. It's the perfect time to ditch your social calendar, curl up on the couch, and start binging. Netflix knows this, which is why the streaming platform continues to pump out original series and films to keep us entertained. Of course, it can be tough to keep up with what needs to be binged at the moment. That's why we're bringing you a round-up of what's new to Netflix and what's departing this week of November 30th.
F is for Family: Season 3 (series streaming 11/30)
Comedian's Bill Burr's raunchy adult-animated comedy series is back for a third season. If you haven't tuned into the show before, now's a good time to get invested. The series is an ode to the politically incorrect era of the 70s, a time when drinking and cursing and neglectful parenting reigned. The show's basically King of the Hill with a bit more NSFW content thrown in. This season, Vince Vaughn joins the voice cast playing a military vet who befriends Burr's Frank Murphy. The family has grand plans for the summer — cold beer on hot nights, drive-in theater dates, a ride in a fighter jet — but things go to sh*t pretty quickly because, well, such is real life and if this show is one thing, it's real.
Bumping Mics with Jeff Ross & Dave Attel (special streaming 11/27)
You can add this to the growing list of comedy specials housed over on Netflix. Bumping Mics is less an hour-long stand-up routine and more a Comedy Central-style roast, with New York comedians and friends Jeff Ross and Dave Attel shredding each other, fellow comics, and audience members all for laughs over the course of three installments. The special snapshot of a tour the comedians did together before Netflix came knocking, and it's just more proof the streaming platform is leading the charge in up-ending the stand-up world and giving fans interesting, new avenues to explore the comedy scene.
A Christmas Prince: The Royal Wedding (film streaming 11/30)
People went nuts over Netflix's original holiday film A Christmas Prince last year so of course the streaming platform would give us a sequel that also cashes in on the royal wedding fever we've been experiencing since Prince Harry and Meghan Markle said "I do." Well played Netflix, well played. This follow-up sees Amber, the journalist who posed as a nanny, fell in love with the prince, and is about to become queen of a small country, struggling to cope with the realities of royal life as preparations for her wedding day are underway. It's as chock-full of cheese as you'd imagine so we're sure it'll do well.
Here's a full list of what's been added in the last week:
Avail. 11/25/18
My Little Pony Friendship is Magic: Best Gift Ever
Avail. 11/27/18
Bumping Mics with Jeff Ross & Dave Attel (NETFLIX ORIGINAL)
Avail. 11/28/18
Pocoyo: Season 4
Avail. 11/29/18
1983 (NETFLIX ORIGINAL)
A Christmas Prince: The Royal Wedding (NETFLIX FILM)
Baby (NETFLIX ORIGINAL)
Death by Magic (NETFLIX ORIGINAL)
F is for Family: Season 3 (NETFLIX ORIGINAL)
Happy as Lazzaro (NETFLIX FILM)
Rajma Chawal (NETFLIX FILM)
Spy Kids: Mission Critical: Season 2 (NETFLIX ORIGINAL)
The World Is Yours (NETFLIX FILM)
Tiempo compartido (NETFLIX FILM)
And here's what's leaving next week, so it's your last chance:
Leaving 12/1/18
Cabin Fever
Cabin Fever 2: Spring Fever
Groundhog Day
Happily N'Ever After
Happily N'Ever After 2: Snow White
Hellbound: Hellraiser II
Hellraiser
Sons of Anarchy: Seasons 1-7
Spider-Man 3
Spy Hard
Stephen King's Children of the Corn
Swept Under
The Covenant
The Game
Leaving 12/4/18
Air Bud: Seventh Inning Fetch
Air Bud: Spikes Back
Air Bud: World Pup
Air Buddies
Cars Toon: Mater's Tall Tales
Spooky Buddies
Tarzan & Jane
The Brave Little Toaster Goes to Mars
The Brave Little Toaster to the Rescue
The Crimson Wing: Mystery of the Flamingos
The Search for Santa Paws
Tinker Bell
Tinker Bell and the Great Fairy Rescue
Tinker Bell and the Lost Treasure
Leaving 12/7/18
Trolls