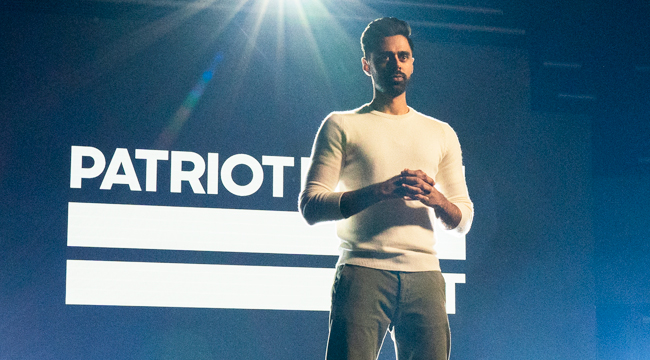 Netflix and Chills may be over, but the end of October is bringing plenty of new content to the streaming platform. House of Cards is back for its final season with Robin Wright taking the reins after Kevin Spacey's firing. And if that's not political enough for you, Daily Show correspondent Hasan Minhaj has a new series that might give John Oliver's Last Week Tonight a run for its money. Of course, if midterms have you burnt-out on that sort of thing, there are a few holiday flicks that have landed early to get you in the Christmas spirit. We know it's hard keeping track of everything coming to (and leaving) Netflix, so here's the rundown of what happened the week of November 2nd.
House of Cards: Season 6 (Netflix series streaming 11/2)
House of Cards picks up for its sixth and final season with the death of Frank Underwood and the crowning of Claire Underwood, a character possibly more suited to power than her devious husband. After Netflix fired Kevin Spacey of sexual assault allegations, the show needed a way to rid itself of his over-the-top antagonist so that Robin Wright could take her rightful place as Commander in Chief. It does this by giving us a juicy murder plot, one that probably won't be solved until the end of the series. In the meantime, enjoy watching Claire go toe-to-toe with conservative adversaries played by Greg Kinnear and Diane Lane while she tries to keep her husband's secrets from spilling out of the Oval Office.
Patriot Act with Hasan Minhaj (Netflix series streaming 10/28)
Daily Show correspondent Hasan Minhaj is adding to his Netflix resume with this politically-charged talk-show that sees the charismatic comedian diving into topics both timely and timeless. There are episodes about affirmative action and slain Saudi journalist Jamal Khashoggi, but they're peppered with the kind of dark humor and thoughtful research that defines the success of a show like John Oliver's Last Week Tonight. We'll see if Netflix gives Hasan the same breathing room that HBO's given Oliver to make a go of this thing.
The Holiday Calendar (Netflix original streaming 11/2)
Kat Graham stars in this holiday flick about a down-on-her-luck photographer who comes across a magical advent calendar that grants her every wish. Look, it won't be winning any Oscars this year, but props to Netflix for churning out the Christmas content a month in advance. If you're burnt-out on politics right now, a romantic comedy about the power of the Christmas season might be the kind of palate refresh you need.
Here's a full list of what's been added in the last week:
Avail. 10/27/18
Girl from Nowhere
Avail. 10/28/18
Patriot Act with Hasan Minhaj
Avail. 10/30/18
Fate/EXTRA Last Encore: Illustrias Geocentric Theory
The Degenerates
Avail. 10/31/18
Goldie & Bear: Season 2
Avail. 11/1/18
Angela's Christmas (NETFLIX ORIGINAL)
Bram Stoker's Dracula
Bring It On: In It to Win It
Cape Fear
Children of Men
Close Encounters of the Third Kind
Cloverfield
Deuce Bigalow: European Gigolo
Doctor Strange
Fair Game – Director's Cut
Follow This: Part 3 (NETFLIX ORIGINAL)
From Dusk Till Dawn
Good Will Hunting
Jet Li's Fearless
Julie & Julia
Katt Williams: The Pimp Chronicles: Pt. 1
National Lampoon's Animal House
Next Avengers: Heroes of Tomorrow
Planet Hulk
Scary Movie 2
Scary Movie 3
Sex and the City: The Movie
Sixteen Candles
Stink!
The English Patient
The Judgement (NETFLIX ORIGINAL)
The Untold Tales of Armistead Maupin
The Water Horse: Legend of the Deep
Transcendence
Vaya
Avail. 11/2/18
Brainchild (NETFLIX ORIGINAL)
House of Cards: Season 6 (NETFLIX ORIGINAL)
ReMastered: Tricky Dick & The Man in Black (NETFLIX ORIGINAL)
The Holiday Calendar (NETFLIX FILM)
The Other Side of the Wind (NETFLIX FILM)
They'll Love Me When I'm Dead (NETFLIX ORIGINAL)
Trolls: The Beat Goes On!: Season 4 (NETFLIX ORIGINAL)