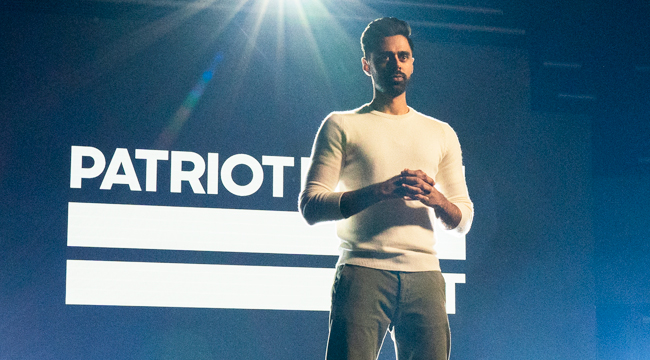 During the opening moments of Patriot Act With Hasan Minhaj, the Daily Show alum strides onstage, ready to reveal the series that Netflix deemed worthy of an unprecedented 32 episodes, right out of the gate. "We did it, baby," he declares. "We're out here." Presumably, he's referring to his co-creator and co-writer, Prashanth Venkataramanujam, as well as the fact that he's now the first Indian-American host of a weekly comedy talk show. And indeed, Minhaj often references his community (in terms of accomplishment and those members who no one wants to invite to the party) throughout the first two episodes released for review by the streaming service. He also wants to deliver stories that are both urgent and timeless, and these initial episodes seem geared toward these seemingly irreconcilable goals.
The host takes on his self-imposed challenge in a crowded late night-esque streaming landscape, one in which Netflix didn't hesitate to cancel Michelle Wolf and Joel McHale's well-received shows when they couldn't maintain eyeballs. Or at least, that's the cancellation-related assumption, given that Netflix notoriously keeps viewing numbers close to its sleeve, all while continuing to add new shows to its roster. If one also considers the unavoidable reality that today's TV audience is already struggling to cope with internet-news burnout in a landscape littered with Daily Show imitators, then such a show's arrival has a more difficult path to tread than it would have, only a few chaotic years ago.
Minhaj appears to inherently recognize this challenge, given that he's armed himself with an imposing platform (a hexagonical stage, partially surrounded by a massive digital screen) that he likens to "Michael Bay direct[ing] a PowerPoint presentation." As he speaks, graphics swirl around him like a living, breathing supporting player, and from there, the high-energy host peppers the audience with tightly constructed monologues running under 30 minutes that will drop on a weekly basis. The first two episodes, low-key released to the press late last week and which aired on Sunday night, straddle opposing ends of Minhaj's timeless-urgent self-directive: (1) An evergreen deep dive into Affirmative Action; and (2) A more topical discussion of Saudi journalist Jamal Khashoggi's murder, which transforms into a critical examination of U.S.-Saudi Arabia relations.
The host makes no missteps while executing the debut episode, although the subject matter may not compel a substantial audience, depending on how many folks are interested in how Asian-Americans gave affirmative action a makeover at Ivy League universities. It serves as a fine introduction to what Minhaj hopes to do, but the series likely would have taken off with more bang by running the second episode first. Minhaj's storytelling abilities are served well in tackling the charged nature of Khashaggi's murder. His long-form treatment of the subject (while detailing how the situation has built over decades) approaches the ways of HBO's John Oliver (who's obviously also a Daily Show vet). Also similarly to Oliver, Minhaj infuses his subjects with dark humor while maintaining an appropriate tone. That's a tough tightrope to navigate, and in a less crowded Netflix and talk TV atmosphere, he'd have more opportunity to shine.

Further, there's certainly no shortage of heavy cultural and political topics that deserve the deep-dive treatment, but in order to capture short attention spans, one must also entertain while, hopefully, not sinking to "provocateur" levels. Minhaj, here, manages to not sound like an attention seeker, a feat that's partially due to clever writing. Seriously, he compares the shock factor of Khashoggi's murder inside the Saudi Arabian embassy in Turkey to Blake Shelton becoming PEOPLE's Sexiest Man Alive. There's every reason in the world for the remark to appear flippant, but somehow, it plays uproariously. Minhaj further layers in the humorous pop culture references while explaining the ruling Saudi family's enormity (and nefarious nature), and he seamlessly hops into human rights violations within the ongoing Yemen conflict, a segment laden with intricate analysis that you won't see on CNN.
Yet will today's audience find this material to be digestible, and will Netflix users click? Even more importantly, will the streaming service allow Minhaj enough time to develop an audience before evaluating his success? As a weekly series, he's already at a disadvantage in covering topical subjects when daily late-night and late-night and cable-tv discussions on these subjects will always have the advantage. Oliver certainly continues his success on a weekly basis, but he's allowed to play the long game on HBO. Netflix hasn't demonstrated much patience when it comes to pulling plugs on late night-esque series. Further, it's difficult to expect political talk to be binged, weeks or months after the fact. There's a shelf life to what Minaj is selling, evergreen or not, and he'll be measured accordingly.
I don't point out all of these disadvantages to pile onto the relative hardships already faced by anyone trying to launch a streaming talk series in 2018. Minhaj has insight and delivery on his side. He's as witty and energetic as Sarah Silverman, but he also doesn't arrive with the same breadth of formats that she embraces in her Hulu series. Minhaj, at least for now, is sticking with a straight-up talk format. He's wickedly funny while doing so, especially while dunking on "psychopath" Indian-Americans like former Louisiana Governor Bobby Jindal or far-right commentator Dinesh D'Souza, and Patriot Act is a rewarding watch for those who queue it up. Yet now, more than ever, streaming wars will be fought on a show-by-show basis, and unprecedented series order or not, Minhaj must fight an uphill battle to maintain success.