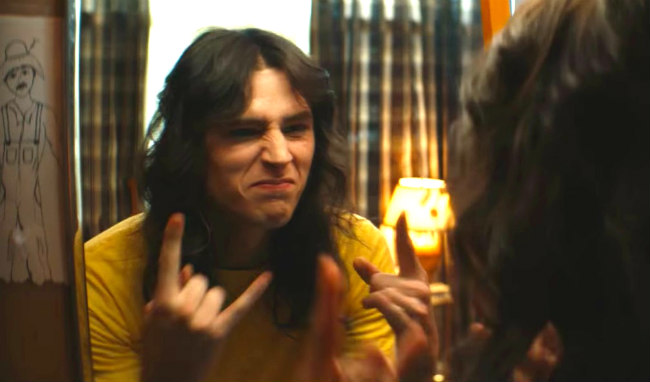 With March winding down, Netflix is giving us a slow-trickle of original series to enjoy without stressing too much about the growing length of our queues.
First up is the controversial Mötley Crüe biopic, The Dirt, followed by Amy Schumer's comedy special which pokes fun at pregnancy and her romance with her husband who has autism. And for genre-lovers, Brit Marling's The OA has finally returned after a three-year hiatus to give fans another mind-melding season of near-death experiences and multi-dimensional storytelling.
Because it can be tough keeping up with what needs to be binged at the moment, we're bringing you a round-up of what's new to Netflix and what's departing this week of March 22nd.
The Dirt (Netflix film streaming 3/22)
Mötley Crüe's raunchy, outrageous Netflix biopic lands on the streaming platform this week. There have been questions of whether we need a sex and drug-filled ode to rock-n-roll after the #MeToo movement and rightly so. There's plenty of groupie-hookups and cringe-worthy behavior to turn non-fans off the band, but for lovers of their music, this drama — which follows the group members played by Douglas Booth, Colson Baker, Daniel Webber, and Game of Thrones villain, Iwan Rheon, as they unite and form one of the biggest bands in the history of music — is a wild ride filled with nostalgia and more than a few bangers. Oh, and Pete Davidson. Pete Davidson is in this, guys.
The OA: Season 2 (Netflix series streaming 3/22)
One of Netflix's more mysterious sci-fi offerings, The OA, returns to the streaming platform three years after the first installment premiered. If you need a quick recap, the series stars Brit Marling as Prairie, a blind woman who went missing for years and returned to her small town with her sight intact. Instead of being a run-of-the-mill crime series, the show instead delved into near-death experiences and the strange occurrences that contributed to Prairie's time away from home. Season two looks to build on that element of "weird" with Prairie visiting a new dimension in which she lived as a Russian heiress while those back home try to make sense of her story.
Amy Schumer Growing (Netflix special streaming 3/19)
A lot has changed since Amy Schumer's last comedy special. The comedian is now married and heavily pregnant, two topics she mines for plenty of laughs in this stand-up routine that touches on everything from pregnancy to her husband's autism. Schumer is still raunchy — she flashes her protruding belly and graphically details her "Exorcist-like" vomiting while gestating, but she also reveals more about herself and her sense of humor than she ever has before, painting a picture of a woman settling down, but not necessarily maturing. Which is a good thing.
Here's a full list of what's been added in the last week:
Avail. 3/16/19
Green Door
Avail. 3/19/19
Amy Schumer Growing
Avail. 3/21/19
Antoine Griezmann: The Making of a Legend
Avail. 3/22/19
Carlo & Malik
Charlie's Colorforms City
Delhi Crime
Historia de un crimen: Colosio
Mirage
Most Beautiful Thing
ReMastered: The Miami Showband Massacre
Selling Sunset
The Dirt
The OA: Season 2