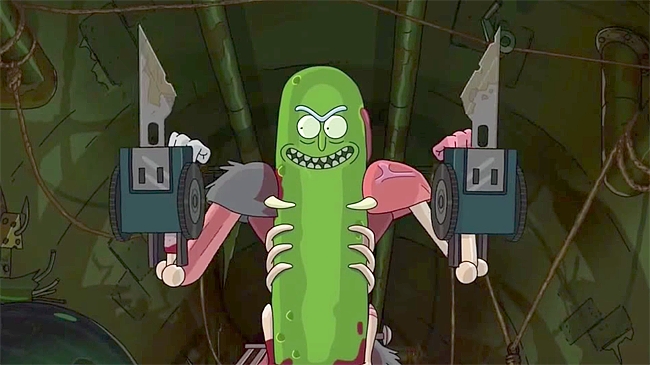 Season 4 of Rick and Morty is still on the way, as is a few more seasons of the Adult Swim show if all goes according to plan. But the writer of one of its iconic episodes won't be joining Dan Harmon and Co. on the next batch of episodes.
Jessia Gao, an executive story editor for the Cartoon Network smash, is leaving the show to start her own ABC comedy. Gao — an Emmy Award winner and writer of Season 3's "Pickle Rick" — will be leaving Harmon, Justin Roiland and the rest of the writing staff as they attempt to fulfill Comedy Central's order of 70 more episodes of the show.
"Pickle Rick" became a smash hit for the animated show when it first aired in August of 2017. You probably heard people screaming "PICKLE RICK" at some point since then, or perhaps you viewed all the merchandise that spawned from the episode where Rick really doesn't want to go to therapy with his family. But the brains behind the episode will be moving on.

Entertainment Weekly noted on Tuesday that Gao will leave Rick and Morty behind to work on a live-action comedy that ABC recently picked up.
Jessica Gao landed a pilot deal for an untitled comedy about "a first-generation Chinese-American woman who struggles to set healthy boundaries with her crazy, exhausting family. When her wealthy grandmother dies and names Janet the sole inheritor, she suddenly finds herself the unwilling new matriarch of the family she's spent her life trying to keep at arm's length."
The show is a very big departure from the sci-fi world of Rick and Morty, but it certainly sounds intriguing. And, quite frankly, good writers can adapt their styles to tackle pretty much anything. What's so often lost about a show like Rick and Morty is just how strong writing is that makes the world created by the show.
What makes "Pickle Rick" one of the show's best episodes is not the ridiculous lengths that Rick goes to avoid his family, nor how complicated his dismembering of various sewer critters as he crafts his survival suit. The monologue from the episode is one of the best pieces of writing in the show's history, and it rivaled a lot of other things on TV that year.
The fans that look past those moments in Rick and Morty are the ones that those who work on the show say over and over again should be ignored. Those that can't see Rick as a cautionary tale and instead view him as a role model are simply unable to see the nuance of what the writers are trying to do with the show and its broken characters. And if exploring those themes is what Gao has in store for ABC, we're certainly interested in what she's got in mind.