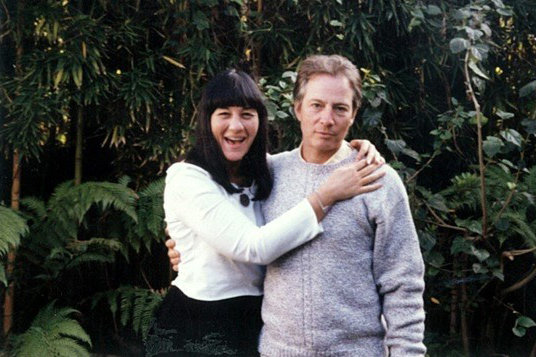 It turns out HBO's documentary series The Jinx — which tells the story of three-time suspected murderer and New York real estate heir Robert Durst — may be more than titillating audience entertainment after all. According to The New York Times, investigators on both coasts recently reopened the case of one of his suspected victims, Susan Berman (pictured above with Durst), due in part to new evidence that aired on this week's episode. This evidence seems to imply that Durst knew more about Berman's death than he originally let on.
From the report in The New York Times, which has much more background and information about the case:
Although he was a suspect in her death, the police never had definitive evidence placing Mr. Durst in Los Angeles at the time of her death. The police also suspected that Mr. Durst was the author of an anonymous note sent to the Beverly Hills Police Department alerting them to a "cadaver" at Ms. Berman's home. The letter was postmarked Dec. 23, 2000, the day California officials said they believed the murder occurred.

In a scene during the "Jinx" episode on Sunday, Ms. Berman's stepson, Sareb Kaufman, calls the documentary's producer Marc Smerling to say that he had discovered a 1999 letter from Mr. Durst to Ms. Berman among the boxes of her belongings in his apartment.

Comparing the two notes, a visibly shaken Mr. Kaufman notes that the block lettering used on the envelope of the newly discovered letter appears to be identical to the lettering on the "cadaver" note. And Beverly Hills is misspelled as "Beverley" on both notes.
Berman's murder, like everything on The Jinx and/or just generally associated with Durst, was incredibly strange and confusing. New York Magazine, where she was a writer before her death and after her youth as a Vegas mafia princess, did a long story about it at the time that was re-published by Vulture in the lead-up to the series. It's a heck of a read.
The investigators declined to provide specific information about the re-opened/ongoing search for Berman's killer, but given all the strange Durst-related twists and turns over the years, it would be almost fitting if the case was closed thanks to a television documentary produced with his full participation and support.