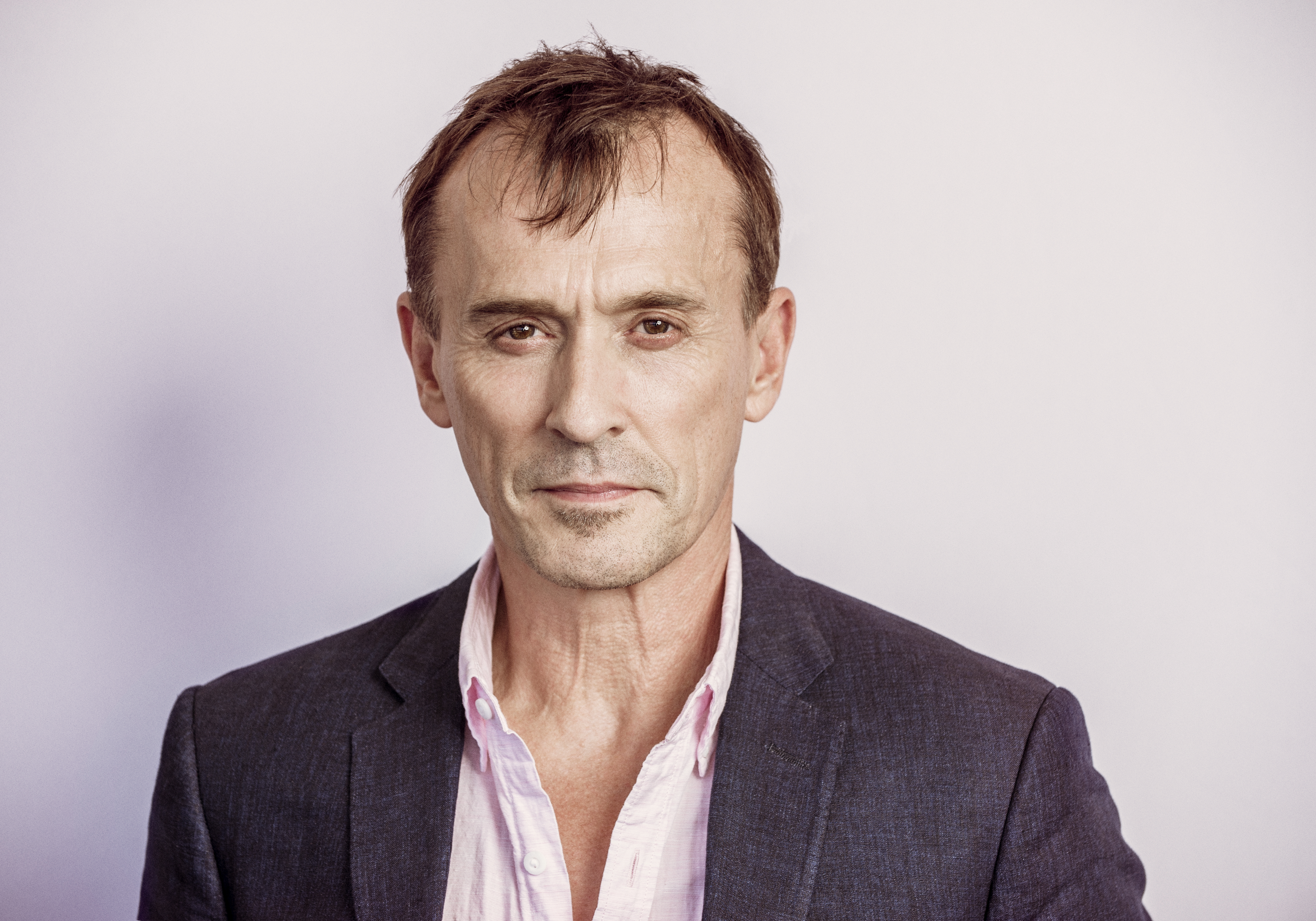 Robert Knepper is an actor probably best known for portraying Theodore "T-Bag" Bagwell on Fox's Prison Break, which returns to television on Tuesday night, eight years after it last aired. You may have also seen him on shows like Homeland, Heroes, and Carnivale, as well as movies like Good Night, and Good Luck, and Jack Reacher: Never Go Back. Knepper was nice enough to answer our 20 questions questionnaire recently.
1. You walk into a bar. What do you order from the bartender?
A top shelf margarita, very tart, no salt. If it arrives and is what I call "high school syrupy sweet" and with salt on the rim, there's hell to pay for that bartender. Luckily, I'm learning patience and would say instead, "I'll just switch to a very dry Ketel One martini with blue cheese stuffed olives." If that's not possible, I'll just ask for a phone book.
2. Who's your favorite person to follow on Twitter and/or Instagram?
Paul Adelstein, Paul Scheuring, Graham Norton, Wildlife Rescue BC, Race to Erase MS.
3. What's currently waiting for you on your DVR or in your streaming queue?
Modern Family, March Madness, The Graham Norton Show.
4. It's your last meal — what are you going out with?
My mother's "hamburger stuffed green peppers." The problem is she's already in heaven. Maybe she'll be waiting for me on the other side of the stage door with a full plate.
5. What websites do you visit on a regular basis?
Huffington Post, New York Times, Screen Actors Guild… to see if any big residual checks are on their way.
6. What's the most frequently played song on your mobile device?
I'm "computer illiterate" (aka Comic Genius): I don't listen to songs on my "mobile device." I love ALL music and listen to it on NPR, 92.3 and on my iPod.
7. If you could go back and give your 18-year-old self one piece of advice what would it be?
Chill the hell out and don't be in such a rush to start your career in Chicago theater. You've got your whole life after Northwestern to be unemployed.
8. What's the last thing you Googled?
Believe it or not: "The Hollywood Exec and the Hand Transplant That Changed his Life"
9. Dogs or cats?
Both. My Dad is still practicing veterinary medicine in Toledo, Ohio. He'd kill me if I had a preference.
10. Best concert of your life was…?
Believe it or not: When I was shooting Renegades in Toronto with Kiefer Sutherland and Lou Diamond Phillips, they took me to my first concert, ever. I was almost 30 years old. It also remains the best concert I've ever been to: Amnesty International with Peter Gabriel, K.D. Lang, Sting, Bruce Springsteen. (Yowza!)
11. What book are you most likely to give as a gift?
It's a toss up between three books: Letters To A Young Poet — Rainier Maria Rilke (To inspire young actors) 2) Letters on Cezanne — also by Rilke (To inspire artists of all ages) 3) When You Are Engulfed In Flames — David Sedaris (The last short story, "The Smoking Section," inspired me to not only quit smoking but be "finished" with smoking. It's been over 10 years now. I'm very happy to report I got that piano off of my back.)
12. What's the nicest thing anyone has ever done for you?

For a birthday present, my son made me a list: "5 Important Reasons Why You Were Born." Two of my favorites: "Because you were born, all of the characters you play are much more amazing" and "Because you were born, you inspire me."
13. South Park or Family Guy?
Both. But since I'm about to work with Seth MacFarlane on Orville, I'm inclined to put Family Guy first.
14. You have an entire day to do whatever you want. What would you do?
Joshua Tree. Joshua Tree. Joshua Tree.
15. What movie can you not resist watching if it's on?
1) Tora Tora Tora 2)The Godfather 1 & 2
16. The sports team or teams you're most passionate about?
1) My son's hockey team. 2) L.A. Kings
17. Where did you eat the best meal of your life?
A little tavern in New Riegel, Ohio used to have the best goddamned ribs on the planet. I hope they're still around.
18. The last movie you saw in a theater?
Prison Break, first episode of the upcoming 5th Season at SXSW/Austin TV Festival. Damn! We look goooood on the "big screen!"
19. Who was your first celebrity crush?
Meryl Streep, The French Lieutenant's Woman.
20. What would you cook if Nic Cage were coming to your house for dinner?
This is a few years down the road: I'd find out his favorite meal and cook it better than he's ever had it. That way, he wouldn't be itching to leave early and I'd pick his brain about how he picked the movie that resurrected his career.
PREVIOUSLY: Joe DeRosa