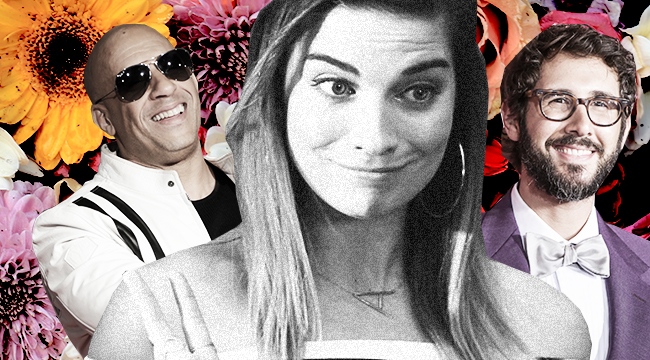 Alexis Anna Emma Hannah Elspeth Something Rose from the Emmy-nominated Schitt's Creek is the OG international woman of mystery.
This globetrotting socialite, former child actor, former teen model, businesswoman, PR manager, and one-time star of a critically reviewed, limited reality series A Little Bit Alexis, has a list of lovers as long and diverse as her many enterprises. She's a student of love, in all its forms, dating shipping heirs and high-profile celebrities, sultan's nephews and Thai drug lords, and she has much to teach us mere mortals when it comes to the art of romance.
Here's an extensive (but not exhaustive) list of the many paramours of the woman who US Weekly once-lauded as "up for anything." Eat your heart out Taylor Swift.
Ted Mullins
Good ol' Ted Mullins grows on ya. He certainly did on Alexis, who, despite being attracted to his swoon-worthy looks, found him a bit too nice and safe to spark any true passion. When you've romped with drug lords and diamond smugglers, a clean-cut animal lover in scrubs who decorates his home like a showroom model just won't cut it. Luckily for those who shipped Alexis and Ted, after the two broke up, the good doctor went through a transformation. He grew some scruff. He bought a motorcycle. And he returned to town like the vet version of a Sons of Anarchy character. That was all it took to pull Alexis back into his orbit and convince her to run away to the Galapagos with him.
Mutt Schitt
The town hippie first caught Alexis' eye at a trucker party (read: tailgating party). He had that undeniable unwashed air about him, the hitchhiker burning meat over a garbage can vibe that was nearly irresistible. The pair's sexual tension mounted with every compost and court-ordered community service clean up until they consummated their passion with a rain-soaked tryst in Mutt's barn. Then he went and shaved his beard and all was lost.
Stavros The Shipping Heir Playboy
When we first meet Alexis Rose, she's going through a rough time. Her family's fortune has disappeared, the FBI is seizing her handbags, and her billionaire boyfriend is clubbing it up overseas – to his credit, he would've totally rescued Alexis if Mary-Kate Olsen wasn't hogging his private jet. There were plenty of red flags with this dude – he abandoned her on a trip to Rio, he asked her dad to do lines with him at his 60th birthday bash, he gifted her his ex-wife's engagement ring, he stored Molly in her car's glove compartment – but the final straw in this tumultuous love affair was when he attended Diddy's white party without her. The lesson: never date an escort-hiring womanizer who likes girls with toe-rings.
The Saudi Prince
When you're a cultured socialite and former teen model, your life often takes you to exotic locales and introduces you to all kinds of foreign lotharios. For Alexis, these torrid romances burned hot, then fizzled out after her love interests got a bit too needy, like when a Saudi Prince held her hostage in his palace as she desperately tried to reach an embassy. To be fair, it was the longest relationship Alexis had if you count the two months in captivity.

The Thai Drug Lord
If you don't want to hear the tale of how your teenaged daughter bribed a Thai drug-lord with sex to escape the back of his trunk, maybe you shouldn't play childish games with real-life consequences. The Roses try to connect with each other in season one because… poverty, I guess, and Johnny is less-than-pleased to hear Alexis' "Two Truths And A Lie" scenario but, really, there was nothing to worry about. As Alexis says, "Aroon was a lovely gentleman until he ran out of money."
The Sultan's Nephew
Alexis is a people-person as evidenced by her conversation with Doris at the vet as the two waited for word on her high-maintenance cat named Mittens. Doris was lamenting her complicated relationship with a senior neighbor named Albert who had a terrible feline allergy and Alexis gave her some solid dating advice. Nothing should get in the way of love, not even when your significant other is a sultan's nephew who is forbidden to talk to you, or even look at you. If Alexis could make that situation work for half a regime change, Doris and Albert can figure out.
The South Korean Consulate's Lawyer
Sometimes, love affairs are fleeting things, born out of necessity and legal troubles, like Alexis' rendezvous with the consulate's lawyer. Alexis needed a passport before midnight after being picked up by the South Korean secret police. Sweet talking a suit was a small price to pay. It also prepared her to pose as high-powered attorney Angelica Bloomfield of Rose, Bloomfield and Glickman – the fake law firm that secured a big payout for Blouse Barn in season two.
The Famous Soccer Player
Who amongst us hasn't dropped out of our Swedish boarding school to travel the world on a yacht with a famous soccer player at least once in our lives? Sadly, Alexis didn't kiss and tell with this one – probably because she was on shrooms at the time and can't remember the dude – but she did meet Beyonce in Mykonos so we'd call this a successful relationship.
Prince Harry
Sometimes, the school of life can teach us more than any classroom ever could. Case in point: When Jocelyn teaches Alexis' high school class the history of Marie Antoinette, Alexis interjects with her own enlightening anecdote involving Kirsten Dunst and Prince Harry. Apparently, for a time, Alexis' pals used to call her Marie because she was casually dating the red-haired royal and they assumed she'd end up a princess and because the two were going through a dark phase where they were partying a little too hard.
The Ugandan Diamond Smuggler
Alexis might not have officially hooked up with the Ugandan diamond smuggler who kidnapped her friend, but she did play a round of pool with him at his villa. The prize: her friend's freedom.
The Substitute Teacher
Alexis' back-to-school story arc gifted us plenty of throw-away gems, like the untold story of how she romanced not one, but two (or more) substitute teachers. To be fair, her dalliance with the latest happened because she didn't realize he was her professor, but Johnny's plea that the family "not go through this again" hints that Alexis has a teacher kink. Don't we all?
The Zac Efron Booty Call
Alexis relays the joys of dating in the digital age when she regales Stevie with stories of how she strung along Zac Efron through sext messages. As she tries to decode Ted's bagel text, Alexis lets slip how she'd shoot Efron a simple question mark when she wanted to bone and "the poor thing" would be buzzing her apartment door before she even pressed send.
The Tour De France Boyfriend
If you're going to date a guy who competes in the Tour de France, there are just two rules: Don't let it be Lance Armstrong and get him to teach you to ride a damn bike.
Miguel
Miguel was the rival vet in town, the guy who advertised his business with shirtless pics of him holding puppies. He royally pissed Ted off but when Alexis matched up with him on Bumpkin after the two split up, he was the best-looking fish in a pond full of Ray Butanis so she agreed to meet him at the local dive bar for some pool and Jampagne. It didn't work out because Miguel had scruples, but really, can you ever regret spending the night with a man who looks like "if Ricky Martin and Mark Conseulos had a baby?"
Adam Levine
Yeah sure, they just went for bubble tea …
The Josh Groban Binder
Alexis Rose taught us all a valuable lesson we didn't know we needed: If you're going to hook up with world-class vocalist Josh Groban, be prepared for the ground rules. He's got a leather-bound binder full of them and they're very rigid.
The Vin Diesel Adventure
We're not sure what went on between Vin Diesel and Alexis back in the day, but she brings up the affair after Ted asks to hear someone else's embarrassing baby story that ended with him naked and crying, so it's safe to say this is not the kind of romance books are written about.
Long Distance With Josh Hartnett
Working with the director Michael Bay on the war epic Pearl Harbor might be tough, but you know what's nearly impossible? Maintaining a successful semi-committed long-distance text relationship with Josh Hartnett while he was filming the movie. Don't call her a hero, she's just Alexis Rose.
The Blind Date In Dubai
It went terribly wrong and David had to come rescue. That's really all you need to know.
Jared Leto
Alexis remembers her first kiss fondly which must mean actor/singer Jared Leto has some skill in the romance department. Less certain: his taste in chunky, oversized knitwear.