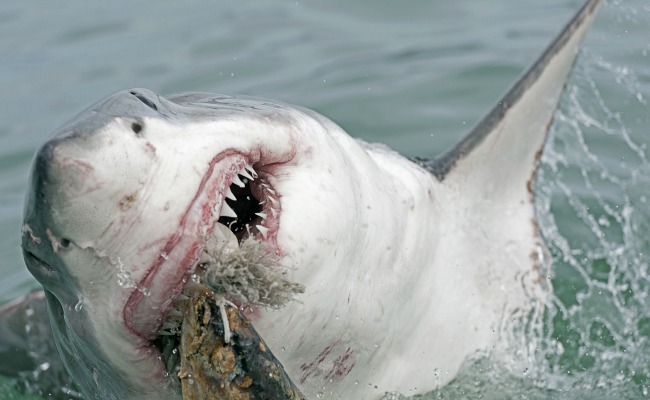 It is a truth universally acknowledged that Shark Week is one of the most anticipated television events every year. Every year, Discovery airs eight days of awesomeness, this year running from June 26 until July 3. The timing could not be more perfect, because why spend your holiday long weekend getting turnt for America when you could also celebrate the majesty of these creatures from the deep?
Anyway, Entertainment Weekly has the latest schedule of programming, and it boasts some truly incredible offerings. For example, Monday the 27th boasts Air Jaws: Night Stalker, which may sound like a very violent installment in the Air Bud franchise, but, alas, it is not.
Photographer and Air Jaws veteran Chris Fallows joins forces with shark expert Jeff Kurr and Dr. Hammerschlag to learn how great white sharks can hunt in complete darkness — without night-vision goggles. Your guide on this chilling mission? Lena Headey, who narrates the action.
Still awesome, despite the lack of basketball playing sharks (maybe next year). However, the award for Greatest Shark Week Title without a doubt goes to Nuclear Sharks, which will be gracing your television that Thursday night.
Philippe and Ashlan Cousteau journey to Bikini Atoll in the Marshall Islands with marine biologist Luke Tipple to check out a stretch of sea that was ravaged by Cold War-fueled nuclear weapons tests. The revived ecosystem is now home to plenty of reef sharks, which are supposedly non-migratory, which begs the literal question that they will seek to answer: Where on Earth did they come from?
Here's hoping those sharks are affected by the radiation, giving them superpowers and a thirst for man flesh. The world needs that movie.
(Via Entertainment Weekly)