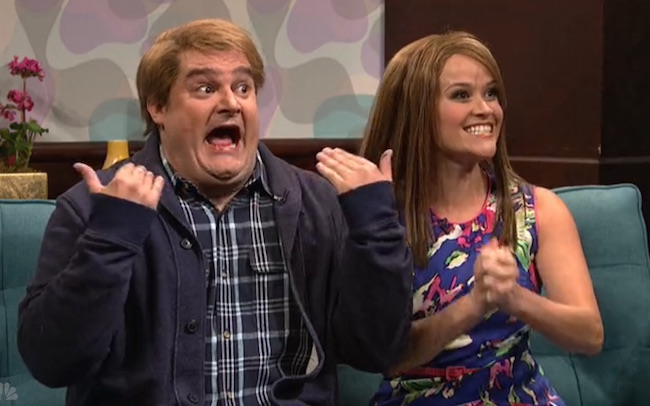 The best thing about Reese Witherspoon turn as a second-time host of SNL (the last time she hosted was the famous post-September 11, 2001 show) was that it was barely noticeable that she was there, even though she was in a lot of sketches – even showing up during "Update," which is rare. I mean that as a compliment because this felt like a "cast heavy" show as opposed to a "host heavy" show. I'm a big fan of "cast heavy" shows (I mean, we even met a lot of the cast's mothers) and they were kind of due for a show like this. (A show that had one of the edgiest and best sketches of the season.) A lot clicked last night. Some didn't. Hey, it's SNL, that's the way it's supposed to work. Here is this week's Scorecard…
Sketch of the Night
"Picture Perfect" (Killam, Thompson, Bennett, Strong, Bayer, Moynihan, Witherspoon) A lot of attention and or scorn was paid to SNL's ISIS sketch from earlier this season, a sketch that was good, but was almost trying too hard to be edgy. Here, "Picture Perfect" becomes SNL's edgiest sketch of the season because it is so funny. People have legitimately been killed for what this sketch is representing, but it's somehow presented in the funniest setting possible – a setting that doesn't at all betray the shock of what's coming, It starts as just another everyday game show sketch, then the hammer drops. Fantastic.
Score: 10
The Good
"High School Show" (Bryant, Killam, Jones, Bennett, Moynihan, Mooney, Witherspoon, McKinnon, Strong) Earlier this season, when they did this the first time while Cameron Diaz was hosting, I scored it a perfect 10. It just felt like something that had been rehearsed for months. It was so unique and cool. Obviously it loses some unique points here, because it's very close to what the original did, but it's still great, great stuff (I am a sucker for fake bad theater).
Score: 9.0
"Reese Witherspoon Monologue" (Witherspoon, Witherspoon, Strong, Strong, Pharoah, Pharoah, McKinnon, McKinnon, Zamata, Zamata, Bennett, Bennett, Bayer, Bayer, Thompson, Thompson, Davidson, Davidson, Bryant, Bryant, Mooney, Mooney, Moynihan, Moynihan) Well, this was nice. And how can this be described as anything but "nice"? Nice is good!
Score: 7.5
"Mr. Westerberg" (Bennett, Moynihan, Davidson, Witherspoon, Thompson, Bayer) This is one of those kind of sketches that I feel guilty for liking. Like there's some underlying theme here that is a bit too dark and that I should be repulsed for what it's insinuating. But everyone just plays it so perfectly, especially Beck Bennett who delivers every line like it's completely normal.
Score: 7.5
"Weekend Update" (Jost, Che, Jones, Strong, Witherspoon, Thompson) OK, I've been hard on Kenan Thompson's Willie in the past, but something was really clicking tonight. Strong and Witherspoon have a nice rapport and it was good to see something different be brought to that character. The best though: Colin Jost when he's in the presence of Leslie Jones. He's completely thrown off his game, which makes him better. (I've heard through the grapevine that what we see on "Update" is very similar to Jost and Jones' real life relationship – that she goes out of her way to make him uncomfortable.) Anyway, it's a dynamite chemistry.
Score: 7.0
"Cats" (McKinnon, Witherspoon) I've written it before, I'll write it again now: If Kate McKinnon got her own primetime network drama about cats, I would watch.
Score: 6.0
The Bad
"Southern Ladies" (Witherspoon, String, McKinnon, Bryant, Jones) The payoff was fine enough, but it took too long to get there and the fact that here are people talking in southern accents just isn't quite enough to sustain a sketch, even one that has a twist at the end.
Score: 4.5
"Cold Open: 2016 Republicans" (Strong, Bennett, Thompson, McKinnon, Moynihan, Mooney, Killam) It was about halfway through this sketch that I muttered out loud, "this is dumb." Yes, I understand that's the point, but there really wasn't much to this other than the candidates dancing. We are going to be entering a presidential election season without the voices of either Jon Stewart or David Letterman, SNL needs to be on their political game. It's early, so whatever — but I'd really like to see them be sharp, not dumb.
Score: 3.5
"Waterslide" (Witherspoon, Bennett, Mooney, Strong, Thompson) In January, I spent the week at SNL to do a piece on set design. I mention this because the set designers all spoke of a set that got away during the Amy Adams hosted show in December, a set that featured a functioning ski lift, but it was cut after dress rehearsal and never even made it to the Internet. The set for "Waterslide" was beautiful and may have been a make-up call for what happened with the ski lift, because this sketch … oof.
Score: 3.5
The Ugly
"The LA Scene" (Witherspoon, Strong, Thompson, Pharoah, Davidson, Mooney) All you need to know is that this sketch ended with a fart joke.
Score: 2.5
Average Score for this Show: 6.10
· Martin Freeman 6.89
· Woody Harrelson 6.75
· Michael Keaton 6.75
· Bill Hader 6.73
· Chris Hemsworth 6.55
· Amy Adams 6.52
· Kevin Hart 6.39
· Dwayne Johnson 6.12
· Reese Witherspoon 6.10
· Chris Pratt 5.99
· Jim Carrey 5.94
· Cameron Diaz 5.92
· James Franco 5.89
· Scarlett Johansson 5.86
· Sarah Silverman 5.86
· J.K. Simmons 5.81
· Taraji P. Henson 5.63
· Blake Shelton 5.58
· Dakota Johnson 5.47
· Chris Rock 5.38
Mike Ryan has written for The Huffington Post, Wired, Vanity Fair and New York. He is senior entertainment writer at Uproxx. You can contact him directly on Twitter.