The '80s for Saturday Night Live were a mixed bag of good and bad, but the one consistent thing until the last part of the decade was instability. Cast members would come and go, never giving the actors a chance to grow into the job and never giving the audience a chance to get familiar with the latest group.
In 1985, with the show once again facing the ax, Lorne Michaels returned from his five year hiatus to replace Dick Ebersol, who had done a good job of recruiting and capitalizing on star power after Jean Doumanian's disastrous run as showrunner following Michaels' exit. Unfortunately, Michaels' new cast faced a familiar fate, with most only lasting a year despite the assembled talent. The reason? Michaels' new cast lacked the chemistry that the original Not Ready for Primetime Players had gained from working together with National Lampoon and Second City. Thankfully, Michaels would eventually get it right and the show would end the decade in a good place after experiencing more lows than highs throughout.
Here are the brief stories behind the cast members that were a part of the show in the '80s and a look at where they are now.
Jim Belushi (1983-1985) 
Jim Belushi didn't reach the heights that his brother did on the Studio 8H stage, but he has had a very successful post-SNL career, appearing in Taking Care of Business, Mr. Destiny, like six K-9 movies, and 182 episodes of According to Jim.
A. Whitney Brown (1986-1991) 
A featured player who did most of his damage at the Weekend Update desk. Is it any wonder that Brown eventually made his way to The Daily Show, where he was a correspondent for the show's first two years? Since that ended, Brown has written for The Daily Kos and continued to do stand-up.
Billy Crystal (1984-1985) 
According to Live From New York, Crystal was supposed to appear on the premiere episode of Saturday Night Live, but he got cut for time at the last minute. Later, he would come back to host, joining Michael McKean as the only people to go from hosting the show to being a cast member.
It's constantly said because it's always true that Eddie Murphy saved the show, but Billy Crystal and his star-studded cast kept the thing afloat after Murphy left.
When Crystal did the same, he went on to have a solid film career, starring in When Harry Met Sally, City Slickers, and both Analyze This and Analyze That. He also directed 61* for HBO and hosted the Oscars nine times. Crystal can next be seen opposite Josh Gad in the FX series, The Comedians.

Joan Cusack (1985-1986)
Cusack was a part of Lorne Michaels' young and talented new cast when he returned from his sabbatical, but like almost all the rest, she didn't really make much of an impression. Two years later, she would while co-starring in Broadcast News, and in 1988, she got an Oscar nomination for her work in Working Girl. She'd get another Oscar nomination in 1997 for In and Out. Presently, Cusack can be seen in Shameless and she'll play a supporting role beside Kristen Wiig in Welcome to Me.
Denny Dillon (1980-1981)
A theater vet, Dillon didn't make a mark or really get the chance to before Jean Doumanian's time as showrunner came to a close and Dick Ebersol cleaned house. Following SNL, Dillon found success as Martin Tupper's opinionated assistant on Dream On. Lately, she's done some voice acting and appeared in United 93 and an episode of Louie.
Robert Downey, Jr. (1985-1986) 
He was a 20-year-old brat who made it to SNL, and now he's Iron Man. In between, RDJ went from a weirdo best friend role in Back to School to earning an Oscar nomination for playing Charlie Chaplin seven years later. After that, someone tied him up and tried to sell him as a rom-com lead for a little bit but his demons caught up to him and it seemed like he was another sad story about wasted potential. Cue the phoenix rebirth that was Kiss Kiss Bang Bang and here we are. Who saw all of this coming?
Julia Louis-Dreyfus (1982-1985) 
Dreyfus didn't quite stand out on SNL, but she didn't get lost in the shuffle, either. After leaving, she had a supporting role in Soul Man that I don't recall and she played a pissed off neighbor in National Lampoon's Christmas Vacation. Then she kinda fell off the map after that… oh yeah! She's also a 15-time Emmy nominee and 5-time winner for her work on Seinfeld, The New Adventures of Old Christine, and now Veep.

Robin Duke (1981-1984)
I had no idea that Robin Duke lasted as long as she did on SNL, but she apparently hung in for quite a while. A former SCTV alum, Duke went on to appear in Club Paradise and Groundhog Day. Currently, she can be seen playing Jay Baruchel's mom on Man Seeking Woman beside another SNL alum, Mark McKinney.
Nora Dunn (1985-1990) 
Dunn departed with high drama after publicly boycotting an Andrew Dice Clay hosted episode. Following her time on the show, she has carved out a nice niche for herself as a guest star with her most notable role being that of a marriage counselor on Entourage — a role she will reprise in the upcoming film.
Christine Ebersole (1981-1982)
Ebersole was one-and-done on SNL, where she co-anchored Weekend Update with Brian Doyle-Murray, but she's gone on to have a diverse and busy career on the stage, in film, and on television. She most recently co-starred with Murray on the recently cancelled Sullivan and Son.
Al Franken (1977-1980 and 1985-1995)
Anyone can analyze a few key moments in their life and ponder how things could have gone differently if they would have zigged instead of zagged, and that's certainly true for Al Franken. A writer and occasional performer on Saturday Night Live from 1975-1980 beside his comedy partner Tom Davis, Franken could have followed Lorne Michaels as SNL showrunner, according to the Live From New York oral history, were it not for his on-air mockery of NBC president Fred Silverman. Denied, Franken left the show and inadvertently triggered the rise of Jean Doumanian in Michaels' absence.
In 1985, Franken returned to SNL and worked on the show as a featured player and writer — Stuart Smalley stands out as Franken's most notable character besides himself. Franken left the show again in 1995 after he lost out on the Weekend Update chair. Following the failure of Stuart Saves His Family, Franken further embraced his political leanings and became a liberal talk radio host and author. A career that he used to bridge the gap between Saturday Night Live player and U.S. Senator. But would it be Senator Franken if he had gotten the chance to take over SNL in 1980? Maybe Franken would have excelled at the job and Michaels would have never returned. Zigged instead of zagged.
Gilbert Gottfried (1980-1981) 
Gottfried has doubtlessly enjoyed the most fruitful post-SNL career of any of the unfortunate 1980-81 cast with the exception of Eddie Murphy, and it's all because of that voice of his. It just lingers. It's unkillable. Gottfried's most notable work came as an animated parrot in Aladdin. He was also the Aflac duck before a bit of controversy erased that job.
Mary Gross (1981-1985) 
Everyone gets caught up in the contributions of Billy Crystal, Martin Short, and Eddie Murphy during the early '80s, but Mary Gross was a reliable cog in the SNL machine during that period, and after leaving the show, it seemed like she had a chance to have a decent career ahead of her playing somewhat quirky best friend roles. Unfortunately, after Club Paradise, Troop Beverly Hills, and Feds (which, I believe, aired on HBO once a day for a time in the early '90s), Gross' opportunities got a little bit less interesting, and she became more of a quirky guest actress type. Most recently, Gross appeared in an episode of Raising Hope and on two episodes of Hart of Dixie, where she played Old Woman No. 3. F*ck you, Hart of Dixie. Mary Gross deserves a named character.
Christopher Guest (1984-1985)
Christopher Guest came up through the National Lampoon talent pipeline same as Chevy Chase and John Belushi did, but he went a different way, and by 1984, he had written and starred in This Is Spinal Tap and established himself as a name. In the mid-'90s, Guest went into full auteur mode and started churning out improv-heavy and critically acclaimed films like Waiting For Guffman, Best in Show, and For Your Consideration. Most recently, he created Family Tree for HBO.

Anthony Michael Hall (1985-1986) 
In 1985, Anthony Michael Hall joined the SNL cast at 17 and starred in The Breakfast Club and Weird Science, but by the time he left the show, he had started to outgrow his adorable nerd persona, and he would never be the same again.
Despite his damning adulthood, Hall never stopped working. He had a starring role in The Dead Zone and guest appearances on Psych, Community, and others. He also popped up in The Dark Knight and Foxcatcher.
Brad Hall (1982-1984) 
Hall's biggest contribution to SNL was as Weekend Update anchor. Following his time on the show, Hall went on to write Bye Bye Love, and create both The Single Guy (quite possibly the first Friends-clone) and the gimmicky Watching Ellie, which starred Hall's wife and one-time SNL co-star Julia Louis-Dreyfus. As an actor, Hall has appeared beside Dreyfus as an exaggerated version of himself on Curb Your Enthusiasm and as an Eagleton designer on Parks and Recreation.
Rich Hall (1984-1985) 
Hall wrote on both David Letterman's brief morning show and on Late Night, was a cast member on Fridays and came up with the term "sniglets" (made up words that are used to describe something) on Not Necessarily the News before he got a chance to work on Saturday Night Live. After that experience, he continued to pop up on Not Necessarily the News, made a few film appearances, and focused on his stand-up career. He's also huge in England. He's British Jerry Lewis, essentially.
Jan Hooks (1986-1991)
Hooks was one of the key parts of Saturday Night Live's late '80s and early '90s renaissance, playing Hillary Clinton, one half of The Sweeney Sisters, Tammy Fay Baker, and a host of other roles. She had range, not just comedic chops. Look at "Love is a Dream" or "Brenda the Waitress" and you'll see.
After leaving SNL, Hooks went on to co-star on Designing Women and guest star on 3rd Rock from the Sun and 30 Rock. She passed away this past fall. 

Yvonne Hudson (1980-1981)
Though Hudson was officially on the cast during the 1980-81 season, she appeared as an extra in 1978 and made uncredited appearances on the show until 1984. And that's it. No credits after SNL. Where is she now? In the frightening void of post-fame, or normal life.
Victoria Jackson (1986-1992) 
To say the least, Victoria is in a decidedly different place than she was when she was on the show. Here's a look.
Tim Kazurinsky (1981-1984)
A Second City alum and close friend of John Belushi's, Kazurinsky spent three seasons as a writer and performer on SNL. Following his time at 30 Rock, Kazurinsky co-starred in three Police Academy movies, wrote the Rob Lowe starring About Last Night, and has continued to work steadily as an actor with small parts on TV and in film.
Gary Kroeger (1982-1985) 
Gary Kroeger has lived a life. Known for his incestuous makeout session as one half of the Osmonds on SNL and for playing Walter Mondale, Kroeger's post-SNL career includes a lot of TV guest spots (most recently on an episode of Curb Your Enthusiasm in 2004), some voice work on Dilbert, some game show hosting, a gig as the MC of the 2002 Miss America pageant, and the star of an in-store Direct TV infomercial. Now, he works for an Iowa ad agency. I hereby nominate Gary Kroeger for the man with the most interesting post-SNL resume.
Matthew Laurance (1980-1981)
Laurance went on to co-star in Eddie and the Cruisers following his exit from SNL after only 10 episodes. He worked steadily through the '80s and '90s, appearing in Duet and Beverly Hills 90210 for extended periods of time. No, he was not the Peach Pit guy. He played Mel Silver on the latter. Laurance's last official credit is for something called Port City from 2009.
Jon Lovitz (1985-1990)
You know when a struggling sports team picks up a moderate star and it helps to establish that they're turning things around, and then they go and get bigger and better talent? Jon Lovitz' impact on SNL. He wasn't the guy who pulled it all together in the late '80s and early '90s, he was the guy who helped bridge the gap and he did a lot of good work on the show while cast members like Phil Hartman, Dana Carvey, and Mike Myers were learning the ropes.
After SNL, Lovitz starred in the Lethal Weapon spoof film Loaded Weapon, played a key role in A League of their Own, and provided the voice for The Critic. Later, he would join the cast of NewsRadio after Phil Hartman's death. Lately, Lovitz has been relegated to friend of Sandler roles and guest spots on TV.
Gail Matthius (1980-1981)
Matthius co-anchored Weekend Update in her brief time on SNL. On the outside, she turned to voice work, finding success with Tiny Toon Adventures and Animaniacs, among others. Presently, she does improv with The Spolin Players beside Edie McClurg, Dan Castellaneta, and others.

Laurie Metcalf (1981)
Unlike almost all of the other cast members who felt the touch of the ax after the 1981 season, SNL (which she was on for one episode) didn't serve as Laurie Metcalf's career high watermark. Instead, Metcalf went on to great success and acclaim on Roseanne, spent two seasons beside Norm Macdonald on Norm, and carved out a niche for herself as successful guest star on a lot of comedies through the '90s and 2000s. Most recently, Metcalf has starred in both The McCarthys and HBO's Getting On, and she has a recurring role as Sheldon's mom on Big Bang Theory.
Dennis Miller (1985-1991)
Miller stabilized the Weekend Update desk and made it electric again with his smartest-guy-in-the-room attitude. He was one of the greats at the desk but he didn't add much else to the show in his time.
After SNL, Miller went into late night — unsuccessfully at first, but when he moved to HBO, everything clicked and he got eight years out of Dennis Miller Live.
After that, Miller tried his hand at being a football commentator on Monday Night Football, but it didn't work out super well. Lately, Miller has taken to the radio waves as a right-leaning talk show host who occasionally does celebrity interviews and waxes nostalgic about the SNL days. He's also a regular on The O'Reilly Factor.
Eddie Murphy (1980-1984)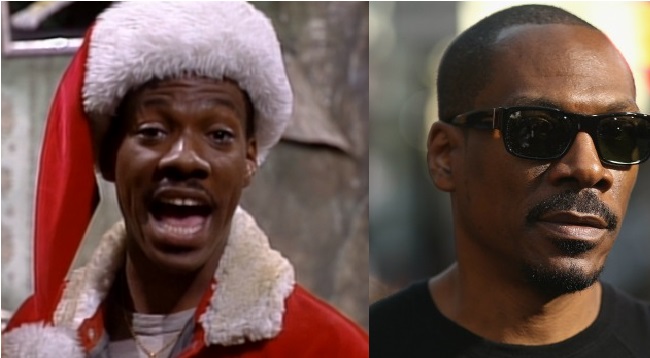 Eddie Murphy willed his way onto Saturday Night Live as a 19-year-old with so much talent that show talent coordinator Neil Levy felt compelled to threaten to quit his job if Murphy wasn't hired. Then Murphy willed his way into the spotlight, earning one of only two golden tickets to continue on the show past the 1981 house-cleaning.
Partially powered by Murphy sketches like "White Like Me" and "Mr. Robinson's Neighborhood," as well as impressions of Gumby, Buckwheat, and James Brown, SNL was able to avoid a full slide into irrelevancy in the early 80s.
In 1984, with his path toward superstardom, clear thanks to Trading Places and 48 Hours, Murphy left the show. The Beverly Hills Cop films would follow, as would Coming to America and a bunch of lesser performing films like Holy Man, Metro, Vampire in Brooklyn, and Showtime. Murphy seemed as though he might be on the comeback trail after an Oscar nominated performance in Dreamgirls, but unfortunately, that hasn't happened yet. Hopefully, Murphy's appearance on the 40th Anniversary Special — his first time on the show since 1984 —  will serve as a reminder to people that he is a comedic force. Especially if he gives David Spade some sh*t.

Brian Doyle-Murray (1979-1980 and 1981-1982)
Bill Murray's older brother wasn't a nepotism hire. A Second City and National Lampoon alum, Brian Doyle wrote for Howard Cosell's Saturday Night Live and SCTV before coming aboard as an SNL writer in 1978. In 1979, Murray moved to the cast, then went back to the writer's room as one of the very few brave souls to stay at the show after Lorne Michael's departure. In 1981, he was back in the cast. Unfortunately, Murray's most notable on-screen moment came when he announced that John Belushi had died of an overdose.
In 1980, Murray co-wrote Caddyshack. In 1986, he wrote Club Paradise, but most of his post-SNL credits have been in front of the camera as Murray has carved out a solid career for himself as a comedic character actor. Most recently, he's co-starred n TBS' Sullivan and Son and appeared in a recurring role on The Middle.
Joe Piscopo (1980-1984)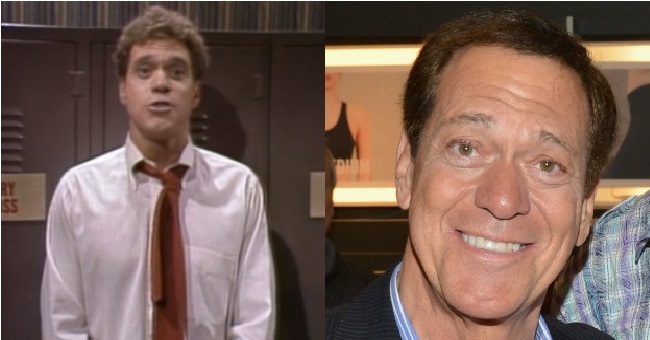 Murphy had help in the early '80s in the form of Joe Piscopo, a Jersey-based comic whose Frank Sinatra impression earned the seal of approval from Old Blue Eyes himself. Piscopo left the show at the same time as Murphy did, but he never found the same level of success despise solid turns in the amazing Johnny Dangerously and the incredi-bad Dead Heat. When the '80s turned into the '90s, Piscopo's career began to slow, but he hasn't exactly faded away.
Piscopo currently hosts a morning radio show on New York's AM 970 and he's repeatedly been mentioned as a potential candidate to run for office, telling the New York Post that he couldn't run for governor of New Jersey because it would be a pay cut.
Emily Prager (1981) 
Saturday Night Live is the most impressive part of Emily Prager's IMDB page, but she hasn't exactly chased fame on either the TV or big screen. Instead, the former National Lampoon contributor has worked extensively as a writer and journalist for The New York Times, The Village Voice, and The Guardian.
Randy Quaid (1985-1986) 
Oh, you know what he's been up to.
Ann Risley (1980-1981) 
A short-timer who had a trio of small roles in Woody Allen movies on her resume before she was hired by Jean Doumanian, a long-time Allen collaborator. She now teaches acting in Arizona.

Charles Rocket (1980-1981) 
Charles Rocket said "f*ck" on the air and was quickly fired from Saturday Night Live in 1981. That could have been the end of his career, but instead, Rocket persevered and went on to have a solid career as a character actor who most notably appeared in Dumb and Dumber as (spoiler alert) the bad guy and in Hocus Pocus as the stock dad character. Unfortunately, Rocket took his own life in 2005.
Tony Rosato (1981-1982) 
Rosato went from SCTV to SNL, then wound up starring on a Canadian drama called Night Heat and working as a voice actor. In the mid-2000s, Rosato's name resurfaced for all the wrong reasons when he was charged with harassing his wife, and he spent time in jail and two years in a mental hospital. As of 2013, he had started booking work again as an actor, so hopefully things are on the right path.
Harry Shearer (1979-1980 and 1984-1985) 
To read Harry Shearer's take on his time at Saturday Night Live in Tom Shales and James Andrew Miller's Live From New York oral history, you might think that he didn't love his time on the show.
Shearer came aboard at the end of Lorne Michaels' run and worked as a featured player. He left, made This Is Spinal Tap, and then returned for Dick Ebersol's star-studded 1984-85 season beside Billy Crystal, Martin Short, and Christopher Guest. Since leaving SNL for the final time, Shearer has found success working as a part of Guest's repertory company and as a voice actor on The Simpsons.
Martin Short (1984-1985) 
Unlike Crystal and Guest, Short had sketch comedy experience and a few characters in his back pocket, thanks to his time on SCTV. This helped both the show and Short, who pivoted away from SNL toward a TV and film career after his one year was up.
But while Short is still relevant and celebrated as a comedic talent, it would be hard to look at his resume and not see that he has suffered from an inability to match his unique talents with a project. Simply put, SNL was the perfect outlet for Martin Short and it's a shame that it was just a fling.
Pamela Stephenson (1984-1985) 
The New Zealand-born Pamela Stephenson had already appeared in History of the World Part 1 and on the UK series Not the Nine O'Clock News before landing on SNL, but her acting credits stop as of 1987. Since her time on SNL, Stephenson has become a clinical psychologist, author, and frequent presence on UK television.

Ben Stiller (1989) 
Maybe Ben Stiller is partially responsible for The Lonely Island. As the story goes, Stiller left SNL and eventually created The Ben Stiller Show because he couldn't make short films for the show. Obviously, he found success, but according to Jorma Taccone and Akiva Schaffer in Live From New York, when they were hired as writers on SNL alongside Andy Samberg, they eventually decided to take a camera and make a video short to help them pitch ideas — something that allowed for the creation of the SNL Digital Shorts label. Did Lorne Michaels learn his lesson with Stiller or is this just a coincidence?
Terry Sweeney (1985-1986) 
Sweeney was a writer on the show during the 1980-81 season and joined the cast in 1985 as the first openly gay cast member. After SNL, Sweeney wrote for a few years on Mad TV. His on-screen credits are of the guest-star variety and end in 2003.
Danitra Vance (1985-1986) 
Vance was SNL's first black female regular cast member. She was also an Obie award winning playwright, a Shakespearean trained actress, and a teacher who had the guts to quit SNL because she didn't like the stereotypical roles that she was being offered. Danitra Vance died of cancer in 1994. It would have been really interesting to see what art she would have brought into the world if she had been given more time.
Dan Vitale (1985-1986) 
Dan Vitale has a sad story. Essentially, Lorne Michaels kept casting him — on The New Show, in a pilot he was producing, and then on SNL — but Vitale's addictions got the best of him and Michaels had to fire him before he had a chance to make an impact. He seems to be doing better now, though, and he's still active on the New York stand-up circuit.
Damon Wayans (1985-1986) 
Wayans got fired after going off-script in a sketch, but Michaels still recognized his talent and had him back on to do a stand-up set (I miss when SNL would occasionally do that) at the end of the season. Obviously, the dismissal didn't hurt Wayans, who went on to star in his brother's sketch show, In Living Color. Which is, to me, still the closest that anyone has come to reaching the level of cultural relevancy that SNL has.
Wayans went to the big screen after In Living Color, starring in Bulletproof and Celtic Pride after building up his profile with Mo Money, The Last Boy Scout, and Blankman during his time on the show. Wayans' most sustained success came on television with My Wife in Kids, a family-centric sitcom that ran for 123 episodes from 2001-2005. Since the end of that show, Wayans has mostly kept a low profile save for a few guest spots. He still does stand-up, though.
Patrick Weathers (1980-1981) 
A musician and Elvis impersonator who was credited in two episodes. Weathers popped up in an episode of Treme and he had a small part in The Campaign in 2012.