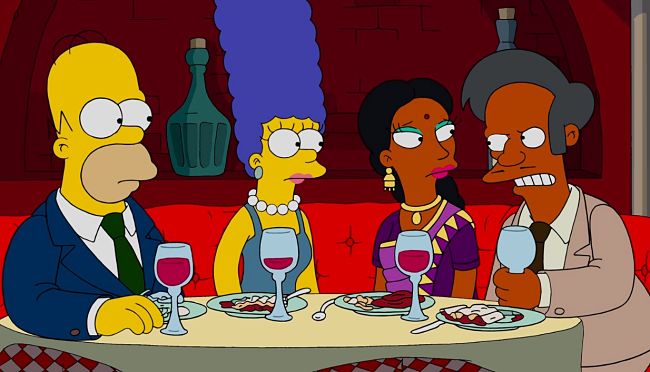 In an interview with USA Today about the show's recording-breaking 636th episode, The Simpsons creator Matt Groening publicly addressed the Apu controversy for the first time. To recap: comedian Hari Kondabolu made a documentary, The Problem with Apu, that addresses how Apu Nahasapeemapetilon, an Indian immigrant voiced by a white man, is symptomatic of a bigger issue: how people of color are depicted in pop culture. It's a well-reasoned film, which The Simpsons dismissed with a joke that did not go over well. After the episode aired, showrunner Al Jean tweeted that the show will "try to find an answer that is popular & more important right," while Hank Azaria, who portrays Apu, offered to "step aside" from voicing the character.
But back to Groening's response. When asked if he's thought about the criticism of Apu as a stereotype, he replied, "Not really. I'm proud of what we do on the show. And I think it's a time in our culture where people love to pretend they're offended." Groening then added, "We'll let the show speak for itself."
Well, that's probably not going to help.
"When we first started, we were part of the downfall of civilization. Bart said he was 'an underachiever and proud of it, man.' Simpsons T-shirts were banned in grade schools. I felt that the controversy at the beginning of the show was, again, people pretending to be offended by Bart's very mild sassiness. I knew it would blow over." (Via)
Will the uproar over Apu "blow over"? Probably not (nor should it), but it will have plenty of time. Groening doesn't "see any end in sight" for The Simpsons.
(Via USA Today)