(VAGUE SPECULATIVE SPOILERS)
We can blame Game of Thrones for this. On that show, actor Kit Harington was contractually required to keep his long hair for the series, so after his character's supposed death onscreen, the Jon Snow hair watch began as fans tried to tease out whether the character was dead or not.
Since then, a drastic haircut has become something of a knee-jerk association with a character death on the Internet. In fact, back in October, rumors surfaced that Steven Yeun had gotten a haircut, which some marshaled as evidence to support the fact that his character was actually dead. That turned out not to be true (for now, anyway), but it didn't stop people from worrying. Likewise, there was speculation that Rick's fate was also in question after Andrew Lincoln shaved his beard.
Now another The Walking Dead character has gotten a haircut, and this one is drastic.
Naturally, the Internet is worried that Lauren Cohan's new hairstyle bodes unfavorably for her character, Maggie, on The Walking Dead.
Why would Cohan do such a thing? IS THIS THE END?
(COMIC SPOILERS)
The fact that Lauren Cohan cut her hair short should actually have you worrying less about the fate of her character, because the Maggie Greene in the comics has very short hair. Both Glenn and Maggie cut their hair short (Glenn shaved his) in the comics, around the time they moved from the Hershel Farm to the prison.
Why would Maggie only get her haircut now? In the comics, it was something that Maggie and Glenn did together to help themselves adjust to the new world. In the wake of both Maggie and Glenn's near-death experiences on the television show, new haircuts might be a way for them to show solidarity and renew their love for one another.
Or maybe Lauren Cohan just really wanted shorter hair to deal with the brutal summer heat in Georgia? Alternatively, maybe Maggie just got jealous of Carol's badass hairstyle and wanted a short cut of her own.
In either respect, it's nothing to be too concerned about. It looks good on her, anyway.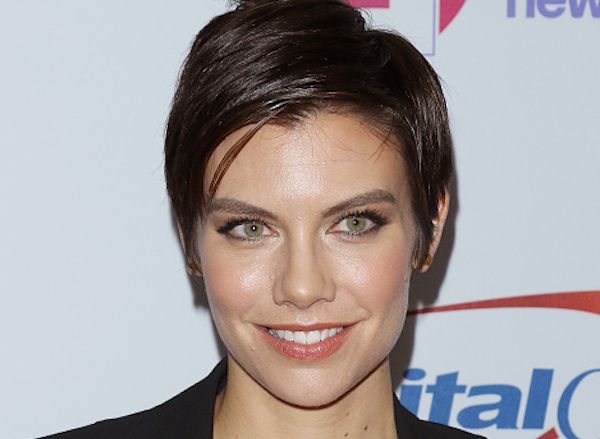 Now, if Josh McDermitt cuts his mullet off, then you should worry about Eugene.
The Walking Dead will return on Valentine's Day.
(Via Vanity Fair)
Now Watch: Will Carol Kill Morgan On 'The Walking Dead'?