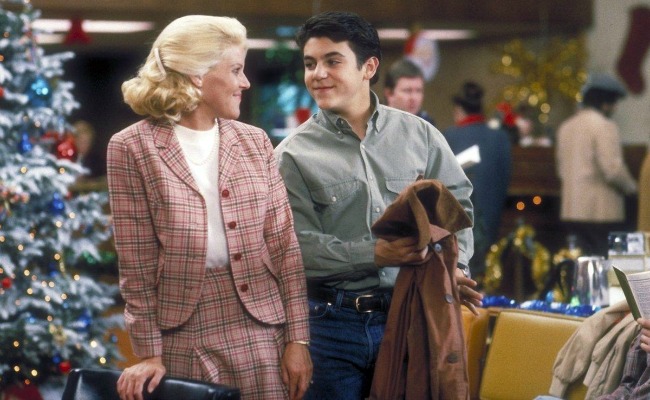 The Wonder Years was cancelled 25 years ago, and star Alley Mills claims that it was taken off the air after a sexual harassment suit was filed. In a new interview with Yahoo Entertainment, Mills, who played Kevin Arnold's (Fred Savage) mother, blames the "completely ridiculous" allegations made against Savage and co-star Jason Hervey for the show ending after six seasons.
"When we shot the series finale…nobody knew whether or not The Wonder Years was going to be renewed. And that's because of a completely ridiculous sexual harassment suit that was going on against Fred Savage — who is like, the least offensive, most wonderful, sweet human being that ever walked the face of the Earth."
According to the harassment allegations made in 1993, Savage repeatedly told costume designer Monique Long "Oh, Monique, I'm so in love with you. Please have an affair with me," as well as asking her out and trying to hold her hand. Long claimed that Hervey reportedly physically harassed her by grabbing her and lewdly miming intercourse.
Mills blasted this report, calling the suit "such a joke."
"I wanted to scream on television, 'This is ridiculous!' I just thought this was a joke. You know, they bought her off, which made me really mad. That was incorrigible that the network did that; they should never have paid her off. They wanted to avoid a scandal or something, but it made them look guilty. You know, you don't pay someone off when there was no crime, you just fire the girl."
Mills continued, drawing parallels to the current #MeToo movement.
"It's a little bit like what's happening now — some innocent people can get caught up in this stuff; it's very tricky. It was so not true. It was my dresser, and I don't care if she's listening — I probably shouldn't be telling this, but I don't care because it was so long ago and it's gotta be over now.

When they're true, awesome. Bring it out. People would rather just let go of it than allow you your truth and your time in court."
(Via Yahoo Entertainment)