The holiday shopping season is here and if you've got a hardcore fan of movies or television (or both, of course), you probably need some gift ideas. Alternately, if you are a hardcore fan of movies or television, you might be in the market for some gift ideas to give others. Either way, we've got an abundance of items below that should appeal to every sort of cineaste and TV junkie.
Specialty Streaming Service Subscriptions
Rumors of physical media's demise have been greatly exaggerated. Blu-rays still offer the optimum viewing experience in the HD era and, as several items below make clear, there are still great packages being put out that offer the sort of bonus features and total immersive experience that streaming just can't offer. (Plus, if you love, say, Indiana Jones, it's awfully nice to have the entire series on a shelf somewhere.) That said, streaming has come a long way in terms of quality and there have been some intriguing new developments over the last few years. While Netflix has focused on television of late, letting its rights to many movies lapse, Amazon and Hulu have started to pick up the slack. Chances are you can browse and find a great movie on one service or another. But for some fans, that's not enough. Hence the rise of specialty services. Time will tell if streaming services focusing on a particular type of viewer will last, but for now, people have options if they want services that are laser-focused on their interests. Let's break down a few.
Fandor: Online since 2011, Fandor caters to fans of independent and arthouse movies. That covers a lot of ground. Currently boasting over 6,000 titles, its library includes everything from silent classics to of-the-moment documentary shorts. It's a robust offering filled with hard-to-find oddities and left-of-the-multiplex favorites. And at $10 a month ($7.50 to yearly subscribers), it's not a bad bargain, either.
MUBI: MUBI covers some of the same territory as Fandor but it takes a different approach, treating the site as a rolling film festival. Every day it introduces a new film that will be available on the site for 30 days, usually lumping it in with some kind of theme. Right now, for instance, subscribers can watch a Johnnie To double feature, the classic French farce The Tall Blonde Man With One Black Shoe and Graceland, a thriller from the Phillippines. It's a bit like having a new movie chosen by an in-the-know friend every day. And with a gift subscription of $47.88, you can sort of be that in-the-know friend.
Filmstruck: The big new player in this field, however, is the recently launched Filmstruck, a joint project by Turner Classic Movies and The Criterion Collection (a name synonymous with the classic film canon since the laserdisc era). It's been treated as the great streaming hope for serious film fans since it was announced earlier this year and so far it's been living up to expectations, though the two-tiered membership can be confusing. Subscribers can sign up for the Filmstruck offerings or pay more to add the Criterion titles, which are numerous and include at least some of the bonus features found on Criterion's Blu-rays and DVDs. The big question: How does it grow? It's not clear how often non-Criterion films will be added or how long they'll remain on the site. Still, it's easy to navigate with some nifty curated areas and undeniably the best source for capital "G" great movies anywhere.
Seeso and Brown Sugar: Or maybe the future is in really specialized sites. Seeso focuses squarely on comedy, offering new series while also trying to become the comedy lover's destination for classic comedy. Right now, if you want the full runs of Saturday Night Live, Kids in the Hall, and Monty Python's Flying Circus, this is the place to go. The just-launched Brown Sugar has a different, even tighter focus: The blaxploitation films of the 1970s with pillars like Shaft, Super Fly, Dolemite, and Coffy. There are also oddities like the zombie revenge thriller Sugar Hill and Ralph Bakshi's Coonskin. Like Seeso, it's a mere $3.99 a month.
Harry Potter And Game of Thrones-Themed Moleskine Notebooks
Chances are good you know a fan of Harry Potter and/or Game of Thrones. Chances are also good that they sometimes need to write stuff down. Whether penning a magic-filled novel set in faraway lands or just writing down a grocery list, one of these fantasy-themed notebooks is sure to make every thought a little more charged with possibility.
It's A Wonderful Life: Platinum Anniversary Edition
A financial disappointment in its day, Frank Capra's 1941 film It's A Wonderful Life became a Christmas classic in part due to a copyright glitch that made it cheap for television stations to run it virtually non-stop during the holiday season. That's changed in recent years, and while there's something to be said for having a film this wonderful playing on a loop, it also means that we no longer have to experience it via TV ragged prints of wildly variable quality that were sometimes cut to shreds by local stations trying to squeeze it into a shortened time slot. This new Blu-ray edition offers little that hasn't been seen before but, hey, it's It's A Wonderful Life. Why mess with it?
Dekalog And Trilogía de Guillermo del Toro
One of the best Blu-ray sets released this year, maybe ever, Dekalog collects all 10 episodes of Krzysztof Kieslowski's 1989 series for Polish television. Each episode is themed, often loosely, around one of the Ten Commandments, and each dramatizes how they play out in a Poland nearing the end of the Cold War. Kieslowski had a handful of masterpieces ahead of him — the Three Colors series and The Double Life of Veronique — but this stands up to the best of them, a collection of compact, unforgettable films some wistful, some comic, some tragic that capture the full range of life. Or, for those looking at a similarly deluxe collection of a different sort of master, the Trilogía de Guillermo del Toro collects three of the director's most personal films: Cronos, The Devil's Backbon, and Pan's Labyrinth.
Both typically retail for $99.99 but sale prices around $64.99 have been seen.

Lone Wolf And Cub
Or, if you just want to watch a master swordsman and his toddler son traveling feudal Japan chopping off heads with the assistance of a weapons-equipped baby carriage, check out the year's other great revival. Released between 1972 and 1974, these six films adapt a long-running manga into stylishly bold and bloody tales of adventures. The box set should set you back about $50.
Shout! Factory Releases
The Thing: Collector's Edition
Village of the Damned: Collector's Edition
Carrie: Collectors' Edition
Raising Cain: Collector's Edition
Rabid
Dead Ringers

It's been a good year for new editions of great films from cult-favorite directors thanks in large part to Scream Factory, a company long in the habit of putting out the best versions possible of horror films, from the classic to the cheesy. The company has had a long relationship with John Carpenter that continued this year with new editions of The Thing, maybe the director's best film, and his Village of the Damned remake (which isn't his best film, but completists will want it). Scream did right by Brian De Palma this year, too, thanks to fine repackagings of Carrie and Raising Cain, the latter including a De Palma-approved cut that attempts to restore the director's original intentions. Finally, fans of David Cronenberg got both Rabid, a grimy early effort, and Dead Ringers, a masterful look at psychological decay starring Jeremy Irons as twin gynecologists. For anyone whose tastes run to the horrific, this year has brought a lot of options and all should run between $20 to $35.
Star Wars Art: Ralph McQuarrie
Star Wars would never have happened without George Lucas, but George Lucas has always been eager to admit it's the product of many creators. One of the key visionaries was Ralph McQuarrie, who served as a conceptual artist on the original trilogy, creating striking paintings and character designs that would inspire the look of the final film, even if they got altered quite a bit along the way. To take in McQuarrie's original art is to step into an eerier, starker, even more fantastic alternate version of the Star Wars universe. McQuarrie, who died in 2012, has developed his own following over the years, and this deluxe, 800-page, two-volume is the most thorough collection of his Star Wars contributions to date. It's a big-ticket item, retailing for $250 (though, there have been some deep discounts), but it's one that is sure to delight fans who've long recognized McQuarrie's work as a fantastic accomplishment in its own right.
Mad Men And The Walt Disney Film Archives: The Animated Movies (1921 – 1968)
Also hefty — retailing for $200 — are these two collections from Taschen. One is dedicated to Matthew Weiner's landmark prestige TV series Mad Men, the other two the years in which Disney's animated output was overseen by the man himself, Walt Disney. If you've ever seen Taschen's lovingly assembled film and TV books — which include volumes dedicated to Stanley Kubrick, Taxi Driver, and other subjects — it's easy to imagine the care put into these. In other words, if you've got someone with an obsessive interest in either topic, they're gong to want this.
Additional Books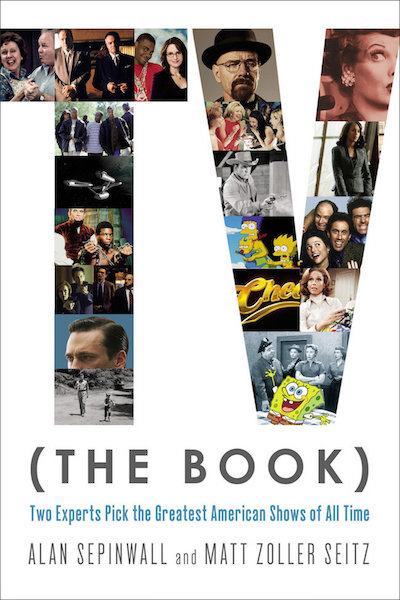 TV the Book: Two Experts Pick The Greatest TV Shows Of All Time
The Oliver Stone Experience
The Caped Crusade: Batman and The Rise of Nerd Culture
Yes, recommending TV the Book means recommending the work of one our own, Uproxx TV critic Alan Sepinwall. But we'd be on board with this expert guide to the best TV ever made anyway. Sepinwall and Vulture's Matt Zoller Seitz offer sharp, informed takes on their picks for the 100 greatest shows of all time, from the undeniable top-of-the-canon classics to overlooked "outlier classics" like Veronica Mars and Wiseguy, with ample asides dealing offering opinions on everything from television's best finales to the best TV houses.
Working solo, Seitz also published The Oliver Stone Experience, a book-length interview with the often controversial director filled out with an array of archival material. It's in the vein of Seitz's two Wes Anderson books, The Wes Anderson Collection and The Wes Anderson Collection: The Grand Budapest Hotel, but with a much more fiery interview subject.
Finally, NPR contributor Glenn Weldon tackled a subject that cuts across comics, movies, and culture this year with his The Caped Crusade. It's a twin history of both the masked crimefighter and the culture around him, showing both where Batman comes from and how Batman fandom has predicted and embodied both the enthusiasm and the darker sides of fan culture.
For a look at more must-have gifts this holiday season, take a look at our other guides.